Simple DIYs
Halloween Arts & Crafts to Get You In the Spooky Spirit
Halloween and festive decorations practically go hand-in-hand. And while macaroni art bats and construction paper pumpkins might seem a bit juvenile nowadays, there's no reason why you can't still get into the arts and crafts spirit! This fall, try these easy and fun Halloween arts and crafts ideas to get you into the spooky mood!
Jack-O-Lantern String Art Sign
If you're looking for cute Halloween arts and crafts to decorate a festive entryway table or hang on a wall, this jack-o-lantern sign is ideal. It looks intricate, but it should be easy enough for the most novice DIY-er!
Grab a piece of wood – the size is dependent on how big you want your sign to be – and paint it a bright Halloween orange. Lightly draw or trace a jack-o-lantern face onto your board and hammer nails along your outline. Finally, take black string and wrap it around the nails, crisscrossing it sporadically across nails to fill in the jack-o-lantern's features. Knot the string to secure it, and trim any extra. This is an excellent craft for adults, or you can handle the hammering and let your kiddos do the painting and stringing!
Spooky Luminaries
Your home will look delightfully creepy this Halloween with these spooky luminaries flickering on your table!
Collect and clean a few glass jars (pasta jars, pickle jars, whatever you have handy!) and spray them with shimmery and translucent spray paint in your favorite Halloween color. Then, use a black paint pen to draw a scary design on the outside, like a graveyard, haunted house, or jack-o-lantern. Make sure to color your image in with your paint pen. After allowing your jars to dry overnight, pop a tea candle into your jar to light up your Halloween design with an eerie glow.
One-of-a-Kind Halloween-Themed Paintings
Not in the mood to brainstorm and prep Halloween arts and crafts ideas? Let Painting with a Twist plan everything for you! Whether you're an experienced painter or you've never touched a paintbrush, you can create a Halloween masterpiece at a themed Painting with a Twist event!
At our studio, a professional will guide you through your painting, from pumpkins to witch hats to the creepiest of characters, all while you socialize and sip on your favorite adult beverages. We even host themed Trivia Nights – get into the Halloween spirit by showing off your knowledge of fictional wizards or your favorite trio of sister witches.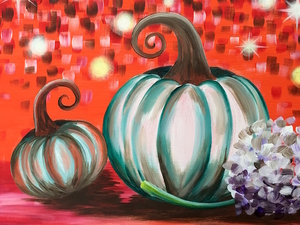 Foam Tombstones
Foam tombstones are perfect outdoor décor to spookify your front lawn! Pick up some large pieces of foam for cheap at your local craft store, and sketch your tombstone outlines. Using a standard kitchen bread knife, cut your tombstone shapes out of the foam.
Once you have your "stones," you can either carve your inscription into the foam with a small paring knife or take the easier route and simply paint the words on as the finishing step later on. To make your foam tombstones look like real stone, layer coats of black, gray, and white spray paint, allowing your foam to dry between each one. Finally, add your inscription if you chose not to carve it, stick skewers into the bottom, and place your decorative tombstones in your yard.
Fallen Leaf Ghosts
The best DIY Halloween decorations for kids have two things in common: they are simple, and they don't require too many supplies! These leaf ghosts certainly fit the bill.
Have your little ones gather some fallen (and decently sturdy) leaves in the yard or on a nature walk. Have them paint the front and back with opaque white paint, and add two little eyes with a black Sharpie. Stick the leaf ghosts to your windows, put them in a basket as a centerpiece, or string them up on a garland for an almost-effortless Halloween decoration!
Are you ready to take your arts and crafts night to a new level? Head to a Painting with a Twist near you for a Halloween-themed painting event! We'll have all the painting supplies you'll need set up and ready for you when you arrive. Just bring your friends and your spookiest cocktail concoctions, and you're ready for an art-tastic night of Halloween fun!