Maybe you're an amateur art buff who has always admired great artists throughout history. Perhaps you're just trying to keep up with that five-year-old whose paintings look fit for the Louvre – at least in comparison to yours.
Whatever your reason, when it comes to painting, practice is everything! Start building your skills with these tips on how to become a better painter.
Invest in the necessary supplies.
If you're committed to becoming a better painter, you've got to do a whole lot of painting. And like any new hobby, there are a few start-up costs. Although you don't need to buy the most expensive paint, the nicest brushes, or the fanciest easel, you do want to make sure your new supplies are of quality.
Take your time when shopping around for materials, and make sure they're suitable for creating quality artwork. Although good painting tools won't magically turn you into a better painter, they certainly can make the process more enjoyable and help you to fully accomplish your vision.
Paint every day.
Experts — in any field — don't become experts because they're lucky. They become experts because they spend countless hours learning, practicing, and experimenting. So if you're wondering how to become a better painter, the answer is to paint.
There are no shortcuts to mastery, and there's no substitute for feeling a paintbrush in your hands or seeing how paint glides onto canvas. So start by setting up a mini art studio in a corner of your home. Then, commit to practicing each day. Whether you're painting elaborate landscapes on a nice canvas or just trying out new brush skills and techniques on scrap paper — the more you paint, the better.
Do your homework and get inspired by the experts.
There's no substitute for the hands-on experience of actually painting, but that doesn't mean background research won't help you too. Learn the color wheel, read artist biographies, watch painting videos, visit art museums, or just fall down a painting rabbit hole on the internet.
Learn the styles of different artists, and figure out which painting styles you like and dislike. If you'd like to take things to the next level, try joining painting classes near you. The goal is to immerse yourself in the world of art to positively influence your craft.
Don't be afraid to try new things.
Experiment, experiment, and experiment some more. Some paintings will look terrible, and others will turn out better than expected. You cannot be afraid of "failure" because it's this process of experimentation that will make you a better, more confident painter.
Try mixing colors, applying varying amounts of pressure, holding your brush differently, and playing with space and color. Put on music and paint to the rhythm. Try mimicking your favorite painter, and then try doing the opposite. Challenge yourself to paint ordinary objects in extraordinary ways. These are all great tips for stepping out of your comfort zone and becoming more creative.
Get social!
Don't spend so much time worrying about how to get better at painting that you forget to have fun along the way. You may not think of painting as a social activity, but developing your skills amongst friends and like-minded individuals can boost creativity and bring more enjoyment to your craft.
A Painting with a Twist event is the perfect opportunity to try out your new skills while socializing, sipping an adult beverage, and enjoying a night out with friends. One of our talented artists will guide you through the process step by step, but you're encouraged to add your own creative flair and test out new painting techniques along the way.
Put your skills to use at Painting with a Twist.
Now that you've got the basics, it's time to put those painting skills to the test! From girls' nights to Zen Painting events, your local Painting with a Twist studio is sure to have an event that will help take your skills to the next level.
Tonight, rather than wasting precious time lounging on the sofa with your partner or polishing off that bottle of Merlot, it's time to plan a fun late-night adventure! Some businesses may be closed, but don't let that stop you from having a remarkable evening! Check out this list of late-night adventure ideas for you, your partner, and your closest friends.
Fun Things To Do By Yourself At Night
You're home alone, and you're not quite ready to head off to bed. If you feel like doing something other than binge-watching your favorite tv show (again), use this list to inspire your solo night at home!
Treat Yourself
Take this time to treat yourself with dinner and dessert! Get in the kitchen and whip up some pan-seared filet mignon, eggs benedict with homemade hollandaise sauce, or even an entire cake — no sharing required! Turn up your favorite music as you cook, and dance your way through the kitchen before deep diving into your favorite meal. Enjoy every tune, flavor, and moment as you revel in this satisfying food therapy experience.
Spa Night At Home
Who doesn't enjoy a relaxing self-care evening? Imitate the most lavish spas around by dimming the lights, playing soft, soothing music, and spoiling yourself with rejuvenating teas and rituals. Pop on a face mask and unwind by soaking your tired feet in bath salts. Run a warm bath while reading your favorite romance novel. And seal the deal with a full mani-pedi right in your own personal retreat and spa!
Practice A Hobby
It's not often you find yourself with this much uninterrupted free time. So, why not make an evening of trying out that new hobby you've been putting off? Arts and crafts are always a great option. Whether you're a seasoned painter or are picking up a brush for the first time, a Twist-at-Home Paint Kit makes for an excellent night of creativity.
Fun Things To Do With Friends Late At Night
Life can get busy, and sometimes friendships can get put on the back burner — but not tonight! Call up your best gal pals and take advantage of this rare moment of freedom by doing one (or all) of the activities below.
Game Night
Break out the snacks, low-cal cocktails, and classic board games because it's game night! Let yourselves go back to the days when your biggest battle in life was sinking one another's ship. Any game is up for grabs — including card games, board games, and video games — so you're sure to be entertained the whole night through!
If you're looking to get out of the house for this activity, join a Painting with a Twist Trivia event! You and your crew can pop open your wine of choice, compete for "trivia diva of the year," and bring home a themed painting in honor of your girl's night out.
Karaoke Night
You don't have to be great singers to have fun with karaoke! In fact, the worst singers tend to make karaoke nights more entertaining. Play the classics everyone is sure to know, belt out out-of-tune melodies, and let the music move you to a dance or karaoke party.
Girls' Night Out
Every now and then, life calls for an overdue girls' night out. But maybe going out to bars or your typical restaurant for dinner doesn't sound as enticing as it used to. If you'd rather "wine" down in your comfiest gear instead of heading out on the town, bring your crew and your favorite sips to one of our girls' night-out events at Painting with a Twist!
Late Night Ideas For Couples
Up for something a bit more engaging than the typical movie and dinner date? Make your late-night evening one for the books by using this list for inspiration.
Go Stargazing
You don't always have to get fancy to make lasting memories with your significant other. Sometimes the best activities are the simplest — and cheapest — ones. Find the nearest wide-open field or park and bring your partner stargazing! Pack a constellation chart and enjoy a spontaneous evening of finding your zodiacs in the stars. Little moments like these are bound to make for some of the grandest memories!
Double Date Night
As much as you adore spending alone time with your S.O, sometimes it's good to see fresh faces! Planning an adventurous double date with your favorite couple can be the perfect answer to livening up your late-night mood. Spend the evening painting and sipping at a couples paint event and cap the evening off by taking them to your favorite late-night dinner hot spot!
Cook Dinner Together
A couple that cooks together stays together, so start the night by finding the perfect date-night recipe and picking up the necessary ingredients from your local grocery store. Once you have everything you need, set the mood by putting on some sweet tunes as you start whipping up that delicious dish! No rush. No one to impress. Just the two of you in the kitchen, making mouth-watering meals and rom-com-worthy memories
Paint the Night Away at Painting with a Twist
Whether you're looking for adventures with friends, your partner, or on your own, Painting with a Twist is the perfect late-night activity! Book girl's night, couples night, or trivia night events at your local Painting with a Twist studio, but don't forget to tip the babysitter a little something extra!
Are you looking for a new art style to really amp up your decor game? Or maybe you're searching for a way to pour into yourself or simply a reason to pour yourself a drink. Whatever the goal, Painting with a Twist's Paint Pour events are just what you need! Learn about this fun and unique art style and how you can get pouring and sipping at a studio near you!
What is Paint Pouring Anyway?
Paint pouring is an art style that combines acrylic paint with other ingredients to make it more fluid than standard paint. This mixture is then poured onto a canvas to create a gorgeous marbling effect.
Painters can then tilt or roll the canvas to watch the acrylic paint flow and interact in all sorts of unpredictable and beautiful ways! In fact, some of the best acrylic paint pours are the most "messy" and spontaneous!
Speaking of messy — there's a time and place to dress to impress, but paint pouring probably isn't that! Because you'll be pouring acrylic paint directly onto the canvas and then using your hands to physically tip and manipulate it, there is always a chance you'll spill some paint on yourself. Just in case, it's best not to wear your favorite articles of clothing!
Decorating with Your Paint Pour Art
One of the best aspects of enjoying a Painting with a Twist event is leaving the studio with a custom piece of art. If your goal is to create a piece of décor to display in your home, determine the designated location in your space prior to the event. What paint colors will complement the room? Are there other pieces of décor your pour painting needs to mesh with?
Because these pour paintings are so visually stimulating, it makes an excellent focal point for any room. And by keeping the nearby décor on the minimalistic side, your pour painting becomes the star of the show.
Making a Pour Painting Your Own
Each pour painting is truly one of a kind. Even the same artist will not be able to recreate the same work of art twice! From how you combine paints to how the canvas is tilted, many factors affect the outcome of your creation. That's what makes paint pouring so exciting – the art surprises the artist.
You can pour a single color onto your canvas at a time, or you can create a striking, marble-looking creation with just a couple pours of various colors. You might even choose to do something called a "dirty pour," which means mixing colors in your cup prior to pouring them on your canvas. Dirty pours create all kinds of funky, interesting, and unexpected patterns.
With beginner paint pouring, half the fun is experimenting with colors and techniques! If you've never done any type of paint pour before, this is one Painting with a Twist activity you'll want to add to your bucket list.
Paint Pour at Painting with a Twist
Ready to try your hand at this fantastic new art style? Unwind with a Paint Pour event at a Painting with a Twist location near you, and enjoy an evening of drinks and relaxation as you create your very own work of art.
Holiday Gift Cards from Painting with a Twist
When the holiday comes around, picking out a gift for the workplace or family gift exchange can be a little challenging. You want to get something thoughtful and creative, but something that will also be appreciated and remembered. A unique gift idea is a  Painting with a Twist gift card. It's the easiest way to give the gift of fun for that special friend, family member, or coworker.
Gift cards can be purchased in any amount over $5.00 so it can fit any gift exchange budget.  This is a gift that allows someone to have an amazing, fun experience at the painting party and also take home their own painting that will become a lasting memory.
Throw your own Holiday Paint Party
Why not throw a holiday-themed paint party? Painting with a Twist offers private paint parties for large groups (please note, each studio location has its own requirements for minimum group sizes).  
With a private paint party, you can select a piece from our entire catalog of paintings.  We take care of all the paint, brushes, canvases and teacher. All you need to do is invite your guests and encourage them to bring their favorite beverage and perhaps something to nibble on!
Paint parties are a festive way to celebrate the season. You can also plan a paint party to celebrate any type of occasion or just to get your group together.  
A private painting party is a really fun and exciting way to bond in a large group atmosphere. If you are considering throwing your own paint party, you should talk to one of our studios!  They can answer any questions you may have and help you get started.
It's November and the holidays are approaching quickly. We have a large catalog of holiday art to choose from that will provide a unique personal touch to your yuletide decor or create the ideal gift for a friend, family member or special someone.
Come to celebrate the holiday season and create something special and fun with one of our artists at a Painting with a Twist studio in your community! Have a great time with your friends and family while you paint a holiday-inspired creation you can take home with you.  We provide all the paint and materials, just bring yourself, your favorite beverage, and perhaps a simple snack to nibble on between brush strokes.
Create your own Holiday Art!
Sign up for a holiday paint party today!
Paint Parties are perfect for:
Paint, Sip and be Merry!
If you want a unique way to celebrate the holiday season, book a paint party today!
Ready for an amazingly festive good time? Get started on our Holiday Paint Party page.
"How to Tuesdays" is a series of colorful and educational videos that highlight the most common creative techniques used by Painting with a Twist artists. We made them just for you! Sometimes the idea of entering a studio in hopes of painting a piece of art can be intimidating. (Pro Tip: Wine helps!) These are some great Twister Tips if you aren't accustomed to picking up a paint brush. We are here to show you the basics of the painting materials and move on through the different creative techniques so that you can create art at ease –  inside and outside of the Painting with a Twist studio!
"Every artist was first an Amateur." – Ralph Waldo Emerson


Paintbrush Families
We like to work with two different brush families: Round and Flat. Each brush allows you to practice different creative techniques, so it's important to get familiar with each one. The round brushes have rounded edges and the flat brushes have cornered edges. You can see the difference in the brush shapes below. Watch as our artists  talk about the How to Tuesday:  Round Brush Family and the How to Tuesday: Flat Brush Family of painting supplies.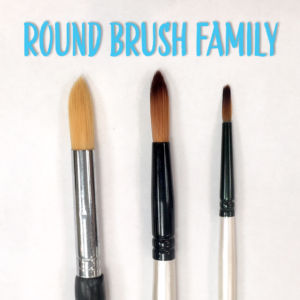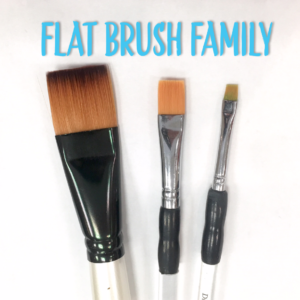 Brush Strokes and Colors
Eventually, every artist discovers their own personal treasure trove of creative techniques to use with their favorite brushes.  Until you've gotten into your own paint and sip groove, please indulge in some of our classics. In the How to Tuesday:  Different Strokes, Painting with a Twist artists explain a variety of fun, easy, and creative techniques you can use to make a beautiful painting. Thin lines, thick lines, broad strokes, and messy dabs! When it comes to painting, the possibilities are endless. All you have to do is stay optimistic and curious! Did you know you can make almost any color from the three primary colors: Red, blue, and yellow! Watch the How to Tuesday: Mixing Paint where our artists teach you how to mix up the perfect palette for any painting. 
We have plenty more How to Tuesday's to share with you so stay tuned for the next round of Twister Tips!