Every family celebrates the holidays in their own special way, but sometimes it's fun to add your own special touch and put a new twist to the festivities. If you're looking for unique ways to celebrate Christmas this year, try these fun, non-traditional ideas that'll keep you and yours in the holiday spirit.
1. Give Time, Not Gifts
Start a new tradition this year that celebrates the generous spirit of the holidays by donating your time to a worthy cause. Gather your family or a group of friends together and give back to the community.
Try volunteering at your local food bank, or seek out volunteer opportunities near you. This non-traditional Christmas gift idea can make the holidays a happier time. Not only will you spread holiday cheer to those you serve, but volunteering your time together is a great way to bond with those you love most.
2. Save a Tree, Decorate Something Else
Rather than cutting down a fir tree this Christmas, why not leave it to grow for another year? Cut down on holiday waste and swap out your typical tree with some non-traditional Christmas decorating ideas. With a spark of imagination, you can easily turn a blank wall, a spare ladder, or even a coat rack into a glowing tribute to the holiday season. Just don't forget to place your presents at its feet!
3. Try Out a New Skill
The holidays are a great time to relax and enjoy new experiences. This holiday season, maybe you'd like to explore your artistic side. For a unique way to celebrate Christmas this year, you might try out a paint night with friends and family. Not only is it a great way to spend time with loved ones and learn a new skill, but in the end, you'll have a ready-made gift for someone special!
Here are a few other ideas for non-traditional activities:
Sign-up for a holiday cooking class
Throw a Christmas crafting party – Our At-Home Paint Kits are perfect for this!
Take a cider- or cocktail-making class
4. Try Out a Non-Traditional Christmas Dinner Menu
Let's face it, Christmas dinner and Thanksgiving feasts have way too much in common. So, why not try out a few alternative options? Add some spice and variety by celebrating with food from a different culture. Or, put out a poll of everyone's favorite everyday dish and experience something new. Seeking out non-traditional ideas for Christmas dinner can help make your holiday celebration deliciously tasty and something everyone is sure to remember.
5. Host a Friendsmas Party
If you don't live close to family members, a great non-traditional Christmas party idea is to host a Friendsmas Party. You can pick a Christmas party theme to make it even more festive — ugly sweaters are always a hit — and have everyone make an easy recipe to contribute to the holiday meal. Add a few fun holiday cocktails to the menu, and you might just have an evening that will make you renounce traditional Christmas dinners altogether.
6. Get Active for the Holidays
It's no secret that the holidays can often lend to some unwanted weight gain. This year, flip the script and make the opposite true. Get outside for a fun, lighthearted Santa Run, hike, camping trip, or bike ride, and burn off some yuletide calories.
7. Exchange Gifts with Laughter
Skip the stress and financial burden of shopping for presents that your giftees may or may not need, and instead, host an event full of holiday games and cheer. After all, it's not the price tag that matters most during the holidays. It's the beautiful people and memories made with those you hold dear that truly make Christmas special.
8. Have a Gift Scavenger Hunt
Spice up Christmas Eve or Christmas morning with a holiday gift scavenger hunt. Hide your gifts around the house and write up some fun clues that will lead them all around your home (and even outside, if you don't live somewhere too cold!). If you have small kids, you can draw up a treasure map where 'X' marks the spot for a memorable gift-giving tradition.
9. Host a Private Holiday Party at Painting with a Twist
Are you ready to breathe new life into the holidays and reconnect with the magic of the season? Why not book a Painting with a Twist Private Event at your nearest studio, and enjoy a Christmas evening of painting, sipping, and joy? All you have to do is grab your drinks of choice, rally up your attendees, and show up ready to have an amazing, unconventional time! Book today!
From preparing the perfect dinner to ensuring your décor is pristine — hosting Thanksgiving can be stressful without the right preparation. Stay on top of your Turkey Day to-dos with these checklists, timelines, and other useful tips for hosting during the holidays.
Thanksgiving Hosting Checklist
1. Send Out Invitations
Are you having family over or hosting a Friendsgiving? Set a date, make your guest list, and create an invite. And unless you prefer mailing paper invitations, consider sending e-vites instead. By going digital, you avoid trips to the post office, licking stamps, and undelivered invitations. Whichever option you choose, we recommend delivering them to your attendees about 3-5 weeks before the event.
2. Plan for Food & Drinks
Choose your menu and determine how much food you'll need based on your anticipated guest count. Provide a few options of beer, wine, and fun fall cocktails and mocktails. Want to save a little cash while also diversifying your drink and food options? Suggest that your guests BYOB and designate different side dishes for attendees for a small potluck.
You'll also want to gather all the tools and supplies needed to make the meal a hit. Long ahead of the big day, gather the cooking tools and gadgets for all your cooking needs (i.e., spatulas, thermometers, and additional pots). For the meal, you'll want to ensure you have the necessities below:
Napkins and table linens
Appetizer plates
Dinner plates
Dessert plates
Utensils
Glasses
Serveware
3. Choose Inspiring Table Decor
Keep it simple, especially when decorating the table. You'll want plenty of room for all your dishes. Consider the following ideas to brighten your Thanksgiving table décor:
Add a festive tablecloth or runner and coordinating cloth napkins.
Implement bud vases with flowers or mini pumpkins for a centerpiece.
Add votives or candlesticks to set the autumn mood.
Include a decorative table setting with nice dishes, glasses, and silverware.
DIY your own handmade place cards.
4. Add a Few Home Accents
If you haven't already, take some time to spruce up your home. You can either become a full-fledged fall decorista or keep things light and simple with these tips.
5. Devise a Timeline
Develop a game plan to keep you cool and stress-free. You'll want a week-by-week Thanksgiving prep list so you're well-prepared. Need a little help? Check out the Thanksgiving Dinner Checklist below.
Thanksgiving Dinner Prep List
2 Weeks Before Thanksgiving
Plan your menu. From turkey to pie crust, you'll want to create your menu and gather the recipes you'll need. Keep reading for menu ideas.
Make a shopping list of décor, food, and beverages. Go through all the recipes and include everything you need on the list.
Purchase other essentials. Make sure you have the right linens, dinnerware, drinkware, serving dishes, and kitchen equipment.
Plan the table decor. Any preparatory steps you take now will only benefit you in the long run.
5 to 6 Days Before Thanksgiving
Confirm the guest list. Reach out to confirm your RSVPs so you know exactly what you're working with.
Get turkey, all non-perishable groceries, and beverages. You'll want to start prepping early to avoid the inevitable grocery store chaos.
Put the turkey in the refrigerator. Believe it or not, a frozen turkey can take up to 5 days to thaw.
2 to 3 Days Before Thanksgiving
Clean the house. Make sure you have a clear workspace in the kitchen. Vacuum, sweep, dust, and spruce up the areas where your guests will be gathered.
Make your final grocery store run. Double-check (and triple-check) your list.
Prep any side dishes that will stay fresh. Cut and dry out the bread for the dressing, make the pie and cranberry sauce, and assemble casseroles so they are ready to go in the oven when the turkey comes out.
1 Day Before Thanksgiving
Set the table. You'll be glad to check one more thing off the list ahead of time.
Chill the drinks. Put beverages in the refrigerator or cooler with ice to chill.
Prepare the turkey. Season or brine the turkey and return to the refrigerator overnight.
Prep the kitchen. Run the dishwasher so you have an empty one for all the dishes that'll accumulate the next day.
Relax. Take some time to rest and relax — it's going to be a big day!
Thanksgiving Morning
Make the dressing. Use part for stuffing the turkey if desired, and bake the rest for the fan-favorite side dish.
Cook the turkey. You'll want about 45 minutes to 1 hour before you serve to let it rest. Cook time will depend on the weight of the turkey, so follow recipe instructions carefully.
Bake the casseroles. When the turkey comes out, it's time for the casseroles and dinner rolls to go in. Start boiling your potatoes. Then, use dripping from the turkey to make the gravy.
Make the mashed potatoes. Whip up the mashed potatoes when the other side dishes are just about ready to come out of the oven. Cover and leave on the stovetop to keep warm.
Serve! Divvy up everything into serving dishes and load up the table. If the dessert needs some time in the oven, you can go ahead and pop it in — don't forget it's in there while you're enjoying your meal! Finally, carve the turkey.
Thanksgiving dinner is served!
Thanksgiving Hosting Hacks
Food & Beverage Calculator
Use this cheat sheet to estimate how much food and drink to prepare.
6-8 bite appetizers per person
1-2 oz grains per person
1-2 oz (undressed) salad per person
1.5-2 oz salad per person
5-6 oz potatoes per person
4-5 oz vegetables per person
6-8 oz of (uncooked) turkey per person
1-2 rolls per person
1-2 servings of dessert per person
1 non-alcoholic drink per person drinking alcohol
2-3 non-alcoholic drinks per person not drinking alcohol
1 bottle of wine per two guests
2 beers the first hour + 1 beer each additional hour per person
3 liquid drinks per person
Approx. Turkey Cook Time
See the chart below for a general guide to cook-time based on the weight of the turkey, oven roasted at 325 degrees F.
8 to 12 lbs: 2 ½ to 4 hours
12 to 14 lbs: 3 to 4 ½ hours
14 to 18 lbs: 4 to 5 ½ hours
20 to 24 lbs: 4 ½ to 6 hours
Thanksgiving Menu
Here's a classic Turkey Day menu (and a few recipe suggestions) you can use for inspiration. Bon appetit!
Appetizers
Main Dish
Side Dishes
Dessert
Do Thanksgiving with Painting with a Twist
Put your own special touch on Thanksgiving décor this season by stopping by your nearest Painting with a Twist studio. Between checking off this list of Thanksgiving to-dos, you can Pop-in and Paint a one-of-a-kind autumnal painting that your entire family will gobble up. Find your nearest location today!
Jack-o-lanterns are perched on porches, and Halloween-themed wreaths are on front doors. But something is missing. When the sun sets, you'll want to make sure your haunted house shines as the eeriest on the block. Ready to put a ghoulish glow on your Halloween decor this season? Get inspired by these spooky DIY blacklight Halloween decoration ideas.
Note: While some of these decorations might glow in the dark, you'll want to use blacklights to make them really pop – especially for blacklight Halloween parties. You can get blacklight bars, projector stage lights, and even blacklight disco balls to spice up these eerie embellishments.
Scrawl a Few Midnight Messages
Did you know that laundry detergent glows under blacklight? It's true! Laundry detergent manufacturers add brightening agents to their products so that your clothes look extra bright after a wash. This also means that laundry detergent doubles as the perfect paint for your glow-in-the-dark Halloween decorations, DIY style.
Take a cup of laundry detergent and a paintbrush to create some creepy messages on your driveway, door, walls, or anywhere else you'd like – "HELP," "DANGER," and "KEEP OUT!" are always good options. These messages will glow under the blacklight, and they're easy to wash off come November 1st. Plus, they smell great!
Create a Glowing Graveyard
It's easy to create a few tombstones with a bit of foam or cardboard and gray paint. But when the sun goes down, your handiwork is impossible to see. It's easy to turn these simple DIY tombstones into glow-in-the-dark Halloween decorations.
Create the "inscriptions" on your tombstones using glow-in-the-dark paint or markers (which you can purchase from most craft stores). You can also use packing tape to outline the tombstones – yes, packing tape glows in the dark! Once the sun sets, you'll have a creepy, glowing cemetery lighting up your front yard.
Cover Things in Spooky Spiderwebs
Come October, everyone decorates with huge fake spiderwebs. How do you take yours up a notch? Make sure that yours are glowing under a black light. Once you've hung the webs, position a blacklight underneath them for optimal spookiness. If necessary, you can brighten them up by using a bit of your laundry detergent paint.
Set Out the Spine-Tingling Table Settings
If you're hosting a Halloween party, you can have a lot of fun with your snack table. Grab a pack of glow in the dark table settings, or make your own with fluorescent tape, paint, markers, and stickers. Create centerpieces with things like glow sticks or neon bouncy balls, and experiment with how things look under the blacklight. Take your spread to the next level by serving up some fluorescent foods – glow-in-the-dark snacks and drinks are a must!
Paint a Few Paranormal Pumpkins
Carving pumpkins may be the tradition, but it doesn't get any easier than slapping on some paint. Grab pumpkins in various sizes and decorate them with your glow-in-the-dark paint. Take things to the next level with intricate designs and patterns, or just paint them solid colors. After all, almost anything looks cool under blacklight. Place your fluorescent pumpkins throughout your house or yard for a fun alternative to candle-filled jack-o-lanterns.
Hang Up Some Menacing Artwork
Nothing screams host with the most than displaying original blacklight artwork at your Halloween party or as everyday Halloween décor. At Painting with a Twist, we've put a spooky spin on traditional paint nights with our Blacklight Events. You'll put a smock on, we'll turn the lights off, and one of our talented instructors will walk you through your painting step-by-step using our special fluorescent paints. You'll leave with a one-of-a-kind piece of black light Halloween décor.
Throw a Blacklight Bash at Painting with a Twist
Want to host a Halloween blacklight party without dealing with the blacklight party set-up and clean-up? Host a Blacklight Event at Painting with a Twist to give your friends a unique Halloween experience. Just show up, and we've got everything covered. Sip on your favorite drinks, brush up on your painting skills (or learn a new hobby altogether). We agree. It's time to create some extra spooky glow-in-the-dark paintings – and memories – with your bestest pals. Book an event at your local Painting with a Twist studio today!
Football is on, the temperatures are dipping, and Halloween décor is on the shelves. Yes — fall is back! If you're having a hard time getting into the autumn spirit after sunny summer days, use these 6 tips.
1. Make Seasonal Swaps
Wondering how to get into the fall mood? Start by making a few swaps in your home environment. From your closet to your kitchen, making a few simple exchanges could be all you need to jumpstart autumn vibes.
Stash away your bikinis and board shorts in favor of cozy cashmere crewnecks. Take stock of your closet and donate items you no longer love. Then, push your summer items to the back and organize your drawers to make space for your fall favorites.
This season is all about snuggling up and settling in. Create the perfect place to nest and rest by replacing your light summer quilt and sheet set with a plush-down comforter and flannel sheets.
The swaps don't stop there! Scent is one of your most powerful memory triggers. If you're looking to get into the fall spirit, now's the time to start reaching for fall-inspired flavors and scents — think pumpkin spice, cinnamon, warm vanilla, or crisp apple. Pull out your favorite fall recipes and enjoy the tastes and textures of the season. You'll be feeling all the fall warm-and-cozies in no time.
2. Cocoon Your Home
Summer brings with it sunscreen-soaked days capped off by late-night barbecues. Or, perhaps, shuttling the kids to and from activities. But after the summer pool days and beach escapades subside, it's time to prepare for a seasonal transformation. But how exactly can you get in the fall mood and prepare for the changing of the seasons?
Stary by cocooning your home. In nature, a cocoon is a safe environment that can provide comfort and isolation — all while providing its inhabitant with the proper conditions for transformation.
You can create your own cocoon at home by embracing cozy blankets, dreamy mood lighting, meditative sounds, stress-relieving scents, or familiar flavors. Essentially, you'll need to gather everything that gives you "feel-good vibes" and turn your space into the ideal place for a little R&R. After all, the hustle and bustle of the holiday season will be here before you know it!
3. Embrace Warm Fall Hues
Once the leaves start changing color, it's time for your seasonal decor and wardrobe to follow suit. Get in touch with the shifting seasons by adorning your home — and yourself — with a fall-inspired color palette. Shy away from crisp high-saturation shades and embrace muted earthy hues that mimic your surroundings. Not sure where to start? Popular fall shades include burnt pumpkin orange, cinnamon red, marigold yellow, moss greens, and chocolate brown.
4. Go "Back to School Shopping"
Remember the excitement of picking out a new backpack ahead of the start of classes? Or determining which color folder best matches each subject? Get excited about the fall season by taking advantage of seasonal sales and embracing the concept of back-to-school shopping — even if your days in the classroom are far behind you.
Channel your inner child and reward yourself with a handful of new fall clothing items, new home office supplies, a new lunchbox or work bag. Don't need to stock up on fall essentials? Treat yourself with new hobby supplies or a few self-care items. (We won't judge if you can't resist picking up a few pieces of Halloween decor, either.) With your new goods in hand, you'll be motivated and excited to take on the cooler weather and shorter days ahead.
5. Form a Few Fall Checklists
There's nothing quite as satisfying as striking through one of your "to-dos." So, why not get organized and prepare for the season ahead by compiling a fall checklist (or three)?
Fall Maintenance
Start by outlining any home maintenance tasks you'll need to complete this fall. For example, you may need to prepare your home for cooler weather by cleaning the gutters, swapping out your air filters, planting bulbs in the garden, closing up the pool, or purchasing mothballs for your closet.
Holiday Prep
Whether you're preparing to entertain in your home or head off on a cross-country road trip to visit family, the holidays will sneak up faster than you think. Create a list of those you need to buy holiday gifts for early and start shopping now. The earlier you start, the easier it'll be on your wallet and your nerves — nobody likes the pressure of completing a last-minute gift run. If you're planning on hosting, make a list of your must-have ingredients and anything else you think you'll need, whether that be décor, extra flatware, or the perfect fall place settings and tablescape décor.
Fall Fun
Not all fall checklists have to be so practical. Plan out all the fun things you're hoping to accomplish this autumn and outline them in a checklist! Perhaps you want to head out for a cool fall-weather hike in the woods, plan a bonfire with friends, visit your local orchard for apple picking, don lederhosen at an Oktoberfest celebration, or cheer on your alma mater at a football game. Outlining and prioritizing your favorite fall activities is sure to get you in the autumn spirit — and ensure you don't miss out on all the fun and festivities.
6. Set Your Seasonal Intentions & Goals
Each season presents a new opportunity to embrace change — and to create the life you desire. Spend some time setting goals and thinking about what you'd like to accomplish this autumn, whether that's learning how to code, getting in an extra 10 minutes of stretching in the evening, saving cash by cooking rather than ordering out, or by honing your creativity in a painting event.
The start of a new season is the perfect time to dream big and create goals for yourself in all areas of your life: both professional and personal. No matter what intentions you've set for this season, you can use the SMART goal method (that means creating goals that are sustainable, measurable, attainable, realistic, and timely) to pave a path towards success. With your new goals in place — and a plan for how to get from point A to B — you'll step confidently into autumn.
Get Fall-Ready With Painting with a Twist
It's time to spice up your creative side! Head into your local Painting with a Twist to create a one-of-a-kind piece of autumn-inspired decor and strengthen your creative abilities. Gather your nearest and dearest or make new friends at one of our fall painting events. Under the guidance of one of our talented instructors, you'll paint, sip, and enjoy the ultimate autumn experience, all while creating an art piece that adds to the fall aesthetic of your home.
After a long, leisurely summer, it can be hard to get back into your family's school year routine. Whether your child is counting down the remaining days of summer or dreading their return, one thing is universal: the more abrupt the transition, the harder it becomes.
Don't wait until the night before to start prepping your family for the upcoming school year. Make the transition into your school routines seamless – and even fun – with these pro-parenting techniques.
Why Worry About Routine?
Routines are comforting. When children have structure in their lives, they know what to expect each day. When big transitions happen – whether that's a move, a trip, or heading back to school – routines offer predictability and normalcy amid the chaos. By easing your children into things with these back-to-school routine tips, the first day of school will feel a lot less intense.
Back to School Morning Routine
Start waking them up earlier.
Soon, your children won't be able to just roll out of bed whenever their bodies decide. Help them prepare for earlier mornings, both physically and mentally, by waking them up slightly earlier each day. If they're currently getting up at 9:30, wake them up at 9:00. Then 8:30. Then 8:00. Before long, getting up at 7:00 won't be such a stretch!
Have them "get ready" for each day.
Superman pajamas aren't exactly school-appropriate, so it's time to get your kids used to getting dressed in the morning again! Instead of letting them lounge around in their PJs, ask your kiddos to put on "real" clothes in the morning.
After breakfast, have them brush their teeth. Even if your little ones have nothing to do for the day, it's helpful to remind them what it's like to get dressed and ready to go. It might be helpful to create a back-to-school routine checklist where they can see, step by step, what they need to accomplish each morning.
Prioritize eating a good breakfast.
Over the summer, your children may have gotten used to eating a late breakfast or skipping the meal altogether. Get your entire family back into the school year groove by serving breakfast right after getting dressed. As a family, collaborate on a "menu" of easy, nutritious meals that can be prepped in advance. This is great practice for getting out of the door on time.
After School Routine
Plan and prep some yummy after-school snacks together.
What is it about coming home from school that makes children absolutely ravenous? Give them something to look forward to after their first day of school by planning and prepping some delicious after-school snacks together. Having a fridge stocked with grab-and-go snacks make for an easier school week (and less hangry children!).
Set up their homework/study station.
It's hard to be organized in a disorganized space. Set your child up for success by tidying up their space prior to their first school days. It's helpful to create a designated spot for homework and studying, whether that's a desk in their room or a quiet spot in the dining room. Stock it up with everything they might need, whether that's mechanical pencils and workbooks or protractors and graphing calculators.
Back to School Night Routine
Set a reasonable bedtime so they get enough sleep.
It might cause a few fights at first, but setting a bedtime is essential. Luckily, if you're waking your children up earlier, they'll likely be ready to go to bed earlier, too! You don't have to switch from 10 pm to 8 pm right off the bat – just make sure you're gradually inching up bedtime to get it more in line with their school schedule. Keep in mind that the American Academy of Sleep Medicine recommends that children 6 to 12 years old get 9 to 12 hours of sleep per night!
Start laying out clothes and packing the backpack the night before.
Have your children start picking out their outfits before they go to bed each night. The night before the first day of school, have them pack their backpacks as well. By selecting clothing and ensuring they have what they need, your mornings will go much smoother.
Don't forget to make it FUN whenever possible!
Prioritize family time.
Soon, busy schedules will make it harder to spend time doing fun activities as a family. Plan a few end-of-summer outings to savor those last school-free days! Family paint events at Painting with a Twist are a great way to get out of the house and try something new together. Your children can learn some new skills and express their creativity – and, best of all, you don't have to worry about the dreaded post-craft clean-up! Trade in the screen time for some easel time, and your family will make some summer memories to last through the school year and beyond.
Create gifts for their new teachers.
Get your child excited to meet their new teacher (and ensure they make a great first impression!) with a back-to-school teacher gift. Attend a family paint night or grab a Twist at Home kit, and your child can create a one-of-a-kind masterpiece – perfect for displaying in their brand-new classroom. Not willing to part with their creation? Check out these other gift ideas!
Offer praise and encouragement.
Rome wasn't built in a day, and your children won't adjust in a day, either. Acknowledge the progress they do make, even if it's just brushing their teeth without prompting or getting ready for bed without complaints. Surprise them with a loving note in their backpack or lunchbox on their first day. A new school year is a fresh start, and you can help them see the positives with a little encouragement.
Make Back-to-School Fun at Painting with a Twist!
Get your children excited for the school year ahead! Whether you'd like to have your kiddo gift their new teacher with their very own DIY artwork, spend a little family time before schedules get busy, or get their creative juices flowing before the start of the new academic year, Painting with a Twist's Family Events offer a great way to do each of these things. Find an event near you today!
By some miracle, you have 48 wondrous hours off from parent duty. Maybe your little ones are spending the weekend with a friend, or the grandparents are craving quality time with their favorite grandchildren. Whatever the reason, a kid-free weekend is a rare opportunity to enjoy some much-needed "you" time.
If you're out of practice when it comes to relaxing, not to worry! We've got some ideas for how to spend your weekend, whether you want to enjoy it with your partner, friends, or solo.
Set aside quality time with your partner.
You and your partner are alone for an entire weekend, and you're looking for things to do without the kids! Don't let the opportunity for some quality couple's bonding time pass you by.
Between diaper changes, emergency grocery store runs, and the general grind of daily living, you likely feel a little out of touch with your S.O. Take advantage of this kid-free time and rekindle the romance with these ideas.
Plan a day trip.
Break out of your routine by taking a day trip to a nearby town or city. Create a playlist from the good 'ole days and remember the journey you've taken to get to this point with your significant other. A day trip is the perfect low-stress way to feel like you're on a baecation while staying close to home.
Book a hotel.
If you want to extend your day trip or just want to enjoy the luxury of not doing the cleaning for a night, book a hotel for you and your partner. This is a wonderful way to escape your daily worries and focus on just the two of you.
Have a date night.
Enjoy ice cream at your favorite creamery without the stress of wrangling kids, or make reservations for a more formal sit-down dinner at a five-star restaurant. Maybe you both want to explore your artsy side with a Painting with a Twist couples night. Choose a date night that fits your personality as a couple and simply enjoy one another's company.
Visit your local art museum.
Chances are, your town has multiple cultural offerings that you haven't had time to explore now that you have kiddos. Rather than just sitting at home with your partner, why not explore a local nature center or museum? Getting out and doing something new can make all the difference in rekindling the flame in your relationship.
Plan an evening with friends.
It's moms' night off! And if by some outstanding miracle your kid-free weekend overlaps with your besties' free time, it's time to celebrate. Plan a girls' night out — or in — with these activities.
Get artsy.
Explore your creative side with your besties at a Painting with a Twist Girls Night. Relax and enjoy a glass (or two) of wine while creating a unique painting that will serve as an excellent memory for your kids-free weekend.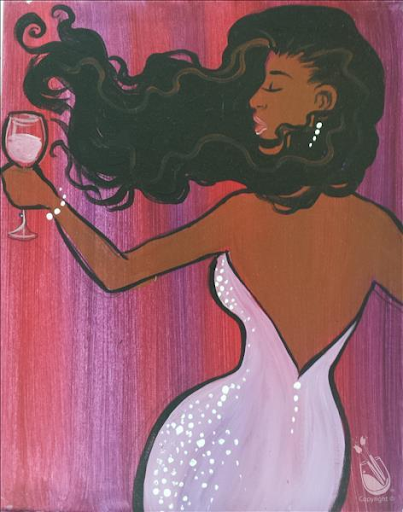 Host a sleepover.
Nothing says girls' night like an adult sleepover. Have your best female friends over to enjoy the peace and quiet of your kid-free house. Make a list of your favorite rom-coms and settle in with a few bottles of wine, your favorite takeout, and the best grown-up conversations you've probably had in years.
Throw a party.
You're free from mom duty! How often does that happen? Gather your crew and throw a mommy rager like never before. From mimosa brunches and goddess parties to black light events at Painting with a Twist, the possibilities are endless!
And if you'd rather not spend your weekend hosting and planning a party, let us help. All you need to do is call up the crew, grab your favorite beverages, and book an event — we'll handle the rest.
Enjoy some alone time.
If it's just you on your kid-free weekend, and it's time to spoil yourself. You don't have to worry about what anyone else wants, period. You can do all the things you love without worrying about pleasing kiddie palates, short attention spans, or trying to fit in a nap. Here's how to embrace your kid-free weekend, solo.
Meet up with a friend.
It's no secret that maintaining friendships as an adult is hard, but it's even harder when you start a family. When you've got kids, it's hard to spontaneously decide you want to get a coffee with a good friend or go out for a happy hour drink. Take advantage of this opportunity, and reconnect with a friend you haven't seen in a while.
Just relax.
When's the last time you had longer than a few minutes to relax without being interrupted by a kid's request for milk or hearing someone complain about being bored? It's probably been a while. This weekend, instead of looking for things to do near you without kids, just enjoy the silence. Sit in a comfy chair, crack open that book you've been meaning to read, and escape into the world between its pages.
Take a wine tasting class.
You probably haven't had time to hone your wine-tasting skills since your little wonders came into the world. And while you won't have time to become a master sommelier in one weekend, you can definitely improve your basic wine knowledge at a wine-tasting class.
Explore the wonders of pinots and sauvignons on your own, and leave the winery feeling a little more relaxed and knowledgeable once the day is through.
Enjoy a Kid-Free Weekend at Painting with a Twist
A kid-free weekend opportunity doesn't come often. Make the most of it by joining a Painting with a Twist event near you today! Whether that's with your significant other, girl squad, or solo, there are plenty of opportunities to truly enjoy some much-needed downtime. Book an event or Pop in and Paint — with no reservation — today!
As the school year comes to a close, parents everywhere are looking for activities to keep their children occupied during the summer months. If you're wondering how to make the most of summer vacation without having to brave the heat, try out these creative activities.
1. Pop In and Paint at Painting with a Twist
Looking for something to do on the fly? Why not Pop in and Paint at Painting with a Twist? You can bring the entire family for a day of creative expression and fun, all without a reservation! Pack along a few snacks and beverages to share as you and the kiddos create your one-of-a-kind paintings. And most importantly, enjoy some much-needed time out of the heat while sitting beneath the breeze of a cool AC.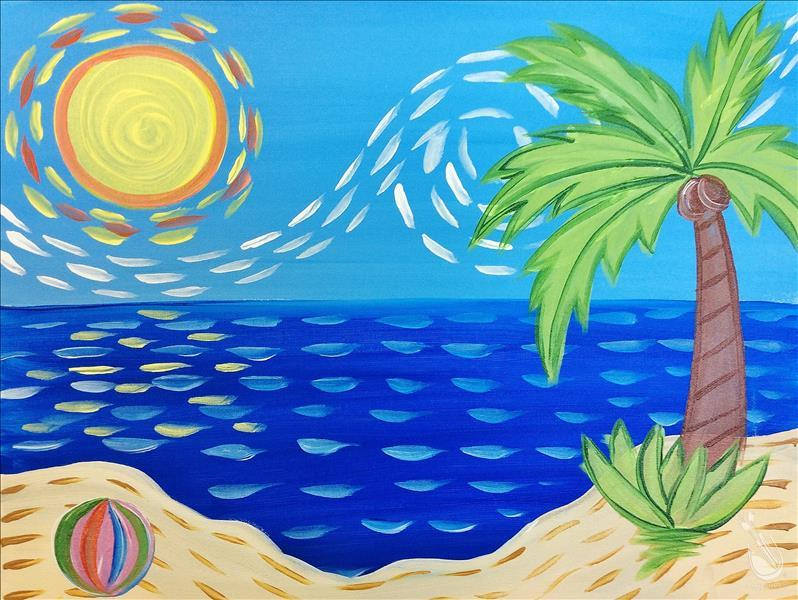 2. Have a game day at home.
Board games, card games, and other at-home games can be the perfect solution to a hot summer's day. Engage your household in an entertaining evening full of friendly competition and familial bonding time. Just don't forget to throw in a few snacks and treats, like ice cream, to help stay cool!
3. Throw a water party in your backyard.
From sprinklers and slip n' slides to kiddie pools and water balloons, the best way to beat the heat during summer is to cool off with some H2O fun. Round up your family friends and their little ones, set out a few ice-cold beverages, and watch as your kiddos make lasting summer memories with their favorite pals.
4. Sign the kids up for camp at Painting with a Twist.
Just because the kids are out of school for summer doesn't mean you're free from work. If you're looking for fun summer activities for your little ones to do on their own, sign them up for Kids Camp at your local Painting with a Twist studio.
At our kids' camps, your children will enjoy making fun art, eating yummy snacks, and so much more! Plus, you'll get the added bonus of summer child care. Visit your local studio today to learn more about their Kids' Camp offerings!
Rather entertain the kiddos at home? Ask your local studio about our Twist at Home Paint Kits that come with everything your child needs to get creative at home!
5. Go window shopping.
Summer activities don't need to be expensive, they just need to be cool. Head to your nearest shopping center, and spend the day window shopping (or actual shopping), depending on your interests and budget. Even if you don't find a perfect new dress or the latest toy, you can always enjoy a hot pretzel and free air conditioning.
6. Visit your nearest skating rink.
Another fantastic way to cool off during the summer is to engage in winter activities like ice skating. Surround yourself with the refreshing chill of an indoor ice skating rink, and let your little ones run around to their heart's content.
7. Go to the library.
The library is the perfect place to spend a relaxing day with family in an air-conditioned environment. Plus, allowing your kiddos to explore book-filled shelves can be conducive to learning, creativity, and more. You'll also want to seek out local literary events to attend throughout the summer to help make library time a new summer routine.
8. Make frozen treats at home.
Have you ever wondered how ice cream is made? Or maybe you'd like to try your hand at frozen banana pops and root beer floats. Spend time in the kitchen with your little ones this summer, and make some of your favorite frozen treats from scratch. Not only will this be a bonding experience for the entire family, but you'll also have the opportunity to enjoy some tasty treats at the end of this beat-the-heat summer activity.
9. Play with science.
Making paper mache volcanos or creating a water balloon-powered car isn't just for school science fairs. Get the entire family together to participate in a creative, science-themed activity they're sure to never forget. From building and toppling domino tracks to blowing up balloons with baking soda and vinegar, the options for this indoor activity are truly endless!
10. Attend a Family Paint Event at Painting with a Twist.
Beat the heat this summer by joining a cool, air-conditioned Painting with a Twist family event near you today. From grandparents to little ones and teenagers, Painting with a Twist is an activity everyone can enjoy. Plus, all of your attendees will leave the studio with memories of laughter and fun, as well as their very own keepsake to commemorate the experience for years to come.
Whether you're planning a cookout, birthday party, or a bachelorette party, ensuring attendee turnout is rarely easy. However, there are some steps you can take to rev up excitement and engagement for your upcoming affair. Wondering how to get people to come to a party? Wonder no more! Here are nine ways to ensure an excellent event turnout at your next party.
Start Thinking About Attendance in the Planning Phase
Planning an event? Here are a few things to consider before you even set the date!
1. Give Yourself (and Your Guests) Plenty of Time to Plan
You'll want to ensure you have enough time to work out the major details of your event — such as getting decorations, food, beverages, or entertainment. But, if you're wondering how to get people to come to your party, it's also essential your guests have ample time to prepare. Providing a heads up well in advance increases the likelihood that your invitees have clear schedules.
2. Be Considerate of Major Holidays and Events
If you're throwing a holiday party, try to do so a week or so beforehand rather than the day of. This technique works because many of your guests will likely have longstanding traditional events or family plans for holidays like Thanksgiving, Christmas, or Easter.
In addition to holidays, many plan their vacations around bank holidays, national holidays, holiday weekends, or other special events such as "the big game." If you're planning on hosting guests for a major event, start early and send out your invitations well in advance — months early if possible — for a great event turnout.
3. Set a Theme
Unless you're hosting a major event like Friendsgiving, you'll likely need to do a little bit of thinking in terms of your event's theme. While theme often does dictate your decorative choices — like color palettes and motifs — it can also help inform your food, beverage, activities, dress code, and more.
For example, if you choose a Glow in the Dark or Blackout theme, you can opt for glow in the dark eats, attire, and activities like glow in the dark painting. Under the glow of blacklights, your attendees are sure to feel like they've stepped into a unique event!
Looking for something classy but festive? Step back in time to the roaring twenties and enjoy a Great Gatsby-themed affair — just be sure your guests get the dress code memo! For a relaxed backyard party, you may want to heat up the grill, serve up cookout classics, and enjoy mingling and music.
4. Choose a Crowd Pleaser
Wondering how to build hype for an event? Choose a piece de resistance — which can be a guest speaker, giveaway, raffle, plated meal, mimosa bar, live entertainment, a paint party, or simply the promise of great tunes and better dance moves! Either way, you'll want to decide what will make your event stand out and later promote it to your invitees.
5. Ensure Your Key Players Can Attend
Before setting your date in stone, reach out to your nearest and dearest to float potential dates. After all, you want to make sure that these VIPs can make it!
6. Create a Rainout Plan, if Applicable
Nothing will cause your attendance to dwindle like hosting an outdoor event in a drizzle. If you're planning on hosting an outdoor event, create a Rainout Plan just in case storm clouds start rolling in — this will save you a lot of stress in the long run!
Spread the Word
Now that you've selected your date, chosen a theme, and checked in with your VIPs, it's time to learn how to get the word out about an event.
7. Make Invitations
There's something special about receiving an invitation in the mail or in your inbox. Instead of sending out a mass group text, start by creating invitations — and decide whether you'd like to go digital or paper. Whichever option you choose, consider your theme and personalize your invites. A personalized invitation will help your invitees feel special and appreciated.
Be sure to include the date, location, and time of your event and any other pertinent information, like dress codes, entertainment, food, or if your event will be BYOB.
Pro Tip: There are plenty of pros to choosing E-vites: they're environmentally friendly, free or low cost, and you won't have to worry about your invite getting lost in the mail.
8. Find Your Influencers
Once your invitations have gone out, it's time to call on your closest (and most extroverted) invitees — whether they're friends, associates, or colleagues. Encourage these close invitees to act as influencers to hype up your event, spread the word, and engage with any social media posts or Facebook events. A little engagement goes a long way!
9. Provide Reminders and Updates
Keep your crew updated with reminders once the date is set and the details start to fall into place. One of the easiest ways to do so is through social media. Create a Facebook Event or use Twitter, Instagram, or your favorite social media platform to spread the word. Be sure to recap the details you included on your invitations (date, location, and time), and use this space to play up the theme and your event.
Need a little help getting the conversation started? Use features designed to drive engagement — like polls or quizzes and provide semi-regular updates and reminders on your page.
If circumstances change — for example, your backyard soiree looks like it could be rained out — create a post to let your guests know that cocktails and conversation will carry on inside!
Make Your Next Event a Hit at Painting With a Twist
Making sure that people turn up to your event can be a lot of work, but planning the event itself doesn't have to be. Organize your next celebration with a little (or a lot of) help from your local Painting with a Twist.
When you make a reservation at one of our studios, you need to ensure that your guests arrive and that you have the beverages and snacks of your choice. We'll handle the rest — from the fun and festive atmosphere and supplies to post clean-up. We've got you covered!
So… you've met someone. Congratulations! You can't stop smiling, you're excited to have a new partner who just gets you, and you can't seem to spend enough time together. As glorious as these early moments can be, it can be all too easy to brush off red flags or even lose sight of your convictions and values when building a budding relationship.
Want to survive your relationship's honeymoon phase? Here are five tips for how to be true to yourself in a new relationship.
How to Be In a Relationship Without Losing Yourself
1. Stay close to your friends and family.
Don't be afraid of accountability. Your friends and family know you well, and they can remind you how to be true to yourself in a relationship. Listen to them! Even if you don't fully agree with their relationship advice, their perspective can help you think critically about your actions.
And remember: your family and friends have been there for you long before this new person came into your life. And they'll be there if things go by the wayside with your new partner—but only if you continue to nurture your relationships with them.
2. Be realistic (and open) about any red flags.
Maybe you have four furry friends, but your partner doesn't like animals. Maybe you love the city you live in, but your new partner is seriously considering a cross-country move. If you're seeing red flags (or even small things) pop up in your new relationship, talk about them.
Know what you will or will not compromise on (see #5 for more about that!), and keep your expectations realistic about changes you'd like to see. From small things (like your favorite coffee shop) to the bigger ones (like the future of your relationship), don't rush into something serious before you and your partner are on the same page.
3. Plan dates where you can talk.
There's no denying the chemistry between you and your new boo, but don't rush the "getting to know you" process! Instead of traditional "dinner and a movie" dates, plan outings that encourage conversation (like a couples' paint night!). Ask questions, and answer their questions honestly to keep things on the right track.
4. Remember your self-care.
In any relationship, it's natural (and admirable!) to want to please your partner. Even so, don't forget about caring for yourself. The long-term health of your relationship depends on both you and your partner being healthy and content, and neglecting your own care is a recipe for disaster. Don't skip that weekly yoga class, keep your journaling routine intact, and make time for your own hobbies and interests.
5. Establish (and talk about) your boundaries as necessary.
Not good at saying "no"? Maybe it's time to change that. Healthy boundaries can help keep you from losing your identity in a new relationship. If you feel like you're not being yourself in a relationship, take a step back and evaluate where you've compromised your own wants, needs, values, and interests. If need be, write down your specific boundaries or talk them out with a trusted friend. And be sure to communicate them clearly with your partner as things come up!
How to Be Yourself In a New Relationship
Starting a new relationship is invigorating—nothing beats those butterflies you feel! Sure, it's easy to lose sight of things when you're caught up in the excitement, but it doesn't have to be that way. Find activities that both you and your new boo can enjoy at your local Painting With a Twist studio. From Couples' Nights to Trivia Nights and everything in between, you'll love getting to know your partner better than ever at a paint date night event near you.
Sometimes, Memorial Day appears out of thin air. And you may not always have plans to fill the three-day weekend. Before sending yourself into a frenzy while looking for things to do, check out these final-hour Memorial Day activity ideas.
Get outside.
Escape to the great outdoors this Memorial Day weekend. Find hiking trails near you to explore or, if you're lucky enough to live near a National Park, take a day trip to experience some of the most beautiful places in the United States.
A day on the green with a golf club (whether it's putting 18-holes or putt-putt), on the tennis courts, or in the swimming pool is always a day well spent. To make this long weekend special, do a little research to find an outdoor activity you might not normally do, like horseback riding, visiting a botanical garden, or even kayaking. The options are truly endless.
Go on a getaway.
How about a last-minute Memorial Day weekend getaway? Round up the children, pack up some goodies, and take a scenic road trip to a nearby city you've always wanted to visit. And if you'd like to enjoy a little peace and quiet during your three-day weekend, consider taking a mini-vacation at a nearby cabin or lodge for some much-needed R&R.
Host a game night.
Who doesn't love a little friendly competition? Send out your last-minute text invites (after all, you're probably not the only one looking for final-hour Memorial Day ideas), and then bust out the games, sandwiches, chips, fruit, and other goodies. And don't forget to prepare a few last-minute gathering activities like charades or even a themed scavenger hunt.
Have a cookout.
Get friends and family together with a backyard barbecue! Keep it simple and low-pressure by making it a potluck. Grill up burgers and hot dogs, and let your guests bring the drinks, sides, and desserts to share. Who doesn't love a cookout to welcome the start of summer?
Take a staycation.
Feel like you're always on the go? Skip the day trips and activities and plan for no plans this Memorial Day. Stay in and practice some self-care at home. Or, book a nice hotel in town, and enjoy a free weekend away from any obligations.
Tackle a DIY project.
Take advantage of the extra day in your weekend to finish up those home-improvement projects you've been meaning to get to. Organize the pantry, purge your closet, sand the deck, or start that garden you've always dreamed of. All of that HGTV you've been watching is sure to pay off.
Get crafty with Painting with a Twist.
For fun on the fly, join a Pop In & Paint event at a Painting with a Twist studio near you! This freestyle DIY experience is one everyone can enjoy—with no reservation necessary. Plus, you don't have to worry about hosting or cleanup! With these last-minute ideas, this Memorial Day is sure to be one to remember!