Think you know everything about Halloween? Have you watched every horror movie franchise 100 times over? Do you annoy your friends with your knowledge of all things spooky? Then put your knowledge to the test – and test your friends! – with these fun Halloween trivia questions you'll definitely want to use at your next trivia night painting event!
Halloween Entertainment
Question: What is the highest-grossing horror movie of all time at the worldwide box office?
Answer: The highest-grossing horror movie of all time is IT, released in 2017.
(Fun fact, however: if you adjust the highest-grossing list using the price of a 2019 movie ticket across the board, Jaws would take the #1 spot!)
Question: In the famous movie franchise named after this holiday, who is the first person we see killed by the masked serial killer?
Answer: The first person killed at the beginning of the first movie is Michael's sister, Judith Myers.
Question: In the beloved comedic TV series that takes place at a Pennsylvania-based paper company, the goofy character Jim wears a very simple, homemade, and paper-themed costume. What is it?
Answer: In Season 2, Jim's costume is "Three-Hole Punch Jim," created with just three paper circles.
Question: What are the names of the three sister witches in the iconic 1993 Halloween movie?
Answer: The names of the three sister witches are Winifred, Sarah, and Mary Sanderson.
Question: In the seven-book series following a young wizard's adventures, the redheaded best friend has a pet that becomes particularly important. What kind of pet is it, and what is his name?
Answer: He has a pet rat named Scabbers.
Halloween Candy
Question: This popular candy bar, which shares the name of our galaxy, consists of three main ingredients. What are they?
Answer: Nougat, caramel, and chocolate.
Question: Every year, candy companies produce around 35 million pounds of this festive candy made from sugar, water, and corn syrup – but it's most popular around Halloween. What is it?
Answer: Candy corn.
Question: It's probably not possible for someone to actually eat this much candy without throwing up first, but the American Chemical Society says eating this many fun-sized candy bars would poison the average 180-pound person! (Closest answer wins.)
Answer: 262 fun-sized candy bars.
Question: According to a survey done by Monmouth University, this sweet treat is the most popular Halloween candy.
Answer: Peanut butter cups, with 36% of Americans reporting it's their very favorite!
Halloween History
Question: History buffs trace Halloween's origin back to what ancient Celtic festival celebrated from October 31st to November 1st?
Answer: Samhain.
Question: This common Halloween tradition was originally considered a way to hide from ghosts. What is it?
Answer: Dressing in costumes.
Question: Pumpkins haven't always been used for carving jack-o'-lanterns. Which vegetables were originally carved in Ireland?
Answer: Large turnips and potatoes.
Question: Though not used nearly as often as the term "Halloween," this is another title for the ghostly October holiday.
Answer: All Hallows' Eve.
Question: The last time we've gotten a full moon on Halloween was 2001. When is the next full moon Halloween?
Answer: 2020!
Halloween Costumes
Question: Believe it or not, it's illegal in one state to dress up like a priest or a nun on Halloween. Which state is that?
Answer: Alabama.
Question: In 2019, Americans had a field day shopping for Halloween costumes… for their pets. According to the National Retail Federation, approximately how much money did Americans spend on costumes for their furry friends?
Answer: $490 million.
Question: Halloween is probably a particularly frightening day for anyone with this phobia, which is defined as a fear of masks.
Answer: Maskaphobia.
Question: Picking a costume can be stressful, but try not to overthink it. In 2019, the most popular costume was a simple one. What was it?
Answer: Witch.
Are you ready to show off your knowledge of all things spooky? Now that you've brushed up on these good Halloween trivia questions, it's time to get a little competitive! Join a trivia night painting event at a Painting with a Twist near you! Test your knowledge and quiz your friends while you paint your own spooky Halloween-themed painting.
Countdown to Christmas? Pssshhh, yeah, right—you'd rather count the days 'til Halloween! If the spooky season is your favorite time of the year, you need to make the most of October. Ready to get a jump start on your list of things to do for Halloween? Read on for 7 ideas you HAVE to add to your October checklist!
1. Host an all-things-pumpkin party.
When it's time to brainstorm things to do in October, most of them involve pumpkins — and rightfully so! Invite a friend or two to accompany you to a nearby pumpkin patch or local farm stand, then take your creations home and carve them into jack-o-lantern masterpieces.
Step things up a notch with pumpkin-themed food, like hearty pumpkin soup in the slow cooker or pumpkin snickerdoodle cookies that SCREAM fall!
2. Enjoy a scary movie marathon.
Invite all your neighborhood witches — or, you know, girlfriends — over to watch your favorite Halloween flicks together. If you have a hard time choosing between thrillers or lighter Halloween movies, check out this list of Halloween classics that's sure to have something for everyone. Don't forget to whip up some smokey witches' brew for your gals to enjoy!
3. Come up with the best couples' costumes ever.
Coming up with a killer Halloween costume for yourself is cool, but going all out on a couples' costume idea is double trouble! Dress up with your S.O. and head out to find spooky things to do around town. Check out a haunted house, go for a hayride, or channel your creative side with a Halloween-themed date night painting event!
4. Tell ghost stories around a bonfire.
If telling ghost stories isn't on your list of things to do for Halloween, can you even call yourself a true Halloween enthusiast?! Gather 'round a backyard fire pit and tell your best terrifying tales. Bring marshmallows, chocolate, and graham crackers, because let's be honest: everything's better with s'mores.
5. Bust out your amazing apple recipes.
Pumpkins are the most obvious ingredient for fall vibes, but don't forget about apples! Find spooky things to do with apples, like coating them in gooey black caramel or "mummifying" them in the form of delicious hand pies. Or, keep it simple and walk around to admire your neighborhood's Halloween décor with a mug full of homemade apple cider.
6. Have a costume photoshoot with friends.
You spent time, money, and effort putting together an epic Halloween costume this year. Whether you're headed to a gathering or choosing to stay home for Halloween, make sure your costume gets the attention it deserves! Grab your family or a few friends and have a photoshoot in your costumes. Bring props to use, or just let everyone's personality go wild to capture some spooky — and goofy — memories.
7. Get creative at a Halloween-themed paint party.
Want to branch out from the "typical" things to do in October? What better way to get into the Halloween spirit than with a themed spooky painting event at Painting with a Twist? Bring your favorite wine — or spooky spirits — and celebrate October at a studio near you!
Halloween and festive decorations practically go hand-in-hand. And while macaroni art bats and construction paper pumpkins might seem a bit juvenile nowadays, there's no reason why you can't still get into the arts and crafts spirit! This fall, try these easy and fun Halloween arts and crafts ideas to get you into the spooky mood!
Jack-O-Lantern String Art Sign
If you're looking for cute Halloween arts and crafts to decorate a festive entryway table or hang on a wall, this jack-o-lantern sign is ideal. It looks intricate, but it should be easy enough for the most novice DIY-er!
Grab a piece of wood – the size is dependent on how big you want your sign to be – and paint it a bright Halloween orange. Lightly draw or trace a jack-o-lantern face onto your board and hammer nails along your outline. Finally, take black string and wrap it around the nails, crisscrossing it sporadically across nails to fill in the jack-o-lantern's features. Knot the string to secure it, and trim any extra. This is an excellent craft for adults, or you can handle the hammering and let your kiddos do the painting and stringing!
Spooky Luminaries
Your home will look delightfully creepy this Halloween with these spooky luminaries flickering on your table!
Collect and clean a few glass jars (pasta jars, pickle jars, whatever you have handy!) and spray them with shimmery and translucent spray paint in your favorite Halloween color. Then, use a black paint pen to draw a scary design on the outside, like a graveyard, haunted house, or jack-o-lantern. Make sure to color your image in with your paint pen. After allowing your jars to dry overnight, pop a tea candle into your jar to light up your Halloween design with an eerie glow.
One-of-a-Kind Halloween-Themed Paintings
Not in the mood to brainstorm and prep Halloween arts and crafts ideas? Let Painting with a Twist plan everything for you! Whether you're an experienced painter or you've never touched a paintbrush, you can create a Halloween masterpiece at a themed Painting with a Twist event!
At our studio, a professional will guide you through your painting, from pumpkins to witch hats to the creepiest of characters, all while you socialize and sip on your favorite adult beverages. We even host themed Trivia Nights – get into the Halloween spirit by showing off your knowledge of fictional wizards or your favorite trio of sister witches.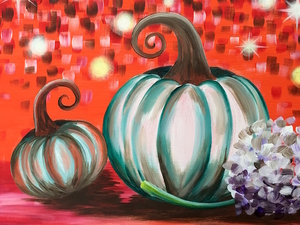 Foam Tombstones
Foam tombstones are perfect outdoor décor to spookify your front lawn! Pick up some large pieces of foam for cheap at your local craft store, and sketch your tombstone outlines. Using a standard kitchen bread knife, cut your tombstone shapes out of the foam.
Once you have your "stones," you can either carve your inscription into the foam with a small paring knife or take the easier route and simply paint the words on as the finishing step later on. To make your foam tombstones look like real stone, layer coats of black, gray, and white spray paint, allowing your foam to dry between each one. Finally, add your inscription if you chose not to carve it, stick skewers into the bottom, and place your decorative tombstones in your yard.
Fallen Leaf Ghosts
The best DIY Halloween decorations for kids have two things in common: they are simple, and they don't require too many supplies! These leaf ghosts certainly fit the bill.
Have your little ones gather some fallen (and decently sturdy) leaves in the yard or on a nature walk. Have them paint the front and back with opaque white paint, and add two little eyes with a black Sharpie. Stick the leaf ghosts to your windows, put them in a basket as a centerpiece, or string them up on a garland for an almost-effortless Halloween decoration!
Are you ready to take your arts and crafts night to a new level? Head to a Painting with a Twist near you for a Halloween-themed painting event! We'll have all the painting supplies you'll need set up and ready for you when you arrive. Just bring your friends and your spookiest cocktail concoctions, and you're ready for an art-tastic night of Halloween fun!
There's a good chance you're familiar with the phrase, "Treat others the way you want to be treated." It's an age-old mantra many people still uphold, yet it can be difficult to put into practice if we're not offering that same kindness to ourselves first! Doing things for yourself is far from selfish — in fact, it's actually a great way to enhance your self-esteem and keep a positive outlook on life. Check out these 8 ways you can practice self-love to start showing yourself some much-needed kindness.
Why Is Self-Love Important?
Being kind to yourself shouldn't be a luxury or reserved for a special occasion. Just as you deserve to feel cared for by your friends and family, you should feel cared for by yourself as well. The following are eight examples of how to practice self-love and care that'll help you invest in your mental and physical health and help you thrive in every area of your life.
1. Use daily affirmations
You may not realize it, but you have the power to generate positive feelings no matter what kind of stress you're under. Get in the habit of using daily affirmations that speak to your self-worth. If you're unsure of what to say, try something like, "I feel proud of myself when…" or "I trust that I'm on the right path." It might feel silly at first, but the truth is, repeating these empowering mantras can have an amazing effect on your mental health.
2. Make a nourishing meal
If you're new to practicing self-love, another great place to start is nourishing your body with healthy foods. Look for recipes full of healthy, whole ingredients, and visit the farmer's market or grocery store to stock up on fresh, seasonal produce. The way we feed ourselves is truly a reflection of how we love ourselves! Try and plan a beautifully balanced meal a few times each week — and be amazed at how good you feel when you do.
3. Explore your inner artist
Expressing ourselves creatively can be a huge component of self-love. And when it comes to exploring your inner artist, Painting with a Twist has you covered! You can book a soothing zen painting event at your local Painting with a Twist studio or from the comfort of your own home.
Whether you visit in-person or participate in Twist at Home, all the supplies will be provided for you so you can sit back and let the creativity flow!
4. Get your body moving
When we're learning to love ourselves, we can't forget to spend time on our physical self-care! How we feel in our bodies can directly affect how we think of ourselves as a whole. To keep your body feeling its best, pick a physical activity that most appeals to you, whether that's a jog around the neighborhood or a yoga session in your living room. Moving your body is a great way to lift your spirits, so find what works well for you and stick with it.
5. Create a relaxing environment
It's almost too easy to slip into a frantic way of life. But when your schedule is always at capacity, it becomes easy to neglect your duties at home. After all, a cluttered space is not a peaceful one, nor does it help you unwind after a long day.
But by creating a relaxing home environment, it's much easier to feel calm and collected. Start by tidying up your belongings, and then add fresh flowers, soft lighting, or a few candles to support a calming atmosphere.
6. Put your phone away
Putting your phone away is one of the most valuable self-care activities you can do. It can be easy to get wrapped up with emails and online distractions but don't underestimate the importance of quieting your mind every once in a while.
Few things are as refreshing as silencing your phone and getting absorbed in a good book or enjoying a nice, long bubble bath. Your responsibilities can wait, so take a few deep breaths and cherish this time for an intentional pause or reflection.
7. Take yourself on a date
If you've never taken yourself on a date, make this the month where that all changes. Taking yourself out is all about doing something special just for you. If you've got the time, you can even make a whole day of it. Begin with breakfast in bed, visit a local museum, take a stroll around the park, watch a matinee, and splurge on a nice dinner or a decadent treat for dessert. The idea is to give yourself the love and attention you'd typically offer to others, guilt-free!
8. Find reasons to be grateful
We all walk through some tough stuff at different points in our lives. But by looking for reasons to be grateful despite difficult circumstances, you can help shift your attitude toward whatever's happening to a positive one!
If you have a journal, take time every day to jot down a few things you're grateful for, and include yourself in the mix. When you find at least one thing you can thank yourself for each day, you can help your relationship with yourself shift into a more loving place.
Hit the Refresh Button with Painting with a Twist
Remember that being kind to yourself doesn't have to be an uphill battle, since even a night out can be an opportunity for self-care! And what better way to spend a night out than to join a fun and relaxing painting event at Painting with a Twist!
When you book an event at a Painting with a Twist studio, you'll treat yourself to tons of relaxing fun. Because after all, you deserve it! Choose a painting that speaks to you, pack your favorite bottle of wine, and enjoy a date night out with yours truly — yourself!
Everyone has their own style when it comes to decorating for the holidays. Some decoristas use the full spectrum of seasonal colors to embrace their autumn cheer. Others prefer the chic route with minimal colors and inspired accent pieces. And of course, there's sticking to customs and traditions with vintage pieces deep-rooted in family history.
Luckily, you don't need a big budget to spruce up your home with the perfect fall decor. Channel your inner decorista, and check out these ideas on how to make cheap DIY fall decorations for every room in your home that are charming, simple, and easy to personalize!
How to Decorate Your Front Porch
Finding the perfect fall front porch decorating ideas on a budget is a top priority when preparing your home for the season. Your front porch is meant to captivate your guests long before they ever enter your fall-festive haven. With simple decor like a wreath, a porch leaner, and a bale of hay, you can illuminate your home with a scenic display of the autumn season.
Fall Porch Leaner
Perhaps the most exciting DIY fall home decor idea is the reliable porch leaner. With charming expressions like "Fall is Here," or "Harvest Season" you can take matters into your own hands and channel that unique, decorista flair. What's more, Painting With a Twist can help you create your very own! Find a fall porch leaner painting event at a studio near you and beckon your family, friends, and neighbors with a warm and inviting first impression.
Bale of Hay Masterpiece
You can purchase a bale of hay from many popular stores for less than ten bucks. So grab one and adorn it with plaid ribbon, colorful garlands, and various-sized pumpkins. This simple trick creates the illusion that you put much more time, effort, and cash into your outside decor.
How to Decorate Your Patio
The power of fall patio decor is not to be overlooked when decorating for the season. It's one of the best places to entertain and enjoy autumnal weather while you chit chat with the girls or sip your wine after a long day. Centerpieces for your table, throw pillows, and tartan blankets will liven the space in a pinch. Introduce a little lighting to create a harmonious display as the sun sets over your autumn arrangements.
Tin Tub Exhibit
Tin tubs are a tried and true staple in outside fall decor, especially when they're thrifted. Once you find the perfect one to center your patio table, fill it with hay or even small branches and twigs from your own backyard. Next, deck it out with large sunflowers, fall foliage garlands, dried corn and husks, and oversized pumpkins. Drape the garlands over the sides and along the table for beautiful continuity.
Fabric Placements
Because patios are typically covered with awnings or low-level roofs, feel free to decorate your chairs and tables with tartan blankets and fall-inspired throw pillows. The warmth of these decorations will create an abundance of harvest-season energy.
How to Decorate Your Living Room
Your living room is the heart of your home and the center of your fall decor artistry. True decoristas quickly learn that you can capture the spirit of autumn with beautifully-crafted vignettes, seasonal artwork, fall-inspired pillows, and oversized throws.
Seasonal Vignettes
Vignettes are an easy, budget-friendly way to showcase your love of fall. A vignette coordinates several smaller pieces that, when arranged, help tell a story, capture a mood, or display a feeling. When creating one, you want to have a piece that anchors the entire display. Whether it's a large mirror or prodigious lantern, your guests will be captivated as they cast their eyes over your masterpiece.
Rounded wicker baskets, pillared candle holders, and artsy vases — typical decor finds when thrifting — are the perfect items to use when designing your vignette. Put dried florals into your vase and gently tie them together with jute twine or rope. Fill your wicker basket with harvest goodies like pumpkins, pine cones, gords, and faux foliage.
For your candle holders, add a hint of drama with taper candles. Center the basket and layer the rest from back to front, and voila! Your thrifted finds exude expensive energy, and none will be the wiser.
Custom Paintings
Replace your summer and spring paintings by getting fall festive at Painting with a Twist. Bind together all of your living room decor efforts with artwork that is true to the autumnal season. Plus this will help you truly get in the DIY decorista spirit by creating your own work of art!
How to Decorate Your Kitchen
While decorating your culinary domain for the harvest season, be sure to take advantage of the items already there. You can do this by featuring your fall produce (i.e., corn, squash, apples, figs, and pears), reimagined cookware, and seasonal coffee mugs.
Tiered Trays
Tiered trays can be an elegant, yet simple approach to decorating your kitchen for the holidays. The best ones can be used time and again for different seasons and celebrations. Once you've found the perfect location for your tiered tray, delicately arrange all of your harvest favorites, and include anything from seasonal signs, dried florals, acorns, candles, and coffee mugs.
Harvest Garland
You can make your own fall hanging decorations by creating personalized, harvest garlands. Start by gathering your brightest harvest produce and cutting them into various-sized slices — no thicker than a centimeter.
Next, place them flat down on a cooking tray, and bake your goodies in the oven, at low heat, until they are completely dry (use a dehydrator if you have one on hand).
Then, leave your dried harvest to cool overnight. Gather oak leaves, corn husks, cinnamon twigs, and anything else your autumn heart desires.
Finally, weave it all together with an embroidery needle and twine, and hang your unrivaled creation anywhere in your home — from the island in your kitchen to the fireplace in your living room.
How to Decorate Your Dining Room
If the dining area is the focal point of your home or if you wear more than one holiday hat — decorista by day and host by night — you may feel pressure to splurge in this room of great feasts. But a simple, elegant centerpiece is all you'll need to liven up your dining room with all of the fall vibes! Try an assortment of fall-inspired vases, table runners, themed place settings, and dried harvest goodies.
Cake-Holder Centerpieces
Just as we used reimagined cookware for the kitchen, you can do the same in the dining room. Because, well, who said cake stands must hold cake? Instead, use them to showcase fall items like pears, gourds, acorns, and even vines or dried wheat. And if your cake stand isn't large enough to hold its own as a centerpiece, gather a few smaller ones to keep it company.
Fall-Inspired Place Settings
Fall-inspired place settings can be as simple as earth-toned placemats, napkin rings, plates, and chargers. Not only will you save tons of cash by opting out of niche holiday sets, but you'll be able to mix and match your dining ware to meet other holiday needs.
Fall Decorista Bonus Tips
Sometimes, autumn cheer is found in smaller, more subtle details. Use these cute bonus ideas for a well-rounded ambiance.
Casual Decor
Spontaneously place pumpkins and gourds of various sizes in spaces around your home (e.g. bookcases and bathroom countertops). However subtle this idea may be, your guests will surely take notice.
Scents of Fall
In many cases, scents can tie together cheerful nostalgia and the season's spirit even more than visual appeal. Make your own scents by boiling water in a pot or crockpot at low-heat. Include true fall items such as pumpkin spice oil, orange rinds, cinnamon sticks, vanilla, cloves, and apple slices. You're sure to create autumn memories that will not soon be forgotten.
Now that you know how to decorate for fall with these fun and simple ideas, get started by finding your nearest Painting with a Twist location. It's time to strut your stuff with fall porch leaners, seasonal art, and other fun canvas types! Make your inner decorista proud, and bring that harvest season energy home for the holidays.
As the weather gets cooler and the days grow shorter, the temptation to stay inside and be cozy only gets stronger by the minute! If fall weather has you wanting to shut out the world, you can still enjoy yourself from your home's comfort. Grab your favorite sweatpants and get inspired with these perfect cozy activities for staying in!
Plan a Cozy Girls' Night In
Maybe you don't want to head out on the town for dinner or drinks, but that shouldn't stop you from seeing your best gals! Invite your girlfriends over for a girls' night in—comfy clothes required, and makeup optional! Make your own gourmet meal together or bake up a tasty dessert to share while you catch up on one another's lives. If you have the space in your home, turn your gathering into a sleepover. Nothing says cozy like not having to drive home!
If you and your girlfriends are crafty, create something together that will add warm and cozy fall vibes to your homes — like a fall wreath to hang over your fireplace or a fall-themed sign for your front porch! If you want a little extra help, sign your crew up for a virtual private paint party with a Painting with a Twist artist!
Perhaps you've been dying to shop for some new fall wardrobe staples but can't bring yourself to hit the mall. Why not host a clothing swap? Have your girlfriends come over and bring clothing, shoes, and accessories they no longer wear, and trade away! Light a pumpkin spice candle for ambiance and get all the benefits of browsing a cute boutique from your living room.
Cozy Night In Essentials for Friends and Family
Want to include the kids in your cozy night in? If the weather is mild in your region, gather up supplies for s'mores, and invite your friends and their kids to a backyard bonfire. Yes, you're technically "outside," but it still counts for a cozy night in if you never leave your own yard, right?
Would you rather stay exclusively indoors? Order pizza or takeout from your favorite restaurant (warm soup on a chilly fall night SCREAMS cozy!), then settle in around the kitchen table or on the living room floor for a round of board games. After dinner, whip up a fall treat like pumpkin cookies with brown butter icing, build a pillow fort, and curl up inside to enjoy your tasty treat together.
Romantic Night In Activities for Couples
There's something about fall air that lends itself to snuggles and cozy nights spent with your better half. Rather than dropping a ton of cash on a fancy night out, stay home and enjoy each other's company with a quiet, cozy date night in!
Host a wine tasting night for two with a cheese plate, assorted finger foods, or even locally made goodies to support a small business while you enjoy your evening. Many stores carry half bottles or even wine cans, so you won't have to worry about half-empty bottles!
If you're looking for an interactive activity to explore your creative sides together, purchase an at-home paint kit which can serve as your date night in a box!
Want to take full advantage of outdoor fall activities this year? Spend an evening making a fall bucket list with your partner or spouse, and include things like picking pumpkins, trying out a corn maze, or seeing a scary movie at a drive-in theater together. You don't have to leave the house tonight, but hey, it never hurts to have those fun date night ideas for later, right?
Cozy Night In Ideas for Much-Needed You Time
Feeling introverted? That's okay, too! Unplug from social media and give yourself the gift of sweet solitude. Hanging out at home alone doesn't have to be a drag; In fact, it could be just the recharge you need. You could curl up and finish reading that book on your bedside table, take a yoga class online, or even unwind with a DIY painted masterpiece. Whatever you do, set the mood with chill lighting, comfy lounge clothes, and feel-good music. Ahhh, can't you feel the relaxation already?
Enjoy All the Best Cozy Activities for Fall
Fall is the perfect time to slow down and reconnect with those you love. You shouldn't have to leave your house to make plans with friends! Instead, invite everyone to a Twist at Home party with Painting with a Twist. You can pick up all the supplies you need from your local studio or have them shipped to your door, so you can stay in and still have a great time.
Our expert artists will guide you through creating your very own masterpiece, and you'll be free to relax in the comfort of your home with your loved ones. Get ready for laughs, memories, and a creative pART-y with a Twist at Home kit!
The air is crisp, the chunky sweaters are out, and pumpkins are everywhere you turn — fall has officially arrived! And while it seems like it took forever for autumn to get here this year, it certainly won't hang around long. Make the most of the season by adding these eight fall bucket list ideas to your fall to do list!
Go apple picking – and make some yummy fall treats with your loot!
Nothing says fall more than picking apples. Plus, apples you pick yourself seem to taste better for some reason! Head to a local apple orchard with your friends or family, and get picking. Then, try out a new recipe together! From fresh apple cider to apple cobbler to candy apples, there's no shortage of quintessential autumn goodies to whip up with the apples you bring home.
Get lost in a corn maze.
Grab your little ones or your besties and get lost in the tall stalks. A quick Google search can help you find corn mazes in your area, and some places even offer night mazes to make things even trickier. Corn mazes are fun for all ages and hilarious for anyone directionally challenged! Pick up a pumpkin spice latte on the way to really get into the spirit.
Have a bonfire and make s'mores.
There's something so peaceful about gathering around a crackling fire as the temperatures drop. If you're lucky enough to have a spot in your backyard for a bonfire, this makes for the ideal autumn evening! Roast up some marshmallows for s'mores, and don't forget to come prepared with your best ghost story.
Paint an autumn inspired masterpiece at Painting with a Twist!
Bring out your artistic side this season by attending a fall event at your local Painting with a Twist. An instructor will guide you step-by-step as you paint pumpkins, fall landscapes, or another fall-themed work of art. Bring your favorite bottle of wine – plus your date, your squad, or the whole family – and we'll provide the rest! You'll leave with a one-of-a-kind, festive new piece of fall décor to remember the special event.
Snuggle up for a cozy Halloween movie night.
Fall is the perfect time to break out your favorite Halloween movies – whether you're a horror movie buff who opts for the heart-pounding thrillers or a bit of a scaredy cat who would rather watch that not-so-spooky kids movie for the 100th time. There's nothing better than putting on your comfiest pajamas, popping some popcorn, and settling in for a movie marathon to celebrate the season.
Enjoy the colorful foliage on a hike.
Even if you hike the same trail year-round, hiking it while the leaves are changing colors is a special experience. Take a solo scenic drive to the woods for a little solitude and serenity, or pack some lunches and bring the whole family to make a day of it! The poet William Cullen Bryant really was spot on when he called autumn "the year's last, loveliest smile."
Carve or decorate pumpkins.
Is it really even fall if you haven't carved pumpkins? Visit a local pumpkin patch and carve up your spookiest jack o' lanterns to display on your front stoop, or bring out the arts and craft supplies if you have young children and want a no-carve option. Paint, glitter, stickers, googly eyes, and pom poms all make excellent pumpkin accessories, so get creative!
Visit a farmer's market, and make a warm, comforting batch of chili.
Dropping temperatures don't just mark the beginning of autumn, but also the beginning of comfort food season! Try out a new chili recipe this fall, and get bonus points if you make it with ingredients from a local farmer's market. Serve it up with warm cornbread for the ultimate fall meal.
Ready to get the most out of this fall season? Plan a fun, fall getaway with friends at Painting with a Twist! Grab your friends or family, and bring along your best pot of chili, some delicious baked apple treats, or even some cozy, fun cocktails for a night of fall painting. Our studios offer a wide selection of autumn-inspired paintings to get you in the fall spirit. View upcoming events near you, or plan a private painting party with your fall crew for a unique experience that's just for you!
You can't believe another year has flown by. Your beloved fur baby has aged another year! And as a proud dog owner, you HAVE to do something to celebrate their birthday. But celebrating your dog's birthday might be harder than it sounds. After all, they can't exactly give you a list of their demands. So, if you're feeling fresh out of party ideas, then check out these 6 fun and easy ways you can celebrate another year with your best friend!
How to Celebrate Your Dog's Birthday
Whether you've been with your pup since the beginning or you adopted them later, each year you get to spend with your dog is special. But if you're unsure when your dog's exact birthday is, no worries! Instead of celebrating the day of their birth, substitute it by celebrating Gotcha Day — the day that you adopted your best friend. So, no matter if it's their birthday or Gotcha Day, they'll be grateful for any special attention you give them! And these six dog birthday celebration ideas are sure to please.
1. Take a trip to the park.
Your dog is pretty simple to please. A nice treat, a full bowl of food, and an occasional walk are usually enough to keep your companion happy. So, why not kick things up a notch on their big day by heading to your local park! A change of scenery is all they'll need to feel like it's truly the best day ever. Plus, they can tire themselves out so you can both get some post-outing chill time.
2. Make a dog-friendly cake.
What's a birthday without cake? And after all, there's no reason your dog can't enjoy a delicious treat on their birthday! All you'll need is a few simple ingredients and a little prep time. Additionally, try skipping the sugary frosting and using whipped cream or peanut butter instead. Remember, they'll love it no matter what, so there's no need to make the cake super fancy, just make sure your vet approves.
3. Let your dog pick their own present.
There's nothing worse than picking out the perfect dog toy only for them to never play with it! Instead, let them pick out their own toy! Take a trip to your local pet supply store and give them space to sniff out the perfect chew toy that'll never leave their side.
4. Set up an overdue playdate.
Has it been too long since your dog has gone on a playdate? Can't remember the last time he got to give the neighbor's dog a good sniff down? If your dog is overdue for a playdate, then take this opportunity to make it happen! Meet up at a park, in the neighborhood, or at your place if you've got the space. Launch a couple of tennis balls and chew toys, and let the party begin.
5. Cuddle up for a movie night.
Your life can get busy. And as much as you hate to admit it, your puppy pal can easily get the short end of the stick when it comes to attention. Sometimes, all your best dog friend needs is a little TLC from you. If that's the case, opt for a night with a full bowl of leftovers, some tummy scratches, and cuddling up to a movie — or perhaps a nature documentary will be better received. Make it extra special by letting them up on the furniture they usually aren't allowed on.
6. Capture their youth in a painting.
There are many ways to pamper your pup on their birthday. And while you want them to celebrate, you also want to celebrate them! If you're looking for fun things to do for your dog's birthday that are fun for you, then try immortalizing their adorable face in the form of a painting! Sign up for a Paint Your Pet event at Painting with a Twist, and we'll make it easy to create a masterful work of art depicting your best friend.
All you have to do is sign up for one of our Paint Your Pet events from a Painting with a Twist studio near you. Once you've signed up, send us a picture of your fur baby and one of our in-house artists will sketch out your pet for you. Then all you have to do is paint in the details any way you'd like! While your dog may not be able to truly appreciate your artistic flair, you can appreciate them in a one-of-a-kind painting for many years to come!
Maybe it's all those home improvement shows you've been watching, or maybe Fall fever is starting to hit you. Either way, you're itching to create a little curb appeal with your home's outdoor spaces! After all, you've been stuck inside much of the year. It's time to head outdoors and get your porch, patio, or balcony ready for the Fall and holiday season!
Channel your inner decorator with these porch and patio décor ideas that'll make your home the most charming spot on the block.
1. Set the mood with outdoor lighting.
When it comes to popular back porch ideas, string lights are near the top of the list! And while those twinkly little vibe-makers are great, they're not your only option. Battery or solar-powered lanterns can hang from the ceiling of a covered back porch for ambient lighting.
And there's no rule that says you can't use indoor lighting as outdoor décor! Grab a lamp at a thrift store to use on a covered patio space (be sure to plug it in where it can't get wet!), or use an inexpensive solar lantern to convert a lamp into a free-standing light fixture you can move around as needed. If you like the look of glass lanterns, try dropping battery-powered candles into multiple mismatched lanterns for an artistic lighting display that adds sophistication—and function—to your outdoor decorations.
2. Add texture with wood and fabric elements.
Have you ever noticed how a couch looks better with pillows or how one piece of natural-wood furniture can add unmistakable warmth to a room? These types of pieces add texture and dimension to your home, both inside and outside! Add a rustic porch sign you painted yourself as a wooden focal piece, then bring in even more cozy vibes with textiles.
An outdoor rug can infuse a space with color and pattern, and your bare feet will thank you for the cushioning. Simple drapes can give you privacy and style on your porch, and they're easy to DIY from canvas drop cloths. Got patio chairs? Add throw pillows! You can even drape a blanket over an outdoor chair for chilly evenings.
3. Dress up the walls.
Your porch is an extension of your home. You wouldn't leave all the walls in your home totally blank, so why not use wall art for outdoor decorations, too? If you're coming up short on creative front porch ideas, treat your outdoor spaces just like you would an interior room with hanging planters, metal accent pieces, or even a retro macramé or yarn piece.
Are you renting and can't put holes in your walls? Have no fear! Leaning porch signs are your new best friend. Paint a DIY personalized porch sign to greet visitors on your front porch or add a touch of style to your balcony—without a hint of wall damage.
4. Incorporate your door into your front porch ideas.
You've dressed up the walls and set the mood lighting. But now you're wondering, "What should I put on my front porch?" If you have a sizable front porch, furniture can instantly make your porch more inviting. But if you have a small porch (or even just a tiny landing), you may not have space for a leaning sign or a rocking chair.
However, your front door is a blank canvas waiting to make a statement! DIY your own holiday-themed wood board sign, or opt for a simple boxwood or vine wreath (bonus: you can update the ribbon on the wreath to welcome changing seasons!).
Step Up Your Outdoor Decorations with a Personalized Porch Sign
Whether you have a small front landing or a massive wraparound porch, you can make a style statement with the right patio décor ideas! Create an artistic first impression on everyone who comes to your home—from the mailman to your in-laws—with a rustic porch sign that's handmade by YOU. Find a porch leaner painting event at a Painting With a Twist studio near you and reserve your seat today.
Although autumn will be here before we know it, there are still plenty of summer days left to enjoy! If you haven't done as much this season as you would've liked, don't panic — we've rounded up a number of ways you can celebrate the end of summer before it slips away!
8 of the best late summer activities
The end of summer can be a bit bittersweet, but the best remedy for those melancholy feelings is to make the most of the remaining days. So, pull out your calendar, call up your friends, and check out these end of summer tips to help you maximize the weeks ahead.
1. Host a cookout for family and friends
Not only are cookouts synonymous with summer, but activities centered around good food and good community are always a hit! Even if you've already hosted a cookout this season, consider squeezing in one more before the leaves start to change. Take this opportunity to try out some end-of-summer grilling recipes or a new side dish you've been meaning to make, and have your family and friends over for a memorable evening.
2. Throw a themed cocktail party
Themed parties can be a lot of fun, and themed cocktail parties can definitely kick things up a notch — so why not invite a few people over for a special happy hour! If you need a little inspiration for end-of-summer cocktail party ideas, a tiki or tropical theme is a classic; check online for fruity drink recipes like Mai Tais and Hurricanes, and be sure to stick a tiny umbrella in everyone's glass for extra flair.
3. Soak up some sun by the water
Whether you live near a big body of water or have access to a community pool, try and soak up some sunshine before we wave goodbye to summer. One of the things we miss most during the fall and winter months is relaxing in the sun and cooling off in the water. So, before the season comes to a close, grab your friends and your sunscreen, and enjoy the warmth.
4. Watch an outdoor movie
Watching an outdoor movie at the local drive-in is a great summer activity the whole family will love. It's arguably a cozier setup than a traditional theater, and you can even pack your own snacks to munch on!
If you don't have a drive-in nearby, it's still possible to have the same effect in your own yard. Spread out blankets on the lawn, and project your favorite movie onto the side of your house for a DIY movie night under the stars.
5. Have a painting party with your girlfriends
Socializing with your girlfriends is one of the best ways to spend a night out, and a painting party is a really fun and easy get together for the end of summer. The team at Painting with a Twist will take care of all the details while you sip on a glass of wine and explore your creative potential. Whether you make something to hang in your own home or to give to a loved one, painting is an incredibly soothing way to close out the season.
6. Look for somewhere new to bike or hike
When you'd prefer something a little more active, you can spend a Saturday tackling new terrain. With just a short drive out of the city, you're likely to find ample trails or paved paths to explore. Since the colder months typically see us spending more hours inside, now's the time to take advantage of the weather as much as you can — so dust off your bike or your hiking shoes, and get into the great outdoors.
7. Have a backyard camping adventure
Are you struggling to come up with end-of-summer party ideas for kids? You might not need to look further than your own backyard! Creating a backyard campsite lets you make amazing memories right at home and can be a lot of fun at any age. Enhance the evening by playing lawn games, building a bonfire, making s'mores, and naming constellations while the choir of insects sing you to sleep.
8. Take a weekend road trip
If you're looking to get away before the school year begins or you start a new routine, hitting the road with your best pals might be just the thing. Whether you plan a specific route or make impulse decisions on which direction to go, a proper road trip should leave room for a bit of spontaneity, as well as plenty of stops to take photos and commemorate that time together.
End Your Summer On a Creative Note!
The countdown to the end of summer is upon us, but there's still opportunities to savor the season. From cookouts to cocktail parties to lounging by the pool, there are tons of ways to have fun before autumn arrives! And if you're looking to socialize while also tapping into your creative side, make sure to sign up for a painting event at a Painting with a Twist near you!