Are you feeling nostalgic for the 90s? Those simpler times saw the rise of great music, colorful clothing choices, and the best junk food options that side of the millennium. So, if you're looking for a little escape from the modern age, check out these fun ways to make your summer the most '90s nostalgic summer yet!
1. Make a 90s "cheese" board.
You probably remember your lunchbox staples with mouthwatering nostalgia if you were a kid (or kid at heart) in the 90s. Recently, some popular snacks and foods have made a comeback, while many other classic 90s delights never left, they were merely outshined by newer, shinier superfoods.
In fact, according to Southern Living, the area of the brain that helps us remember flavors also "records" the place and time we tasted those flavors. And that's why char-grilled beef franks always remind you of summer camp!
Time travel back to summertime in the 1990s with a smorgasbord filled with your favorite decade snacks. Consider cult favorites like Dunkaroos (now available in stores according to Delish), Fruit Gushers, and even Lunchables. Sure, a 90s sampler platter might not make for the most wholesome meal, but it will take you back to the times when charcuterie boards didn't cost an arm and a leg.
2. Have a 90s movie marathon.
You may no longer have that enormous, 1-ton box TV set, but that doesn't mean you can't enjoy a 90s-style movie night. But don't just settle for watching classic 1990s movies like Space Jam, Jumanji, or The Parent Trap! Pair your film festival with delicious 90s snacks like the ones mentioned above, or even a good old sip of boxed juice or chocolate milk (Did someone say Yoohoo!?).
Take your nostalgia night to the next level by leaving your smartphone in another room to help you enhance that pre-Y2K feeling. If you get tired of watching movies (and have the technology available), enjoy a brief intermission over your favorite Nintendo 64 or first-generation Sony PlayStation games. "Booyah!"
3. Go all out with a 90s party.
If you left your Game Boy Color back in '99 (or just want to go screen-free for a few hours), you can still party like it's 1999. Whether you're solo or with other members of your household — a little bit of dress-up, some snacks, and a classic 90s playlist are all it takes to time travel back to the second millennium.
Start by digging in your closet for items reminiscent of 90s fashion. Many of the decade's trends have made a comeback in recent years, including choker necklaces, scrunchies, mini backpacks, flannels, and colorful windbreakers. Once you find a few 1990s style gems, pick your favorites and get into character! Don't forget about the bling!
While you dress up as your inner 90s kid, turn up the boombox to your favorite 90s tunes. Get the party started with classic songs like Wannabe by the Spice Girls, Bidi Bidi Bom Bom by Selena, and Livin' La Vida Loca by Ricky Martin.
4. Pay homage to "the good decade" with a 90s Trivia Event!
Once you've got the soundtrack and the outfit down, you'll feel as fly as Will Smith on The Fresh Prince of Bel-Air. Add an ultimate 90s painting party with super fun trivia to the mix and you have the perfect throwback event this summer.
Take a break from the twenty-twenties today! Join us in studio or virtually for a 90s inspired Summer of Pop painting event.
If the only holidays that come to mind in May are Mother's Day and Memorial Day, you're in for a pleasant surprise. With more than 70 national holidays in May, there are so many exciting reasons to celebrate this spring! From types of food to pop culture celebrations, holidays abound during this beautiful spring month. So, if you're wondering, "What holiday is in May besides Mother's Day?" then take a look at the list below for notable holidays you can celebrate with friends and family.
May 1: May Day
These days, the very first day of May marks the welcoming of Spring. But, according to History.com, this holiday celebrating the changing of the seasons got its start during the Roman Republic as a time to honor Flora, the goddess of flowers. The ancient tradition carried to other parts of Europe and centuries later is now known for dances around the maypole, crowning a "May Queen," and hanging small baskets of flowers on the doors of family, friends, and neighbors.
There's no better time than the present to celebrate warmer weather ahead! Make a crown of flowers and deem yourself — or another deserving lady in your home — May Queen for the day. If you can't safely deliver small baskets of flowers to your loved ones, paint them a bouquet of flowers!
You can celebrate May Day with your friends and family virtually by organizing a Twist at Home event! Pick up the materials you need from your local Painting With a Twist studio and select the floral piece you want to paint. Getting together remotely has never been easier — or more creative.
May 2: National Brothers and Sisters Day
Not to be confused with National Sibling Day (celebrated annually on April 10th), this May holiday recognizes the special bond between brothers and sisters. While there's no official origin of this popular social media-hashtag holiday, National Today attributes the start of #nationalbrothersandsistersday to an anonymous woman. Two years after the death of her brother, this woman started the holiday to encourage brothers and sisters to recognize their bond and cherish one another.
If you have a brother or sister, find a photo of the two of you and post it on social media using the hashtag #nationalbrothersandsistersday. Share a favorite memory and why your sibling means so much to you.
May 4: Star Wars Day
May fourth is a day when Star Wars fans worldwide unite. While this pop culture holiday's popular catchphrase "May the fourth be with you" has been around since the 70s, the explosion of social media — and the Disney purchase of the media franchise — amplified this holiday as masterfully as a Jedi mind trick. The first "May the Fourth" Facebook group appeared in 2008 and Toronto hosted the very first Star Wars Day event in 2011. Now, Star Wars fans everywhere celebrate by hosting movie-watching marathons, dressing up, creating Star Wars-themed recipes — blue milk, anyone? — and even making crafts!
This May fourth, cue up one (or more!) of the ten movies in the series, and have yourself a Star Wars movie marathon. Watching the entire series takes a little under 23 hours. Oh, and a little joke for the supergeek: if May fourth is Star Wars Day, what's the day after? The Revenge of the Fifth.
May 4 – 8: Teacher Appreciation Week #ThankATeacher
Teacher Appreciation Week always falls on the first full week of May. This national holiday originated in 1953, thanks to Eleanor Roosevelt, but didn't become official until 1980. Schools and Parent-Teacher Associations nationwide organize special ways to recognize teachers in their communities.
With the ever-changing landscape of distance learning, along with having to adapt to so much new technology in the classroom, it's never been a better time to celebrate all the hard work teachers do! And why not celebrate them with an artistic gift from your children. With a Twist at Home kit, your child has everything they need to create a memorable gift for their teacher.
May 5: Cinco de Mayo #CincoDeMayo
Every May 5th, it's almost a guarantee that you won't find a seat at your local mexican restaurant. But what is Cinco De Mayo, and why do we celebrate it? Well, there's a common misconception that Cinco de Mayo is Mexico's Independence Day, which actually falls on September 16th. Cinco de Mayo is actually the celebration of Mexico's victory over France in the 1862 Battle of Puebla. Today, Cinco de Mayo is primarily celebrated in the United States by Mexican Americans, as the holiday became popular during the Civil Rights Movement. From parades and fiestas to Mexican folk dancing and mariachi music, Cinco de Mayo is a colorful festivity that celebrates Mexican history and Mexican-American pride!
Planning your fiesta? Create a delicious lineup of Mexican food, including tacos, Mexican street corn, tostadas, and ice-cold margaritas!
May 6 – 12: National Nurses Day
May sixth marks National Nurses Day and the start of National Nurses Week, which ends on Florence Nightingale's birthday: May 12th. The very first National Nurses Week was celebrated in 1954 as a way to honor Nightingale's effort to support victims during the Crimean War. It wasn't until 1993 that the American Nurses Association (ANA) officially recognized this holiday.
This May, take time to mail a written thank you note or work of art showing your gratitude for nurses in your community.
May 15: National Pizza Party Day
No matter how you slice it, National Pizza Party Day is a holiday EVERYONE loves to celebrate. Not to be confused with National Pizza Day in February, Pizza Party Day is a time for pizza lovers to come together and celebrate in the way they know best: with a party.
The best way to celebrate National Pizza Day? Your own pizza party, of course! Buy fresh ingredients from the grocery store and have fun making pizza creations at home. Don't forget to post a picture on social media using the hashtag #pizzapartyday.
May 16: National Armed Forces Day
This national holiday, officially recognized by Harry Truman in 1950, recognizes the men and women currently serving in all five branches of the United States military. This national holiday distinguishes itself from Veterans Day and Memorial Day as it honors active-duty military members.
This year, you can honor your servicemen and women by decorating your front porch. Proudly display an American flag, make banners, and show your love and respect for the men and women who keep us safe.
May 25: National Scavenger Hunt Day
While there's no official record of when or why National Scavenger Hunt Day was born, it's a simple, fun holiday that's fun for anyone! When it comes to organizing your own scavenger hunt, start by establishing a theme: an at-home hunt, a hunt around your neighborhood, or even a photo scavenger hunt. Next, you'll need to create a list of things to collect. A simple Google or Pinterest search provides tons of printable lists for you to choose from. Then, it's time to hunt! Have a blast collecting your items!
May 25: National Wine Day
A more recent phenomenon, thanks to social media, National Wine Day dates back to 2009. Wine enthusiasts everywhere celebrate this national holiday by hosting at-home wine tastings with friends and throwing events at wineries.
Ready to pop the cork? There's no better pairing than painting and wine! Host a virtual wine and paint night with your friends with a Twist at Home event.
From May Day to National Wine Day, there are plenty of May holidays to celebrate. And at Painting with a Twist, there are plenty of ways to celebrate them! Whether it's food, pop culture, or a celebration of culture itself, make every day in May a party day. Join a virtual Twist at Home painting event and celebrate from the comfort of your home!
As the workdays bleed into the weekends and the weekends into workdays, social distancing means one thing and one thing only: a whole lot of time at home. The lack of office banter and social interaction during the workweek can lead to burnout and social isolation, a dear cousin of social distancing.
In an effort to keep your team connected, it's more important than ever to engage team spirit on a consistent basis. One fun way to liven up everyone's home office? Host a social distancing corporate event!
If you're unsure how to plan a corporate event, especially in a remote working environment, don't worry. Here are easy-to-implement virtual corporate event ideas to consider for your team.
Take a mental break with a work-wide virtual health retreat.
Does it feel like working from home is making you more sedentary? It may very well be! With gyms closed and commutes extremely shortened, employees have to proactively schedule in time throughout the day to move their bodies.
To get everyone's blood pumping, organize an at-home health retreat. Schedule time throughout the workday for online health and wellness classes and activities that employees can opt into. From sweat-inducing power workouts and serene yoga to meditation sessions and nutrition courses, provide a variety of online workshops for your team to participate in.
Encourage team members to post photos of themselves participating throughout the day. Close out the virtual retreat with an awards ceremony! "Hand out" awards online: most team spirit, best workout gear, most classes taken, etc. The more creative, the better!
Host an afternoon of online trivia.
One of the best ways to bring a large team of people together online? Host a virtual trivia party!
Here's how virtual trivia works: you'll need an online space where your team can gather, like Zoom, Google Hangouts, Webex, or Microsoft Teams. Since this is a social event, encourage participants to turn on their cameras!
Next, you'll need a host to serve as the question-master. This person will research trivia questions for the group, keep track of the score, and serve as the host of ceremonies during the event. Some services, like TriviaHubLive, provide a host with their out-of-the-virtual-box solution. You can also simply ask a team member who enjoys being front-and-center.
Next, form teams of 3-5 people and have each group come up with a team name. During trivia, team members can collaborate through an online messaging system, like Slack or Hangouts Chat, to brainstorm answers. Every group needs a team leader to submit final answers to each question.
Finally, host the event! The trivia master may kick off the event by sharing the game rules, going over the trivia categories, and explaining how each team member can submit answers. Then, let the trivia mania begin!
Organize your own 2020 online Olympics.
The 2020 Tokyo Olympics may be canceled, but consider lighting a virtual eternal flame for your team by hosting a company-wide online Olympics event!
Start by researching simple "Minute to Win It" games with materials team members can easily find at home or buy on their next trip to the grocery store. Make sure these games can be performed in front of a video-conferencing application. These games will serve as your Olympic events throughout the day. Then, divide your team into groups and assign each group a country. For extra fun, encourage team members to wear their assigned country's primary colors.
Finally, let the games begin! Dial-in and watch as team members compete in silly games over video conferencing.
Paint at home, together!
If you're wondering how to make corporate events fun and interactive at home, consider organizing a virtual painting event for your team! Painting provides a therapeutic outlet to relieve stress, making it the perfect group activity for teams who aren't accustomed to the pitfalls of overworking when working from home.
Create an opportunity for your team to take a breath, connect, and use their brains in an entirely different kind of way through making art.
Painting With a Twist makes it easy to organize a virtual painting corporate event with Twist at Home kits! Purchase kits from your local painting studio, pick them up and distribute to team members' doorsteps.
If you have team members all over the country, simply order kits online for each employee. Within each kit, employees will receive a canvas, paint, paintbrushes, and step-by-step instructions to complete their painting. If you'd prefer your team to follow a live instructor, you can look for "painting events near me" to find scheduled virtual live events. Or you can throw a private virtual group paint party!
If you're ready to liven up everyone's home office with a social distancing corporate event, boost morale while making memories during your Twist at Home event! Get your painting supplies, queue up that video conference call, and prepare to do some long-distance team building!
Deciding what to get mom for Mother's Day can be extremely tricky. Should you buy her a gift? Make her something? Give her the gift of quality time? While there's no right or wrong answer to this question, moms usually have one thing in common: they cherish time with their loved ones! So, in the spirit of cherishable memories, here are ten creative gift Mother's Day gift ideas for all of the moms in your life.
The Best Mother's Day Gift for Mom
While all moms just want to spend time with their family, giving her a coupon for a free foot rub for the third year in a row may have run its course. This year, spruce up your Mother's Day gift with an idea that's both creative and fun to receive for mom.
For Moms of Littles: Host a Talent Show in Her Honor
Invite mom to a talent show in her honor! Kids can get involved in planning this special evening event for mom days ahead of their grand performance. From dance routines and magic acts to singing and skits, kiddos can prepare solo and group performances for their Mother's Day Talent Show.
There's plenty to prepare: planning and practicing talent show acts, making mom a homemade program outlining the order of the performances, and preparing snacks and drinks for the guest of honor… there's a role for every family member!
Make sure to take photos of the event, and if you want to go the extra mile, print a simple photo album documenting mom's special night. Looking at pictures of this silly evening is sure to bring smiles to her face.
For Moms Who Cherish Quality Time: Coordinate Family Paint Night
One of the most valuable gifts moms can receive is time with her kids. From little ones in diapers to adult children who have lives of their own, moms love to spend quality time with the family she created. This year, organize a family paint night on Mother's Day and make sure to include every family member!
Can't be together this year on Mother's Day? No problem. With Twist at Home virtual paint events, you can pick up the art supplies you need from your local Painting with a Twist location and host a virtual Family Paint Night with loved ones near and far.
For Expecting Moms: Create an At-Home Spa
Sending a mom-to-be to the spa is very relaxing, but it can be incredibly expensive. Plus, she would probably prefer to spend time with you! Pamper mama with an at-home spa experience! She'll be impressed with your creativity and will love the quality time she'll get to spend with you.
Start by creating the right atmosphere at home: scented candles, low light, and ambient background music. Offer her a spa drink — cucumber or fruit-infused water — and then let the spa "services" begin! From an organic face mask and hand/foot massages to a more elaborate bubble bath and body scrub, the sky's the limit with what services you provide for mom-to-be. If you have kids, get them in on the fun! Make sure to spoil this well-deserving mom.
For the Mom Who Loves Romance: Create a Work of Art Together
When it comes to creative Mother's Day gifts for your wife, spend time creating a unique work of art that you can proudly display in your home. Painting With a Twist offers Twist at Home, a virtual paint-at-home experience that allows for even more one-on-one bonding. Studies show that painting together triggers oxytocin, the "Love Hormone." Fall even more in love with every stroke of the brush!
Creative Mother's Day Gifts for Grandma
Not quite sure what to get the matriarch in your family for Mother's Day? Grandma deserves a thoughtful gift that shows how well you know her, and how much you care about her. Here are some creative gift ideas for Grandma this Mother's Day.
For Grandmothers Who Have an Interesting Past: Explore Her Genealogy
Knowing where you come from gives a person a sense of identity. Whether Grandma knows a lot or a little about her past, it can be a fun family activity to explore the family tree through an online ancestry, genealogy, or DNA service. Gift Grandma a subscription and become a detective alongside her, exploring and documenting your family history together. Turn your digital subscription into a family scrapbook by printing the articles and pedigree charts you find online and storing them in a binder. Who knows what kind of stories and lineages you may uncover!
For Grandmas Who Adore Their Grandchildren: Celebrate Her Legacy
There's a special bond between a grandmother and grandchild that can't be explained. Capture that love by creating a custom piece of jewelry for Grandma that includes all of her grandchildren's birthstones. The best part? You don't have to spend a fortune to create a custom birthstone bracelet, necklace, or ring for your grandmother. Explore maker marketplaces, like Etsy, to find a design that fits your Grandmother's style and your personal budget.
For Tech-Friendly Grandmas: Host a Virtual Family Gathering
If your Grandma loves texting emojis and posting on her Facebook, coordinate a virtual family gathering for Mother's Day! With easy-to-use video conferencing technology, it's easier than ever to bring together family members from near and far to celebrate your favorite mom.
Spice up your Mother's Day virtual gathering with an easy-to-implement activity, like playing an online group game or participating in a virtual paint night. Including an activity creates a bonding experience and helps you avoid the awkwardness of not knowing how to keep the conversation going during a large virtual gathering.
What to Get Your Mother-in-Law for Mother's Day
When it comes to Mother's Day gifts for your mother-in-law, a thoughtful gift doesn't require over-the-top planning. Consider these gift ideas that are sure to bring a smile to her face this Mother's Day.
For Mothers-in-Law Who Lives Far Away: Mail Her a Flower "Bouquet"
If you have children, have them help pick flowers in your yard or while on a walk in your neighborhood. Press the flowers between the pages of a thick book — make sure to use parchment paper between the pages and the flowers so you don't stain the book pages. Leave them for about 2 weeks to allow the flowers to dry out. Once you have your beautiful collection of pressed flowers, you can creatively place them in a frame or simply glue them to a card and mail it to your mother-in-law. Ta-da! A mailable bouquet of flowers!
For Sentimental Mothers-in-Law: Design A One-of-a-Kind Photo Calendar
The rise of social media has meant the fall of traditionally printed photos. While digital photos are incredibly convenient when it comes to sharing memories with friends and family, there's something extra nostalgic about reminiscing over printed photos in your home. This year, spend some time creating a custom photo calendar for mom. You can make a homemade calendar by printing and gluing photos on a large calendar or simply create, customize, and order one online.
For extra creativity points, organize photos from years past that correspond with each month: New Year's photos for January, Valentine's Day photos for February, etc. Not only will mom love the walk down memory lane, but she'll also have a beautiful, useful gift to display at home or at work!
For Mothers-in-Law Who Love to Cook: Decorate a Recipe Binder
If you're a huge fan of your mother-in-law's cooking, pay tribute to her recipes by decorating a recipe binder this Mother's Day! You can use photos of her, decorative quotes, stickers — any craft supply that makes you think of this special lady. If you want to go the extra mile, ask her in advance what recipes she especially likes, and include a print out of those inside the binder!
At the end of the day, mom can't get enough of the people she loves. Instead of buying mom a one-time gift, why not give her one she'll cherish for years to come — the memory of spending time with you and the beautiful artwork you'll both get out of it! Invite her to join a Twist at Home event so you can stay safe at home while enjoying your Mother's Day bonding together or purchase a gift card for a Mother's Day do-over paint night later!
In a world where you're always on the go, spending quality time at home every now and then can be nice. But when you're stuck at home, all those creature comforts you cherish about your personal dwelling space don't seem as nice. Especially when you don't have a choice!
Whether you're hunkering down to save money, avoid inclement weather, or you're simply trying to establish some social distance, being stuck at home can make you feel trapped! Luckily, there are plenty of ways to stay creative and keep yourself inspired during your home isolation. Here are a few ideas for what to do when you're stuck in the house all day.
Clean your house.
With daily life always getting in the way, your humble abode can get a little messy. And while the idea of cleaning your house doesn't sound creative or inspiring, it can certainly help in your inspirational journey! For starters, you may find things you forgot you had, like painting supplies, musical equipment, or even an old pair of knitting needles from your crafty DIY phase. Second, it's a great way to get organized and give yourself some room to breath. With all that clutter out of the way, you can really focus on doing you!
Do some gardening.
Sometimes, there's nothing more rewarding than getting your hands dirty with a little gardening! Plant flowers or a vegetable patch. Get creative by adding in some pathways to traverse your garden as it grows. Once everything starts coming in full bloom, you'll thank yourself for all the flowers, fruits, and veggies you worked so hard to cultivate. Nothing says fresh like produce picked straight from your yard! And if you don't have a yard for a garden, try using some smaller raised beds on a patio or balcony!
Practice your craft.
Perhaps you used to be a wizard at Guitar Hero or you could really slay at drawing. If you feel like your busy on-the-go life has robbed you of your sweet skills, then it's time to revisit them! Choose your most mentally productive time of day and set some time aside to practice your skill. By the end of your self-quarantine phase, your friends will think you've gone pro.
Connect with long-distance loved ones.
Being stuck at home doesn't mean you have to be alone. In fact, it can be a great time to catch up with long-distance loved ones! With all kinds of online video chat options, there are plenty of ways to connect face-to-face. Check in on grandma, see how your old college roommate is doing, or say hey to your old friend from high school who lives six states away now. Take the time to ask them questions or get to know things about them that you didn't know already. It could be some good inspirational fuel for yourself later!
Start a blog.
You have thoughts and feelings, so why not start a blog! Even if you don't think of yourself as a skilled writer, starting a blog can still be a great release. Make yourself a fresh cup of tea or coffee, grab your keyboard, and fire away! Write about anything and everything you can think of, and over time, you may be impressed at your portfolio of blog pieces. Who knows, you may even unlock some hidden inspiration within yourself!
Challenge your culinary skills.
When you're stuck at home, there's almost no better pastime than eating food! So, why not take the most enjoyable activity to do while at home and amplify it! Watch a cooking tutorial on a new recipe you've never tried, use a new ingredient, or try a cuisine you've never cooked before. Just remember to have fun and be creative!
Take online classes.
The internet is a very big place, filled with many opportunities to learn. And many of those opportunities are free! No matter if you're on a break from school or if it's been a while since you've been in a classroom setting, it's never too late to learn! Find a video on a topic that interests you, preferably one you can follow along with or take notes on. For a more in-depth learning experience try a subscription-based online class, such as Skillshare, Lynda, or Masterclass.
Express yourself through art.
Now is a great time to do something creative. Since we can't be together to paint in our studio, we now have an option for you to Twist at Home! Simply purchase a Twist at Home kit online and a kit will be shipped directly to your doorstep! Our kit includes all the art supplies you need along with a step-by-step guide and video tutorial to complete your painting! We have adult and kid options so the whole family can enjoy a creative escape.
We're excited to officially bring Bottle & Bottega into the Painting with a Twist brand!
What is changing at my Bottle & Bottega studio?
Nothing! Your Bottle & Bottega studio is owned by the same terrific local owner offering the same opportunity to reconnect with your besties while tapping into your creative side.
Why have Bottle & Bottega and Painting with a Twist merged?
To serve you better! We'll have new artwork, a new website and new products to deliver the carefree escape you've been coming to Bottle & Bottega for. Bottle & Bottega and Painting with a Twist are the largest sip and paint in the country. With lots of locations and a community of artists, our two companies will be well positioned to continue to serve you for many years to come!
I noticed the website changed, what other changes should I expect?
The website is the biggest change you will see for some time. Over the next few months, you will also see some shifts in our social media materials and in our printed materials. But your experience in our studio will continue to remain the same!
Will my Bottle & Bottega VIP Points be valid?
Yes, Bottle & Bottega VIPs will transition to the Paint Points loyalty program. The Paint Points loyalty program offers tiered rewards; therefore, your existing points will be transitioned within those tiers. So, instead of 1500 points, you'll see 42,000 points in your account.
Moving forward, you will earn 100 points for every $1 spent when you visit any location!
Earning points is made even easier, you can earn points at any Bottle & Bottega or Painting with a Twist location.
Rewards are used like cash and can be redeemed starting at $5 Off!
Can I still use my gift certificate from Bottle & Bottega?
Yes, Gift Certificates purchased at your Bottle & Bottega studio can be used on new reservations. Simply enter the Gift Certificate number upon check out. Note, Gift Certificates are specific to the studio you purchased from and are not transferable to other studios.
If you have any questions about the transition feel free to contact us anytime! We look forward to continuing to serve you with the fantastic paint and sip experiences you know and love.
Doing good deeds is not only a great way to care for others, but also yourself! No matter what you're passionate about, doing good can spread love—both to you and to those around you! And with the world in a period of uncertainty, it is as good a time as ever to spread some positivity! From sharing your time and skills to spreading good to others online, you can easily turn your self-isolation period into a time of doing good deeds.
1. Doing good deeds can increase your self-confidence.
There's nothing quite like a sense of accomplishment to make you feel better about yourself and your abilities. With volunteer work, a sense of accomplishment can come standard! Your emotional health can greatly benefit from knowing that you've contributed to something larger than yourself.
In fact, research by the Mayo Clinic indicates that volunteer work can lower your risk of depression. And these days, it's easy to volunteer your time without even leaving your house! Connecting with people who aren't able to leave their homes or making time to video chat with people who could use a friend can be a huge way to give back.
2. Doing good together = making new friends!
With our busy lives, it can be hard to maintain friendships throughout adulthood. But volunteering your time to connect with someone, even over video chat, is a great way to build relationships! And this isn't just great for finding new friends that share a common interest. It can also help you build a network of people who may be able to help you find professional opportunities in the future or serve as character references for future job applications.
3. Doing good deeds can broaden your perspective.
Sometimes it's nice to see the world through other people's eyes, and doing good deeds can help you do just that. Participating in virtual volunteering opportunities like Bookshare, giving your time to others through organizations like Be My Eyes, or giving others a voice through VocaliD can change your view of the world for the better. That's one benefit of doing good that will stay with you forever!
4. You'll learn new skills while you volunteer.
You might not get paid for it, but even virtual volunteering is a great opportunity to learn something new! For instance, the Smithsonian Digital Volunteer program lets you transcribe historical documents. Not only are you learning about history, you're also preserving it for future generations. That's a win-win!
Do Good at a Paint Studio Near You!
Are you convinced of the endless benefits of doing good? Do good by reaching out and inviting your friends to Twist at Home! Gather your group and sign up online. Then, your local Painting with a Twist will reach out to you with more details and next steps.
Time flies when the kids are in school. But as soon as summer break starts, time seems to come to a screeching halt! Don't let summer creep by with the sounds of "I'm bored!" playing on a loop. Keep the kids busy this summer with these eight fun activities for kids!
Head to the beach or pool, or set up a mini water park in your backyard.
Nothing says vacation like being by the water. If you're lucky enough to live near the beach or a pool — pack the sunscreen, some water toys, and a picnic lunch for a day's worth of fun with the kids. If you don't have access to either and you're looking for things to do with kids at home, set up an aquatic playground in your backyard! Some water balloons, a sprinkler, and a slip n' slide can keep everyone occupied for hours. And don't forget, SPF is your BFF!
Go on a camping trip.
If your family is on the adventurous side, there's no better bonding activity than a camping trip! Teach the kids to pitch a tent, build a fire, and make s'mores. Are you not wild about the idea of sleeping in the wilderness? Go camping in the backyard! Set up camp, grill out, stargaze, and tell ghost stories from the comfort of your yard.
Take an outing to a drive-in movie theater.
They might seem old-fashioned, but there are still over 300 drive-in theaters operating in the country! Find the nearest one and plan a family movie night excursion. Drive-in tickets are typically much cheaper than standard theaters, and some even let you bring your own food and drinks.
If there isn't a drive-in theater near you, you can set up a backyard theater with a movie projector and a large, white bed sheet. Bring your home-made movie theater treats like popcorn, pizza, and hot dogs, and you're good to go!
Sign them up for Kids Camp at Painting with a Twist.
Let your little ones unleash their inner Picasso at your local Painting with a Twist studio! At our Kids Camps, your children will enjoy art, snacks, friends, music, and playtime while you enjoy getting your day back! Don't let them experience the dreaded school vacation brain drain. Kid-friendly events at Painting with a Twist allow them to develop their creativity, learn new skills, gain confidence, and, most importantly, have a blast with friends. Call your local studio today to learn more about their Kids Camps offerings!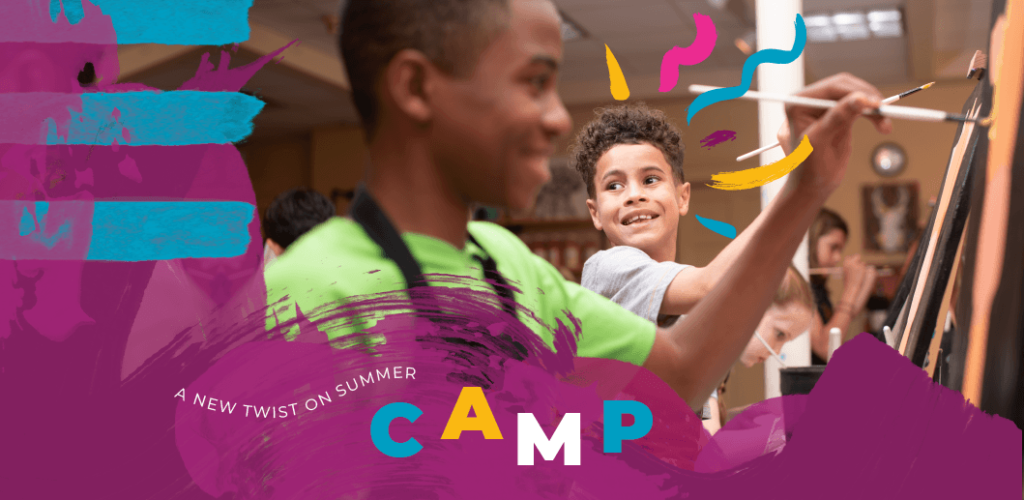 Tie-dye clothing.
Grab a tie-dye kit and some cheap beach pails from your local craft store, have your kids gather up some pieces of white clothing, and have an outdoor tie-dye party! Everyone will love turning their old t-shirts, socks, and pillowcases into groovy, colorful masterpieces.
Check out storytime at the library.
No one has a parent's back quite like the library, especially when the weather calls for indoor activities for kids. When in doubt, check out your local library's calendar of events! They usually offer a variety of great activities, from interactive storytimes to arts & crafts. Even better, they're almost always free!
Take turns picking new recipes and cooking for each other.
If your children enjoy helping in the kitchen, play restaurant! Kids can pick out fun recipes, grocery shop, and prepare meals and snacks for the family. Your child will get some great practice making a plan and following instructions, as well as a sense of pride and accomplishment when everyone digs into their culinary creation!
Pack a sunset picnic, complete with sparklers.
When the weather is beautiful, everything is more fun outdoors. Instead of having another dinner at home, pack it up, and take it to a park or scenic overlook for a sunset dinner picnic! Surprise the kids with post-dinner sparklers, and you'll automatically become the favorite parent (or cool auntie).
Running out of things to do with your kids at home? Painting with a Twist's Kids Camps and painting events for kids are a perfect way to keep them entertained while you crush your to-do list. Find an art camp for kids at a Painting with a Twist studio near you!
Whether you're moving into a new home or just want to mix up your space a bit, creating a beautiful and cohesive interior design can be challenging. You may feel like you need to be an expert at coordinating paint color palettes to make sure you're using the best wall color for your artwork or black and white photos. Yet when it comes to the right wall color for hanging art, there's no need to cover your furniture and get out the blue tape.
Instead of stressing over the "perfect" color for your walls, you can create a beautiful living space by choosing artwork that matches the color you've already got! All you have to do is follow a few of the basic design principles we've outlined in this step-by-step guide to matching paintings and wall color. Now break out the ol' color wheel — we've got some decisions to make!
1. Look at the Big Picture
Before you hang any art on your walls, it's a good idea to consider the overall direction of your design. How do you want the space to look and feel when you finish?
Are you aiming for a cozy, peaceful vibe? Something more functional, bright, and clean? Or maybe you've got a flair for the dramatic, and you want a space that's elegant and striking?
Whichever direction you choose will help you determine the appropriate color palette to match your artwork and wall color. For example, a tranquil space might call for darker, cooler colors like blues, greens, and purples. A more bright and minimalistic design could use a mix of neutrals and lighter, softer tones. And if you want a bit of drama? Go for bolder, warmer colors like red or magenta.
2. Identify the Color and Undertone of Your Wall Paint
The color of your walls may seem obvious to you, but look a little closer. Unless your wall paint is pure white, there are likely some undertones present that will affect your overall color scheme. In fact, all paint colors have undertones — even neutral colors like whites, grays, and beiges. The trouble is that these "hidden" colors are hard to see without comparing your wall paint to another color.
That's why it helps to have a paint color fan deck around for comparisons. If your wall paint is cream, eggshell, ivory, or any other kind of neutral white, use the purest white on the fan deck to spot the undertones in your wall color. Similarly, compare your wall to different types of beige, gray, blue (or whatever color your wall happens to be) to get an idea of the subtle undertones affecting the primary color.
If you don't have a paint fan deck lying around, don't sweat it. The fantastic thing about neutral wall colors is that they look great with just about any decor. Still, if you're determined to figure out the undertone in your wall paint, keep this info in mind: most "white" walls tend to have undertones of pink, yellow, or blue. Beige walls usually have undertones of yellow, green, or pink. Gray paint typically has blue, green, or purple in it.
Coordinating the color palette of your artwork with your wall's undertone will ensure nothing seems inexplicably "off" when everything comes together.
3. Decide on a Color Scheme
Here's where some neat design principles come into play — and where you'll need to break out your color wheel. You have a few options when it comes to the kind of color scheme that will tie your space together: analogous, complementary, or monochromatic. Let's break down what each of these means.
Analogous
Analogous colors are ones that are next to each other on the color wheel. Using shades of a similar hue will create a more relaxing and balanced look between your wall color and hanging art. Try to pick one dominant color and use the other two or three as accents.
If you have a neutral wall color, use the wall's undertone as the place to start for your analogous color scheme. For example, if the undertone of your wall color is a light blue, your accent colors might be a navy blue and soft green.
Complementary
Are you looking to make more of a statement with your art? Then a complementary color scheme is the one for you. Complementary colors appear opposite of each other on the color wheel, like orange and blue or purple and green. Combining complementary colors creates a bold contrast and adds excitement to the room.
Again, if your wall color is neutral, use the undertone to figure out the right complementary color to use. If your wall is already a distinct color, simply find its opposite on the color wheel!
Monochromatic
Become one with your color scheme — literally. A monochromatic design brings a uniform, harmonious look to your space by making use of just one color in different shades.
Take your wall's color (or undertone) and pick a few different shades, tones, or tints of the same color to feature in your artwork.
4. Choose Your Decor
While we're a fan of the classics, there's no need to get stuck trying to find Picassos and Monets for your decor. Try to find paintings you love that match your color scheme, no matter what's on the canvas! You certainly can't go wrong with an adorable portrait of your favorite furry friend. Keep in mind that not every color on a painting has to fit your color design perfectly — it's the dominant color that matters most.
Want to mix things up with your decor? Black and white photography is a great way to add some class to your living space. When it comes to the best wall color for black and white photos, contrast is essential. A darker neutral wall color, like a deep gray or charcoal, will help the white in the photos stand out and complement the black. On the other hand, a boldly colored wall (like crimson, turquoise, or magenta) would also provide a nice contrast to the monochromatic black and white photos.
Looking for even more alternatives? There are a million ways to get creative with hanging art that isn't a painting or photo. This list should give you some ideas:
Illuminated signs
Vertical gardens and hanging plants
Funky clocks
Decorative mirrors
Electronic photo galleries
Tapestries or other woven textiles
Old, vintage signs
5. Make Your Own Matching Artwork
We love good artwork AND artwork made in good fun. That's why sometimes the best thing to do is skip the galleries and make your own art! There's no reason to stress about finding the perfect matching artwork when you can create your own during a Painting with a Twist Open Studio event.
At our Open Studio events, you get to choose a piece of artwork you love with the colors you want. Then, add your special touch during the event and voila! You've just created a colorful memory to tie any room together.
Ultimately, whether you're collecting pieces or creating your own, decorating your home is about creating a space you love. Color schemes and decor create cohesion, but don't get stressed out if you're having a hard time. Go with art you're attracted to, even if it doesn't perfectly match the vase on your side table or the color on your wall. Now let's grab that color wheel and have some fun!
Create a Colorful Memory to Hang On Your Wall
Can't quite find artwork that matches the paint color on your walls? You might as well make it! Whether it's one of our rustic wood painting events or a Paint Your Pet event, we'll help you unleash your full creative energy so you can make the perfect art piece for any room in your home.
You've cleared out the closets, decluttered the garage, banished the junk from beneath your bed and now… you're stuck with piles of stuff you no longer want or need. What do you do with all the unwanted stuff? You donate it, of course! There are a TON of great organizations to whom you can donate unwanted kitchen items, furniture, books, clothes, electronics, and more.
Keep reading for the freshest spring cleaning tips on where to donate your gently used home goods, where to recycle electronics, and how to celebrate your clean and clear living space in style.
What to Do With Unwanted Stuff
Before you load all of your spring cleaning "junk" into the dumpster, think about all the good it could do for someone in need. Most of the time, stuff we think of as old and obsolete is still perfectly acceptable (and desired!) by organizations who help out the less fortunate.
However, if you find that some of your stuff is worn out past the "gently used" donation standard, consider upcycling junk into some fun or useful DIY projects instead of adding to a landfill. Think wooden ladders turned into bookshelves, an old bicycle wheel turned into a ritzy Art Deco clock, or even something as simple as wine cork coasters to use on wine night.
Want to make sure your donation directly impacts your own community? Check with local schools and libraries to see if they're accepting books and computers that you no longer need. Otherwise, check out the list of organizations below who can help you brighten someone's life while you declutter yours.
Oh, and don't forget to grab a receipt from wherever you donate so you can write it off on next year's taxes!
Where to Donate Home Goods
If you're wondering where the best place to donate kitchen items and other assorted home goods is, you've got several options. It's worth mentioning that larger organizations like Goodwill and the Salvation Army will take just about any gently used goods you'd like to donate. Things like clothing and shoes, small appliances, pots and pans, blankets and linens, sports equipment, chairs and lamps, toys, and various electronics are all graciously accepted by these organizations.
What's more, Goodwill, Salvation Army, and many other organizations – like Habitat For Humanity, Furniture Bank, and AMVETS — will save you the hassle of dropping stuff off by picking up your items for free. Head to DonationTown.org to get a list of charities in your area that will gladly make a house visit to collect your donations.
Additionally, there are plenty of smaller, more specialized nonprofits out there who could use your support below. Why not show them some love?
Clothing, Shoes, & Accessories
Books
Toys & Games
Furniture
Where to Recycle Electronics
When it comes to your old electronics, you can either recycle them or donate them depending on what they are and the kind of condition they're in. Items that have lost their juice, such as rechargeable batteries and LED light bulbs, as well as devices that are simply too damaged to donate should all be recycled.
On the other hand, old cell phones, laptops, tablets, and their accessories that still function can be donated to help those in need. Always make sure to wipe any personal data off of phones, computers, and tablets before donating.
Recycling Electronics
Even though some of your electronics may be totally burnt out, the parts and materials used to make them are still valuable. Recycling your old devices keeps harmful chemicals out of landfills and allows organizations to recover some of the precious metals, such as gold, silver, and copper, that go into making electronics that would otherwise have to be mined to manufacture new goods.
Check out Call2Recycle.org to find electronics drop-off locations near you. Otherwise, depending on the type of devices you have, companies like Apple and Amazon offer trade-in deals for your old electronics. Best Buy offers a more robust recycling program that takes all kinds of used tech, no matter who made it.
Donating Electronics
For a full list of donation options, plus more info on how to recycle electronics, check out the EPA's breakdown here.
How to Celebrate Your Decluttered Home
You've got a lot of options to choose from when it comes to donating items from spring cleaning. Don't stress too much about finding the perfect charity. Just pick a cause that's important to you, and put your unwanted stuff to good use!
After all, life isn't about the stuff you collect — it's about the experiences and the memories you create with others. So let it all go and celebrate your clutter-free life by doing something memorable with people you care about.
We believe a freshly spring-cleaned home is like a blank canvas — you can make it as ZEN or sassy as you'd like! Celebrate this season's fresh start at a paint and sip event near you. You'll walk away with awesome memories and a fun painting to spruce up your space.