In a world where you're always on the go, spending quality time at home every now and then can be nice. But when you're stuck at home, all those creature comforts you cherish about your personal dwelling space don't seem as nice. Especially when you don't have a choice!
Whether you're hunkering down to save money, avoid inclement weather, or you're simply trying to establish some social distance, being stuck at home can make you feel trapped! Luckily, there are plenty of ways to stay creative and keep yourself inspired during your home isolation. Here are a few ideas for what to do when you're stuck in the house all day.
Clean your house.
With daily life always getting in the way, your humble abode can get a little messy. And while the idea of cleaning your house doesn't sound creative or inspiring, it can certainly help in your inspirational journey! For starters, you may find things you forgot you had, like painting supplies, musical equipment, or even an old pair of knitting needles from your crafty DIY phase. Second, it's a great way to get organized and give yourself some room to breath. With all that clutter out of the way, you can really focus on doing you!
Do some gardening.
Sometimes, there's nothing more rewarding than getting your hands dirty with a little gardening! Plant flowers or a vegetable patch. Get creative by adding in some pathways to traverse your garden as it grows. Once everything starts coming in full bloom, you'll thank yourself for all the flowers, fruits, and veggies you worked so hard to cultivate. Nothing says fresh like produce picked straight from your yard! And if you don't have a yard for a garden, try using some smaller raised beds on a patio or balcony!
Practice your craft.
Perhaps you used to be a wizard at Guitar Hero or you could really slay at drawing. If you feel like your busy on-the-go life has robbed you of your sweet skills, then it's time to revisit them! Choose your most mentally productive time of day and set some time aside to practice your skill. By the end of your self-quarantine phase, your friends will think you've gone pro.
Connect with long-distance loved ones.
Being stuck at home doesn't mean you have to be alone. In fact, it can be a great time to catch up with long-distance loved ones! With all kinds of online video chat options, there are plenty of ways to connect face-to-face. Check in on grandma, see how your old college roommate is doing, or say hey to your old friend from high school who lives six states away now. Take the time to ask them questions or get to know things about them that you didn't know already. It could be some good inspirational fuel for yourself later!
Start a blog.
You have thoughts and feelings, so why not start a blog! Even if you don't think of yourself as a skilled writer, starting a blog can still be a great release. Make yourself a fresh cup of tea or coffee, grab your keyboard, and fire away! Write about anything and everything you can think of, and over time, you may be impressed at your portfolio of blog pieces. Who knows, you may even unlock some hidden inspiration within yourself!
Challenge your culinary skills.
When you're stuck at home, there's almost no better pastime than eating food! So, why not take the most enjoyable activity to do while at home and amplify it! Watch a cooking tutorial on a new recipe you've never tried, use a new ingredient, or try a cuisine you've never cooked before. Just remember to have fun and be creative!
Take online classes.
The internet is a very big place, filled with many opportunities to learn. And many of those opportunities are free! No matter if you're on a break from school or if it's been a while since you've been in a classroom setting, it's never too late to learn! Find a video on a topic that interests you, preferably one you can follow along with or take notes on. For a more in-depth learning experience try a subscription-based online class, such as Skillshare, Lynda, or Masterclass.
Express yourself through art.
Now is a great time to do something creative. Since we can't be together to paint in our studio, we now have an option for you to Twist at Home! Simply purchase a Twist at Home kit online and a kit will be shipped directly to your doorstep! Our kit includes all the art supplies you need along with a step-by-step guide and video tutorial to complete your painting! We have adult and kid options so the whole family can enjoy a creative escape.
We're excited to officially bring Bottle & Bottega into the Painting with a Twist brand!
What is changing at my Bottle & Bottega studio?
Nothing! Your Bottle & Bottega studio is owned by the same terrific local owner offering the same opportunity to reconnect with your besties while tapping into your creative side.
Why have Bottle & Bottega and Painting with a Twist merged?
To serve you better! We'll have new artwork, a new website and new products to deliver the carefree escape you've been coming to Bottle & Bottega for. Bottle & Bottega and Painting with a Twist are the largest sip and paint in the country. With lots of locations and a community of artists, our two companies will be well positioned to continue to serve you for many years to come!
I noticed the website changed, what other changes should I expect?
The website is the biggest change you will see for some time. Over the next few months, you will also see some shifts in our social media materials and in our printed materials. But your experience in our studio will continue to remain the same!
Will my Bottle & Bottega VIP Points be valid?
Yes, Bottle & Bottega VIPs will transition to the Paint Points loyalty program. The Paint Points loyalty program offers tiered rewards; therefore, your existing points will be transitioned within those tiers. So, instead of 1500 points, you'll see 42,000 points in your account.
Moving forward, you will earn 100 points for every $1 spent when you visit any location!
Earning points is made even easier, you can earn points at any Bottle & Bottega or Painting with a Twist location.
Rewards are used like cash and can be redeemed starting at $5 Off!
Can I still use my gift certificate from Bottle & Bottega?
Yes, Gift Certificates purchased at your Bottle & Bottega studio can be used on new reservations. Simply enter the Gift Certificate number upon check out. Note, Gift Certificates are specific to the studio you purchased from and are not transferable to other studios.
If you have any questions about the transition feel free to contact us anytime! We look forward to continuing to serve you with the fantastic paint and sip experiences you know and love.
Time flies when the kids are in school. But as soon as summer break starts, time seems to come to a screeching halt! Don't let summer creep by with the sounds of "I'm bored!" playing on a loop. Keep the kids busy this summer with these eight fun activities for kids!
Head to the beach or pool, or set up a mini water park in your backyard.
Nothing says vacation like being by the water. If you're lucky enough to live near the beach or a pool — pack the sunscreen, some water toys, and a picnic lunch for a day's worth of fun with the kids. If you don't have access to either and you're looking for things to do with kids at home, set up an aquatic playground in your backyard! Some water balloons, a sprinkler, and a slip n' slide can keep everyone occupied for hours. And don't forget, SPF is your BFF!
Go on a camping trip.
If your family is on the adventurous side, there's no better bonding activity than a camping trip! Teach the kids to pitch a tent, build a fire, and make s'mores. Are you not wild about the idea of sleeping in the wilderness? Go camping in the backyard! Set up camp, grill out, stargaze, and tell ghost stories from the comfort of your yard.
Take an outing to a drive-in movie theater.
They might seem old-fashioned, but there are still over 300 drive-in theaters operating in the country! Find the nearest one and plan a family movie night excursion. Drive-in tickets are typically much cheaper than standard theaters, and some even let you bring your own food and drinks.
If there isn't a drive-in theater near you, you can set up a backyard theater with a movie projector and a large, white bed sheet. Bring your home-made movie theater treats like popcorn, pizza, and hot dogs, and you're good to go!
Sign them up for Kids Camp at Painting with a Twist.
Let your little ones unleash their inner Picasso at your local Painting with a Twist studio! At our Kids Camps, your children will enjoy art, snacks, friends, music, and playtime while you enjoy getting your day back! Don't let them experience the dreaded school vacation brain drain. Kid-friendly events at Painting with a Twist allow them to develop their creativity, learn new skills, gain confidence, and, most importantly, have a blast with friends. Call your local studio today to learn more about their Kids Camps offerings!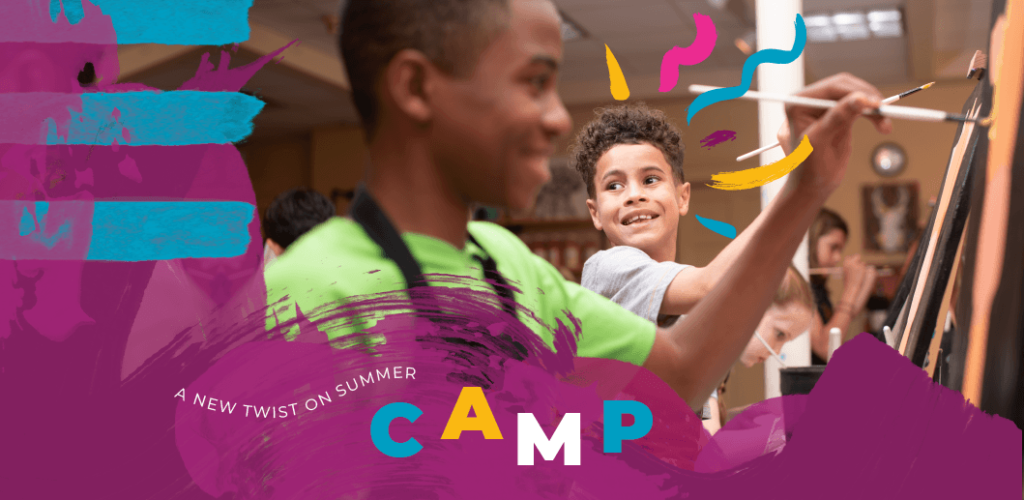 Tie-dye clothing.
Grab a tie-dye kit and some cheap beach pails from your local craft store, have your kids gather up some pieces of white clothing, and have an outdoor tie-dye party! Everyone will love turning their old t-shirts, socks, and pillowcases into groovy, colorful masterpieces.
Check out storytime at the library.
No one has a parent's back quite like the library, especially when the weather calls for indoor activities for kids. When in doubt, check out your local library's calendar of events! They usually offer a variety of great activities, from interactive storytimes to arts & crafts. Even better, they're almost always free!
Take turns picking new recipes and cooking for each other.
If your children enjoy helping in the kitchen, play restaurant! Kids can pick out fun recipes, grocery shop, and prepare meals and snacks for the family. Your child will get some great practice making a plan and following instructions, as well as a sense of pride and accomplishment when everyone digs into their culinary creation!
Pack a sunset picnic, complete with sparklers.
When the weather is beautiful, everything is more fun outdoors. Instead of having another dinner at home, pack it up, and take it to a park or scenic overlook for a sunset dinner picnic! Surprise the kids with post-dinner sparklers, and you'll automatically become the favorite parent (or cool auntie).
Running out of things to do with your kids at home? Painting with a Twist's Kids Camps and painting events for kids are a perfect way to keep them entertained while you crush your to-do list. Find an art camp for kids at a Painting with a Twist studio near you!
Whether you're moving into a new home or just want to mix up your space a bit, creating a beautiful and cohesive interior design can be challenging. You may feel like you need to be an expert at coordinating paint color palettes to make sure you're using the best wall color for your artwork or black and white photos. Yet when it comes to the right wall color for hanging art, there's no need to cover your furniture and get out the blue tape.
Instead of stressing over the "perfect" color for your walls, you can create a beautiful living space by choosing artwork that matches the color you've already got! All you have to do is follow a few of the basic design principles we've outlined in this step-by-step guide to matching paintings and wall color. Now break out the ol' color wheel — we've got some decisions to make!
1. Look at the Big Picture
Before you hang any art on your walls, it's a good idea to consider the overall direction of your design. How do you want the space to look and feel when you finish?
Are you aiming for a cozy, peaceful vibe? Something more functional, bright, and clean? Or maybe you've got a flair for the dramatic, and you want a space that's elegant and striking?
Whichever direction you choose will help you determine the appropriate color palette to match your artwork and wall color. For example, a tranquil space might call for darker, cooler colors like blues, greens, and purples. A more bright and minimalistic design could use a mix of neutrals and lighter, softer tones. And if you want a bit of drama? Go for bolder, warmer colors like red or magenta.
2. Identify the Color and Undertone of Your Wall Paint
The color of your walls may seem obvious to you, but look a little closer. Unless your wall paint is pure white, there are likely some undertones present that will affect your overall color scheme. In fact, all paint colors have undertones — even neutral colors like whites, grays, and beiges. The trouble is that these "hidden" colors are hard to see without comparing your wall paint to another color.
That's why it helps to have a paint color fan deck around for comparisons. If your wall paint is cream, eggshell, ivory, or any other kind of neutral white, use the purest white on the fan deck to spot the undertones in your wall color. Similarly, compare your wall to different types of beige, gray, blue (or whatever color your wall happens to be) to get an idea of the subtle undertones affecting the primary color.
If you don't have a paint fan deck lying around, don't sweat it. The fantastic thing about neutral wall colors is that they look great with just about any decor. Still, if you're determined to figure out the undertone in your wall paint, keep this info in mind: most "white" walls tend to have undertones of pink, yellow, or blue. Beige walls usually have undertones of yellow, green, or pink. Gray paint typically has blue, green, or purple in it.
Coordinating the color palette of your artwork with your wall's undertone will ensure nothing seems inexplicably "off" when everything comes together.
3. Decide on a Color Scheme
Here's where some neat design principles come into play — and where you'll need to break out your color wheel. You have a few options when it comes to the kind of color scheme that will tie your space together: analogous, complementary, or monochromatic. Let's break down what each of these means.
Analogous
Analogous colors are ones that are next to each other on the color wheel. Using shades of a similar hue will create a more relaxing and balanced look between your wall color and hanging art. Try to pick one dominant color and use the other two or three as accents.
If you have a neutral wall color, use the wall's undertone as the place to start for your analogous color scheme. For example, if the undertone of your wall color is a light blue, your accent colors might be a navy blue and soft green.
Complementary
Are you looking to make more of a statement with your art? Then a complementary color scheme is the one for you. Complementary colors appear opposite of each other on the color wheel, like orange and blue or purple and green. Combining complementary colors creates a bold contrast and adds excitement to the room.
Again, if your wall color is neutral, use the undertone to figure out the right complementary color to use. If your wall is already a distinct color, simply find its opposite on the color wheel!
Monochromatic
Become one with your color scheme — literally. A monochromatic design brings a uniform, harmonious look to your space by making use of just one color in different shades.
Take your wall's color (or undertone) and pick a few different shades, tones, or tints of the same color to feature in your artwork.
4. Choose Your Decor
While we're a fan of the classics, there's no need to get stuck trying to find Picassos and Monets for your decor. Try to find paintings you love that match your color scheme, no matter what's on the canvas! You certainly can't go wrong with an adorable portrait of your favorite furry friend. Keep in mind that not every color on a painting has to fit your color design perfectly — it's the dominant color that matters most.
Want to mix things up with your decor? Black and white photography is a great way to add some class to your living space. When it comes to the best wall color for black and white photos, contrast is essential. A darker neutral wall color, like a deep gray or charcoal, will help the white in the photos stand out and complement the black. On the other hand, a boldly colored wall (like crimson, turquoise, or magenta) would also provide a nice contrast to the monochromatic black and white photos.
Looking for even more alternatives? There are a million ways to get creative with hanging art that isn't a painting or photo. This list should give you some ideas:
Illuminated signs
Vertical gardens and hanging plants
Funky clocks
Decorative mirrors
Electronic photo galleries
Tapestries or other woven textiles
Old, vintage signs
5. Make Your Own Matching Artwork
We love good artwork AND artwork made in good fun. That's why sometimes the best thing to do is skip the galleries and make your own art! There's no reason to stress about finding the perfect matching artwork when you can create your own during a Painting with a Twist Open Studio event.
At our Open Studio events, you get to choose a piece of artwork you love with the colors you want. Then, add your special touch during the event and voila! You've just created a colorful memory to tie any room together.
Ultimately, whether you're collecting pieces or creating your own, decorating your home is about creating a space you love. Color schemes and decor create cohesion, but don't get stressed out if you're having a hard time. Go with art you're attracted to, even if it doesn't perfectly match the vase on your side table or the color on your wall. Now let's grab that color wheel and have some fun!
Create a Colorful Memory to Hang On Your Wall
Can't quite find artwork that matches the paint color on your walls? You might as well make it! Whether it's one of our rustic wood painting events or a Paint Your Pet event, we'll help you unleash your full creative energy so you can make the perfect art piece for any room in your home.
The winter blues are TOTALLY a thing—whether we want them to be or not. Short days and cold nights can easily kill your motivation and leave you feeling just plain blah. There's a name for these melancholy feelings: seasonal affective disorder, also called SAD for short. SAD tends to affect women at a higher rate, and it can take a serious toll on your work and life if it's left unaddressed.
Since we can't hibernate for three months (lucky polar bears!), it's important to stay ahead of this seasonal slump with proactive self-care. Ready to beat the winter blues and reclaim your good vibes? Read on!
Seasonal Affective Disorder Symptoms
While no one is 100% sure of the cause of seasonal affective disorder, according to WebMD, some scientists believe it's linked to changes in hormones that happen in tandem with changing seasons. It's normal to feel a bit different in your mind and body as the seasons change each year, but how do you know the difference between a one-off bad day and an actual bout of seasonal affective disorder? Check out the Mayo Clinic's list of classic symptoms of seasonal affective disorder below:
Depressed feelings for days or weeks at a time
Low energy
Trouble sleeping
Loss of interest in activities you once enjoyed
Feelings of lethargy, hopelessness, or worthlessness
Changes in appetite or fluctuations in weight
Sound familiar? If you're having a few of these seasonal affective disorder symptoms, it's time to start fighting the winter blues.
How to Treat SAD and Cure Winter Blues
First things first—if you're experiencing prolonged depression, it's always a good idea to speak with a doctor or therapist. Once you know you're not dealing with something that needs professional or medical attention, fighting the winter blues is as easy as bringing more fun and action into your life! Here are a few ideas to cure winter blues:
1. Get moving.
It's no secret that exercise is good for your physical health, but it can also boost your mental state! Exercise releases endorphins, which can help to elevate your mood and give you a sense of overall well-being. Sunlight can help SAD symptoms, too, so exercise outside or near a window whenever possible.
2. Try some mind-body integration techniques.
Sometimes, the winter blues can make you feel disconnected from your own feelings—almost as if you're just going through the motions of life. Keep yourself grounded and engaged in your life with mind-body practices, such as meditation, mindfulness exercises, breathing techniques, or even yoga (a dual-purpose activity, since it gives you a dose of exercise, too!).
3. Be social.
When experiencing winter blues, you might only want to curl up under a blanket and sleep. But actually, doing the opposite is far more beneficial! Join a group exercise class at a nearby gym, or book a paint and wine night where you and your friends can laugh the night away (like exercise, the Mayo Clinic reports laughter is proven to boost your mood). Yes, you'll have to put on real pants (or not, we won't judge!) and leave the couch, but we promise—the memories and social time will make leaving your blanket fort worthwhile.
Find Painting Events Near You for A Mid-Winter Pick-Me-Up
We may not be able to stop winter from happening, but we can help you avoid the sad feeling it sometimes brings with it! Fighting the winter blues can be as simple as spending time with those you love and practicing a fun new skill in a relaxing environment. Find nearby painting events for an unforgettable winter outing at Painting with a Twist. Don't forget the wine!
After 12 cups of coffee in two days, you finally had enough courage (and caffeine!) to ask out that barista behind the counter. Or maybe you and your partner have been going strong for 12,000 cups of coffee. Wherever you are in your relationship, you never have to stop dating each other! Whether it's your first date or your 100th, here are some simple dating tips to help keep the spark alive.
Dating Tips for New Relationships
Go places where you can talk.
Movies and loud concerts can be a fun way to spend time together. But it's also important to make time to converse and get to know each other. Instead of sitting silently in the theater or screaming over music, plan a date night where you can talk, ask questions, and grow your blossoming relationship.
Find activities to do together.
Getting dinner and drinks may be a classic first date routine, but why not mix it up? Instead of going to a restaurant or bar, plan a date centered around an activity. Take a couples painting class at Painting with a Twist and bond over your artistic abilities – or lack thereof! Get a little competitive with a few rounds of mini-golf. Head to a local hiking trail and break a sweat while you chat. You might get to see a whole new side of your date!
Ask questions and show interest.
One of the best date night tips to get the conversation going is to show interest! No matter where you go on your date, ask plenty of questions so you can get to know your date. Listen to their answers and engage in whatever topics come up. While it's good to offer information about yourself, focus on them as much as you can. You can always brainstorm a few questions to ask them ahead of time!
Ditch the distractions.
It might seem like a no-brainer to not be on your phone during a date, but it's easy to pick up your phone when you're having a slightly awkward, "I don't know what to do with my hands" moment. To avoid even appearing like you're not fully present, turn off your phone and tuck it away for your date. Being fully present goes a long way.
Long Term Relationship Tips
Prioritize regular date nights.
Life gets busy, and it's easy to put dates on the back burner when you've gotten into a comfortable groove. After a long day, why wouldn't you want to hang out and watch TV in your sweatpants with your partner? However, a date night can help break up the same old routine in your relationship. They offer the chance to communicate, rekindle the spark, let loose, and focus on each other. Try these date night ideas to rekindle the flame in your long-term relationship.
Try something new together at least once a month!
If you've ever complained about feeling "bored" in your long-term relationship, then spice things up by trying something new together! Sign up for a Painting with a Twist event, where you and your partner can sip on your favorite drink while creating art with guidance from a painting pro. If you're a brave pair, try an adrenaline rush like a high ropes course or rock climbing.
Little surprises go a long way.
You don't need to surprise your loved one with round-trip tickets to an exotic destination to make their day. Small surprises can mean just as much, if not more! Greet them with their favorite dessert or surprise them by planning a unique date, and you'll remind them how much you care.
Forget the old dinner and a movie routine and share an experience you will both remember! Reserve your seats at a Painting with a Twist painting event and take home fond date-night memories and an original work of art as a date night keepsake.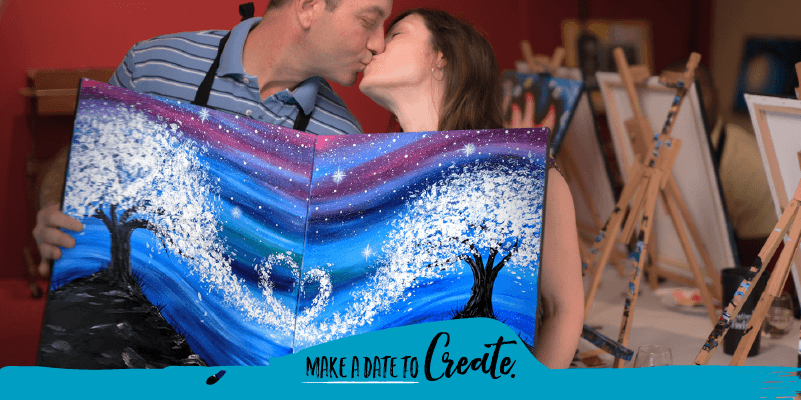 It's almost that time of year again when crowds of couples come out to celebrate Valentine's Day — or as others may call it, Singles Awareness Day. But being single on Valentine's Day doesn't have to be a downer! This step-by-step guide will give you plenty of ideas on how to enjoy being single on February 14th and every day after. It's time to make V-Day feel like your B-Day!
1. Start with Self-Care
Whether it's getting some extra sleep, sinking into a warm bubble bath, entering a deep meditation, or just rockin' out in your undies, there are a million ways to practice self-care. Just find out what works best for you, then immerse yourself in it.
Additionally, make sure to throw in some self-affirmations and gratitude practice while you're at it. Set aside time each morning to celebrate yourself and the small (and big) wins in your life. It can be a great way to lay the foundation for a fantastic day!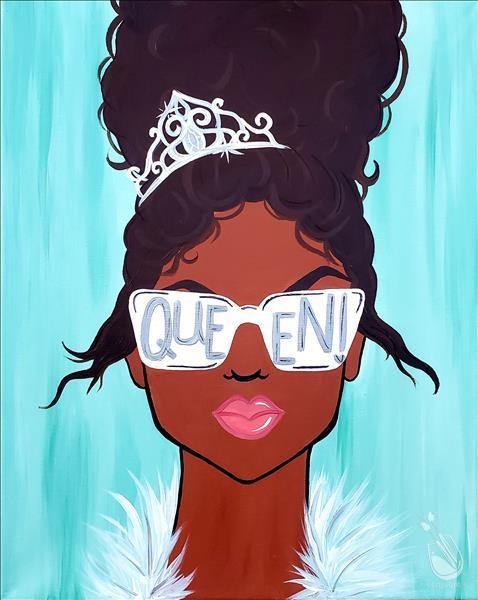 2. Make Yourself Something Delicious and Nutritious
Whether you're a master chef or a total novice, there's something special about eating a meal you poured your heart and soul into.
Prepare a yummy omelette for breakfast to start your day off right. For lunch, make yourself a healthy homemade salad with grilled chicken. For dinnertime, take things up a notch with pesto-topped salmon. Whatever meal it is, make something you love to eat (extra points for sticking to Valentine's theme). Be sure to fill your meal with healthy, energizing ingredients to fuel you throughout the day and into the night – especially if you're planning a Galentine's girls' night!
3. Work Up a Sweat
Speaking of treating your body right, it's time to work up a sweat! Not only is it good for your physical health, working out has a ton of emotional benefits too. Getting sweaty can help with things like bad mood, stress, mental fatigue, and anxiety. So, whether it's yoga, weightlifting, or even a brisk walk, make sure to get moving!
4. Nurture Your Non-Romantic Relationships
With so much focus on romance around Valentine's Day, it might be easy to overlook the other relationships in your life. Take the time to tend to your non-romantic relationships this Valentine's Day. After all, they're an essential part of your support network and deserve some appreciation!
Reach out to parents, siblings, old friends, far-away friends, mentors, or people you'd like to get to know better. It can be a phone call, facetime, or even just a text message. Something as simple as "Hey! I thought of you today and just wanted to let you know that I appreciate you" goes a long way toward keeping loved ones close.
5. Be Productive… Or Not!
You know that thing you've been putting off? It's time to roll up your sleeves and get it done! Or maybe you've got a particular hobby that could use your attention — that counts as productivity, too! Checking something off your to-do list or getting better at your favorite pastime is a great way to boost confidence on V-Day. It might even help reduce some stress in your life!
On the other hand, if you feel like you've been killin' it in the productivity department lately and need a break, then that's a great idea too. Don't judge yourself if you decide the best thing to do is pop open a pint of ice cream and do some binge-watching.
6. Give Your Time to Something You Care About
The best way to feel good about yourself is to give back to others. It's one of the purest kinds of win-wins out there! So, why not take a little time out of your day to help an important cause?
Check with local organizations like homeless shelters, humane societies, and food pantries to see if they need any help — or get creative and share the love in your unique way.
7. Treat Yourself
A little retail therapy never hurt anyone. Have a happy Singles Awareness Day by indulging in some much-needed shopping and pampering. Buy a new wardrobe, get a massage, style your hair, get a manicure, or stop by your favorite cafe for a sugary treat (or do all of the above!).
8. Get Creative with Girls' Night Out
When you've had your fill of me-time, it's time to get the squad together for a night of stress-free, creative fun! And since February 14th is on a Friday this year, it's the perfect opportunity to skip the bar and try something new on your Galentine's night out.
A Painting with a Twist Girls' Night Out is more than a wine and painting class. It's a wine and painting event! With wine in hand, you and your best girlfriends can paint your own Valentine's Day masterpiece with help from our friendly instructors. No artistic talent or art supplies are needed.
Book your Girls' Night Out in advance and start getting excited for a night of fun, friends, and freedom.
Put a Special Twist on Galentine's Day
Call up your girl gang, throw on your favorite outfit, and get ready to crush being single on Valentine's Day. Reserve a BYOB painting event for your next Galentine's Day outing at a Painting with a Twist studio near you and toast to your drama-free single life!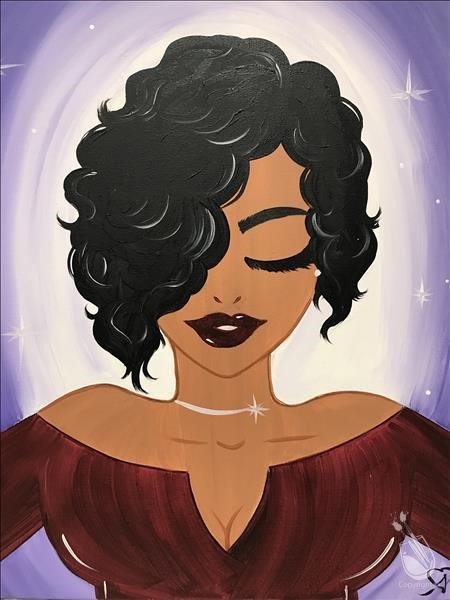 Valentine's day has snuck up once again, and here you are empty-handed! But before you rush to the store to grab some sweets and a sentimental card, you might want to consider changing up the routine a bit. If you're looking to keep things interesting this Valentine's Day, check out these 3 cliché Valentine's Day gifts you should definitely avoid and 3 that you shouldn't!
3 Valentine's Day Gifts To Avoid
Giving a gift with a little extra thought can make all the difference on a holiday with so much cliché tradition surrounding it. But just because something has made this list of gifting no-nos, doesn't mean it can't still be a nice gift. After all, Valentine's Day is slightly cheesy by nature – embrace it! But if you're trying to buck tradition, try staying away from these three gifts.
Chocolates
Sure, who doesn't love a box of assorted mystery chocolates? But those crudely-shaped little brown hearts probably won't win you any extra brownie points since they are most likely at the top of everyone's list of gifts they expect to get. And while you don't have to avoid chocolate completely, it's probably a good idea to not make it the centerpiece of the gift-giving experience.
Roses
Every year, stores bring in roses by the truckload, put them on sale, and practically shove them in the arms of each customer that comes through. And while the rose has plenty of sentimental symbolism — a bouquet can come across as impersonal or last-minute. Instead, try your partner's favorite flowers or a live plant that won't wilt on their dining room table!
Jewelry
You may be thinking, "Who doesn't love shiny things?" And while that might be true, buying jewelry can be an expensive risk! If you know your partner really well, you might be able to get away with picking out some expensive sparklies without their input. But if you're unsure, it's usually best to involve them in what can usually be a costly purchase.
3 Valentine's Day Gifts You Shouldn't Avoid
There's nothing wrong with giving a cliché gift to your significant other. But if you're looking to up your game on your Valentine's Day gifts for him or her, it's time to start thinking outside the jewelry box. Instead of giving gifts, try gifting experiences instead! By adding a personal touch, these three creative Valentine's Day ideas could help sweeten up your heart-filled holiday.
Dinner
Never underestimate the power of a good meal! While it is believed that certain foods can be aphrodisiacs, sitting down for a Valentine's Day dinner is much more than that. It's an opportunity for conversation in such a busy world! Try connecting over a candlelit meal at a fine-dining establishment. Choose one where the atmosphere is conducive to conversation. If you'd rather opt for a romantic night in, figure out what their favorite dish is and prepare it with the finest ingredients. Pair it with a nice wine and a dessert to complete the evening.
A Night In
If you feel like you and your partner just can't catch a break, then a quiet Valentine's night in might be the perfect way to reconnect! Take the initiative to plan out the entire night. Try building an adult-sized blanket fort, picking out a cheesy rom-com, and busting out the snacks for a cozy movie night. Or perhaps you can turn up the romance with a little champagne and a bubble bath. Whatever you decide to do, make sure to put your heart into it. It is Valentine's Day, after all!
A Night On The Town
Do you and your partner always seem to end up on the couch binging Netflix? Then try giving them the experience of a night on the town! Take them to a comedy show, play, or symphony, check out that bar you've both been saying you want to try, or explore a side of town you don't frequent as much.
Are you looking for a more casual experience for your night on the town? Try taking your significant other to a paint and sip event at Painting with a Twist! We'll provide you with everything you need to paint your own Valentine's Day masterpiece with your partner. Just bring your favorite wine or beverage, and enjoy an evening of drinking, painting, and laughs. Find a Painting with a Twist near you and book your reservation online for a date-night painting event in your city!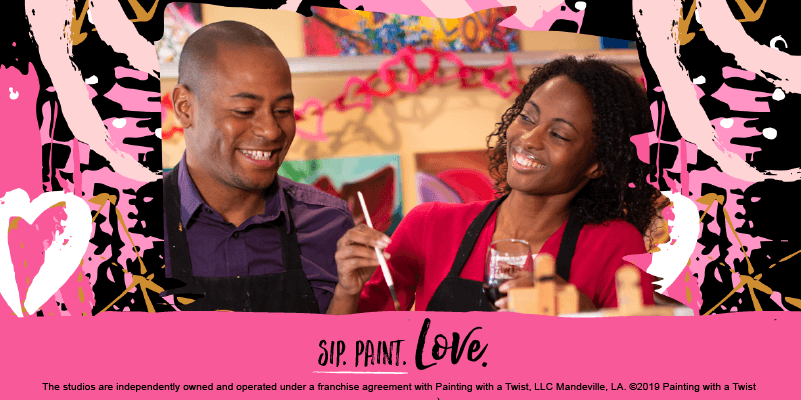 Have you been counting calories since January 1? Whether you're breaking up with sweets after the indulgent holiday season or you've made a New Year's resolution to lose weight, calories might seem like the enemy and your Chardonnay might be the first thing to go. But don't cancel your next paint-and-sip party on account of vodka soda calories just yet! Drinking and dieting don't have to be mutually exclusive. With these simple low-calorie cocktails and mixed drinks, you can have your painting and drinks—and keep your resolutions, too!
Nothing beats a good marg! This one is no exception…
Ingredients:
1 1/2 oz Blanco tequila
3-4 oz lemon-lime sparkling water
Juice from 1/4 of orange
Juice from 1/2 of lime
Salt for rim of glass (optional)
Instructions:
Combine the first four ingredients in a shaker with ice and shake well. Pour into a glass over fresh ice. Garnish with a lime wedge and enjoy!
(And a little something extra just for you: a Skinny Triple Sec substitute that has only about 19 calories/ounce—a fraction of the 100 calories/ounce found in most triple secs out there!)
Calories: 119 Sugar: 1.7 g (approx. per serving)
Feel like you're in an episode of Sex and the City—and feel good about your diet.
Ingredients:
5 oz. diet cranberry juice drink
1½ oz. vodka
1 tsp. lime juice
Optional garnish: lime slice
Instructions:
In a shaker filled with ice, combine juice drink, vodka, and lime juice. Shake well. Strain into a large martini glass. Drink and give off serious Carrie Bradshaw vibes.
Calories: 100 Sugar: 1g (approx. per serving)
Are you a whiskey person? You'll love this sugar-free take on the classic.
Ingredients:
1.5 oz whiskey
1.5 oz lemon juice
1.5 oz water
1 packet Stevia
1 wedge lemon, for garnish
Instructions
Put the ingredients in a cocktail shaker half-full of ice. Shake well. Strain into a glass. Garnish with a lemon wedge. Start sipping!
Calories: 112 Sugar: 0g (approx. per serving)
This cooler will add a little more flair to a night of paint and cocktails than your typical Gin & Tonic!
Ingredients:
1 1/2 oz gin (1 1/2 oz equals 3 Tbsp)
4-6 slices cucumber
1/4 medium lime (sliced)
4 oz tonic water
6 mint leaves
1 Tbsp sugar (optional)
Instructions:
Add mint, lime, gin, and sugar (optional) to shaker and muddle. Add cucumber slices to the shaker and shake well. Pour mixture in a glass over ice and top with tonic or sparkling water. Stir and let sit for a few minutes to enhance the flavor—then drink up!
Calories: 162 Sugar: 11.2g or less (approx. per serving)
You can be painting palm trees and sandy beaches with this mojito in hand at Painting with a Twist! Doesn't that sound dreamy?
Ingredients:
1 tsp sugar
½ lime
5 sprigs mint
1.5 oz light rum
Soda water
Ice
Instructions:
Put sugar, mint, juice from ½ lime plus the rind in a glass. Muddle together. Add rum and a handful of ice. Fill with chilled soda water and lightly stir. Now it's ready to drink—no beach necessary.
Calories: 122 Sugar: 4.7g (approx. per serving)
Do you prefer sparkling wine over liquor? Then you'll be glad to know that Prosecco is one of the lowest-calorie bubbly beverages! Just add a splash of fruit juice or puree and you've got a guilt-free cocktail! This Bellini is a delicious place to start.
Ingredients:
2 Tbsp smooth peach puree
Fresh basil leaves
6 oz chilled prosecco
Instructions:
Blend fresh peach to make the puree. Add 2 Tbsp puree and a basil leaf to a glass. Smash the basil leaf, then remove. Fill glass with prosecco. Serve with a fresh basil leaf. Enjoy!
Calories: 100 Sugar: 1.5 g (approx. per serving)
Are you ready to try your hand at being a low-calorie mixologist? Then bring your friends and your bar-tending skills to a Painting with a Twist near you for a calorie-conscious night of painting, sipping, and fun!
It's been one hundred years since the roaring twenties. Gone are the days of speakeasies, motorcars, and all night Jazz clubs. Charlie Chaplin is no longer the king of comedy, movies have sound, and the internet controls practically everything about our daily lives! And though we've come a long way since 1920, we could see some 100-year old trends make a comeback! Here are four trends to get excited about in 2020.
1920's Fashion
The iconic, influential style of the 1920's decade still impacts some of our fashion choices today. Flappers, known for chic, bobbed haircuts, headbands, pearls, and drop-waist sleeveless dresses, set the look and tone of that decade. And though the term "flapper" is out of style, their fashion choices could make a comeback!
For the ladies, capture that flapper look by sporting a headband – make it beaded or feathered for extra flair – and a scarf – think big with a feather fan! Try loose, flowing dresses that you wouldn't mind dancing the Charleston in! Sleeveless dresses with drop-waist beading, knee-length hemlines, layered fringe, or soft draping are ideal. Combine it with Mary-Jane or T-Strap heels, a bold lipstick color, and your chunkiest gold, silver, black, or green drop jewelry, and you're ready for your girls' night out!
And let's not forget about 1920s men's fashion! For your daytime attire, don a button vest, suspenders, and a pocket square. Complete the look with a newspaper cap or linen hat, and add a cane for extra gusto. For nighttime, go with a black, three-piece suit. Add a bowtie, cufflinks, and a large-face pocket watch to complete the look, and you're ready for the roaring 2020s!
Party Games & Group Activities
Party and parlor games gained traction during the 1920s. Popular games like poker, dominos, and Yahtzee gave people reason to socialize. And while Psychology Today reports that we've adopted more solitary behaviors in recent years, we could see this changing in the new decade! As more attention is given to combating loneliness, 1920s-inspired social activities could start to gain traction again.
Culture & Nightlife
Speakeasies were born out of necessity to avoid prohibition laws. And while those laws are long gone, the speakeasy culture remains! Fancy cocktails, savvy mixologists, and even hidden bars could likely be a focal point for 2020 socialites.
Don't feel like searching for hidden bars in your city? Gather your friends and serve up your own classic cocktails at a private Painting with a Twist party. Put on your fanciest garb, blast some jazz, and create a 1920s-inspired painting!
Choreography Craze
Dancing was all the rage in the 1920s, especially dances that really made you move! And even though some of these choreographed steps are a little dated compared to today's modern dance trends, the focus on stylized dances could make a big comeback! Look for a 2020 dance craze resurgence on social media platforms like Tik-Tok and Instagram, where videos of people dancing to popular songs can trend rather quickly.
Gatsby-Inspired Parties at Painting with a Twist
Are you ready to get into the spirit of the 20s? Well, there's no need to bootleg to have a Gatsby-inspired prohibition-era party. Just phone your pals, plan your outfits, and prepare those prohibition-era cocktails for a night of jazz, dancing, and fun at a Painting with a Twist near you!