Unless you live in a remote location far from the hustle and bustle of city lights, observing the stars can be a pretty tricky task. Why not create your own cosmic universe, instead? Put brush to canvas and bring the starry night sky into your very own living room with Painting with a Twist's galaxy collection.
Girl's Night
Book a private party or group event for a chance to try your hand at this painting of a galaxy. The Galactic Pour is a beautiful blend of cosmic inspiration and the not-so-subtle hint of our love for wine. Round up the crew for a girl's night out, and enjoy a stellar evening of painting and sipping.
Grab your PJs, leave the car keys on the rack, and put your painting skills to the test with a Twist at Home Paint Kit. Galactic Queen, one of our Twist at Home paint options, speaks to feminine, ethereal nature. It's sure to be a hit with your crew of astral royalty.
Date Night
Twilight Trees symbolizes devotion and connection. So, if you're looking for date-night-out ideas, why not demonstrate the love you and your partner share with this romantic work of art? Pick a date, make a reservation, and learn how to paint a starry night sky for an amorous evening of artistic and cosmic alignment.
Or, you could set the universe aflame with affection by painting Blacklight Heart Galaxy, a piece that combines fiery romance with vibrant, passionate color. Collaborate on everything from canvas size to color schemes for the perfect couple's set of cool galaxy paintings.
Family Time
The zoo, the movies, and the trampoline park were fun, but what's next? Why not bring the kiddos to Painting with a Twist for a creative family day out? With Kid's Galaxy, your little (or not so little) ones can bring their imagination to life as they play with color schemes and make this beginner galaxy painting their very own. You might even leave the studio with an inspired little Picasso on your hands! Who doesn't love having an artist in the family?
Is corralling your kids into the car and off their devices like herding cats? Order Twist at Home Paint Kits for an indoor family paint night instead. Put out the snacks, turn off the screens, and enjoy quality family time as you follow step-by-step galaxy painting instructions for Midnight in Miami.
Whether you're planning a romantic evening for you and your partner, trying to liven up girls night, or looking for unique family activities, Painting with a Twist's galaxy collection has a little something for everyone. With our Take Home Paint Kits, private party options, and group painting events, creating your galaxy painting is just a few clicks away.
If you're ready to bring the beauty of the universe just a little bit closer, join a galactic painting event at your nearest Painting with a Twist location, and take home your very own galaxy-themed painting today!
Snow day leaving you with winter blues and nothing to do? Sure, the fresh powder looks beautiful, but it also means going anywhere is probably out of the question! But you don't have to let a little snow ruin your day. Maximize your snow day and help ward off cabin fever with these fun indoor activities for winter!
The 5 Best Things to Do When Snowed In
1. Cook or bake: use whatever you have in your home.
If you're going to spend your winter day as a homebody, you might as well have something yummy to eat! Make your favorite soup (mmm, toasty!), baked dessert (nothing cozies up a space like the smell of freshly baked goodies), or branch out and try a new recipe. If you don't have tons of groceries or specialty supplies on hand, check out SuperCook to find recipes that work with what you already have. Or, use something you have in plentiful supply — snow! — to make snow cream.
2. Treat yourself to a spa day.
You can't go anywhere, so you might as well indulge in some relaxing activities to do indoors in the winter. Make a DIY face mask using honey, yogurt, or even oats. Paint your nails, but take it up a notch with a homemade sugar scrub for your dry winter skin (let's be real, we all have it). Treat yourself to a day of pampering from the comfort of home. You deserve it!
3. Make a dent in a book.
If you're not up for creative activities to do while you're stuck at home, opt for something easy. Pour yourself a glass of wine, grab a fluffy throw blanket, and curl up with a good book. Let yourself get lost in a storyline or nod off for a nap. We won't judge you for a winter midday snooze!
4. Channel your inner child with puzzles and games.
When you think about fun indoor activities in winter, don't forget about old-fashioned fun! Jigsaw puzzles are a relaxing indoor activity for an enjoyable day of solitude. Have roommates or friends who live close by? Grab a deck of cards or bust out a few board games and make memories together while the snow swirls outside.
5. Make your own custom cocktail.
Fancy night out? Not going to happen. Fancy night in? Coming right up! Find a recipe for a cocktail you've always wanted to try, or make up your own drink recipe. Start with your favorite wine or liquor, add a mixer, and experiment with different fruits or flavors to create a signature cocktail that's all your own. Cheers to finding your new favorite indoor activity — and your new mixology skills!
Need Fun Activities to Do Indoors in Winter? Painting With a Twist Can Help!
The best indoor winter activities are easy, fun, and memorable. Why not check all of those boxes with a Twist at Home Paint Kit! If you're tired of being stuck at home on cold winter days, transform your kitchen table into a studio fit for a pajama-loving Picasso.
Order your Twist at Home kit online, and pick up from your local studio or ask about shipping options. Sip and smile your way to an at-home masterpiece when you join a live virtual painting event with Painting with A Twist!
Are you having trouble getting everyone together for the holidays? Between inclement weather and holiday traffic, it can be difficult to expect everyone over for your holiday party. But that doesn't mean you can't share in the seasonal tradition of exchanging gifts! Virtual events are an awesome alternative to meeting in-person. Here are some great gift ideas that'll be a hit at any holiday party!
How To Do A Virtual Gift Exchange
A virtual gift exchange is a wonderful way for your family, friends, and coworkers to enjoy time together, regardless of where they're located. But before buying a single present, you'll need to be sure you know how to do a virtual gift exchange, especially if you've never hosted one.
With a quick online search, you'll find a number of free gift exchange sites that'll help facilitate this process. These tools really simplify the name-swapping, and let participants create their own wish lists and personalized recommendations.
Chat with your fellow gifters and agree on a price limit for your swap, like $25 plus shipping to the recipient's home. This creates an even playing field for everyone and eases any anxious feelings around how much to spend. Participants should wait to open their gifts until they're with everyone at the virtual party — and don't forget to try and guess who each present is from!
15 gift ideas everyone will love
Thanks to the wish lists provided by gift exchange sites, you'll definitely have some solid ideas about what to buy your recipient. But if you'd rather send them something a little unexpected, we've compiled a list of unique yet practical gifts that are sure to surprise and delight!
Gifts for Family Members
1. Essential oil diffuser
Diffusers are perfect for taking in soothing scents throughout the entire day. All your family members will need to do is add water and their favorite essential oil to create a spa-like atmosphere right in their own home.
2. Gourmet food items
The holidays are for indulging, and sending your family a variety of gourmet foods is one of the best ways to do exactly that. To stay on budget, send small jars that'll let them sample a number of different spreads, dips, honey, nut butters, and so on.
3. Wood board painting
Painting with a Twist is all about helping you make something unique, like a giftable (and fully customizable) wood board painting. When you visit your local studio, a Painting with a Twist artist will guide you through creating a one-of-a-kind piece, sure to be cherished by whoever opens it at your virtual Christmas gift exchange.
Gifts for friends
1. Yoga mat
It's safe to say 2020 has brought about some unexpected challenges and stressors for just about everyone. What better way to help a friend unwind and get grounded going into the new year than with a brand new yoga mat!
2. Candle
A candle isn't the most out-of-the-box item on our list, which is why you should look for one that not only smells great but has a dual purpose once it's burned. For example, there are plenty of candles whose containers can be cleaned to double as a drinking glass or a small planter. Who wouldn't be thrilled to receive two gifts in one?
3. Slippers
With all the extra time we're spending at home these days, 'real' shoes have almost become obsolete. Search for a pair of slippers with extra features like fleece lining or memory foam for the ultimate in warmth and comfort.
Gifts for coworkers
1. French press
A French press is the perfect gift for that coworker who needs caffeine to fuel their day. There are plenty of affordable styles to choose from, so if your budget allows for it, complete the gift with a bag of coffee beans, as well.
2. Stainless steel tumbler
Stainless steel tumblers maintain a consistent temperature better than most other materials, which means beverages stay hotter or colder for longer. Look for a size and style the recipient will want to take with them wherever they go.
3. Portable Bluetooth speaker
A portable speaker is a great companion while working from home, enjoying a day at the beach, and everything in between. Its compact size and ease of use means your coworker can jam to their favorite playlist from just about anywhere.
Gifts for white elephant
1. Wireless karaoke mic
What's more fun than putting on a performance in your living room? After downloading a karaoke app, users can connect to the microphone via Bluetooth, and then it's time to belt out their best tune. Despite its simple setup, this gift is guaranteed to provide hours of lighthearted entertainment.
2. Disposable camera
Add a little nostalgia to your virtual white elephant gift exchange with a cute disposable camera that'll remind them of simpler times. The recipient can snap pics of their best holiday moments, or save the camera to take with them on a future trip.
3. Silly socks
A pair of silly socks is a sure way to put a smile on someone's face! Whether it's donuts, dinosaurs, or a pop culture print, this whimsical gift will offer a laugh and serve as a great talking point whenever they're worn.
Gifts for anonymous exchange
1. Reusable shopping bags
Reusable bags are not only an easy step in being more sustainable, but they're an inexpensive gift that'll get regular use. Look for bags that'll hold up to some wear and tear so they can go on any number of errands or excursions.
2. Painting with a Twist gift card
A gift card to Painting with a Twist is really an opportunity for an amazing night out, filled with tons of laughter and memorable moments. Give someone the chance to explore their creativity and take home an original artwork at the end of the evening!
3. Throw blanket
Throw blankets are truly multipurpose — they can wrap themselves up while reading a book, enjoying a Netflix marathon, or during a car ride on a cold day. Your best bet is to buy one in a neutral shade (like gray or cream) that'll complement anyone's home interior.
Wrap Up Your Gift List at Painting with a Twist
A thoughtful gift can go a long way, and few gifts are more engaging or rewarding than a new experience! With a Painting with a Twist gift card, recipients can choose from thousands of paintings and studios all over the country where they're bound to make memories they'll hold onto for years to come.
From interacting with friends to mindlessly browsing, we tend to spend a lot of time on social media. But sometimes, all that online engagement can leave you feeling a bit digitally fatigued. If you feel like it's time to take a step back, check out these tips for putting down the device and taking a break from social media.
Make a realistic social media detox plan.
A goal without a plan is really nothing more than a wish. If you're serious about your social media break, lay out exactly how it's going to go. For example, first you should identify the platforms that you're using the most. Then, decide exactly what you want to accomplish. Do you want to cut out social media completely? If so, for how long? Or would you rather set time limits and only use social media for x amount of time per day? Once you've decided what your social media break is going to look like, you can dive in.
Leave the devices in another room.
Let's face it – if your cell phone (or tablet or laptop) is in arm's reach, you're probably going to scroll through social media solely out of habit. One easy way to avoid this is by simply relocating your devices! If you're guilty of mechanically scrolling through your feeds at bedtime, leave your phone in the living room overnight. If you do most of your liking and sharing while eating breakfast, leave your phone in your bedroom and pick up a book instead. When it comes to taking a social media break, out of sight and out of mind is an excellent strategy.
Set a daily social media time limit.
When you start keeping brutally honest tabs of how much time you spend on social media, you might be shocked. It's way too easy to open Instagram, Twitter, or Facebook and accidentally zone out for an hour… or two or three. Eliminate this risk by setting strict time limits for your social media usage. If you're confident in your willpower, you can go the old-fashioned route and simply set your phone timer to alert you when time's up. If you need a stricter approach, download an app like Flipd or Freedom to set time limits and even lock the apps when the clock runs out.
Keep busy with no-wires-attached activities.
As you can imagine, it's much easier to forget about social media when you're happily distracted with other things. During your social media break, make it a point to try plenty of new, entertaining, and, most importantly, unplugged activities.
Plan an entire "No Electronics" day, and get busy. Take a fitness class, challenge your friends to a round of mini golf, or hone your culinary skills by experimenting with new recipes. During down time, replace screens with things like books and puzzles. When all else fails, just get outside and soak up the sunshine!
Another way to forget about your phone? Sign up for a painting event at Painting with a Twist, where you can sip, socialize, and embrace your creative side! One of our instructors will walk you through the creation of your masterpiece, so you can focus on the fun. The hardest part might just be resisting the urge to post your paint party creation all over social media!
Turn off those notifications (or delete the apps altogether).
It can be even harder to break the habit of checking your social media apps when pop-up notifications are continuously alerting you to comments, replies, retweets, and so on. After all, how can you just leave a notification sitting there unchecked? When it comes to kicking your social media or smartphone addiction, one of the most effective tips is turning off those alluring notifications or deleting the apps from your phone completely. Out of sight, out of mind!
Prioritize connecting with friends off social media.
While there are some negative aspects of social media, it does offer an easy and fast way to connect with friends near and far. But luckily, social media is far from your only option nowadays. Schedule a FaceTime call with your long-distance BFF or catch up with local friends over a coffee date or a long walk. Start wishing people happy birthday personally instead of through a comment or post. Instead of perusing Instagram, give your sibling a call. The more you connect with others outside of social media, the less importance it will hold.
Have an accountability buddy.
Sometimes, peer pressure can be used for good. Tell a friend you trust that you're trying to cut down or stop using social media, and tell them to hold you to it. Once you verbalize your goals and let others in on the secret, you've added a whole new layer of accountability. Is posting that Facebook status or liking that photo really worth the, "What happened to taking a social media break…?" text you'll get immediately after.
There's inevitably going to be a big adjustment period as you get used to life without social media. But are you longing for friendly interaction after giving up screen time? Give those offline social skills some attention with a creative bonding experience, like a painting event at Painting with a Twist! You might even make some new friends #IRL (in real life)!
Getting together for birthdays can be tricky, especially when it means coordinating calendars with family or finding a time to meet up with your friends. For any number of reasons, birthday parties always seem more difficult to organize as we get older, but that doesn't mean you have to stop celebrating altogether. If you or someone you know missed out on a birthday party this year, check out these ten ways to throw a belated birthday celebration to help get the party started!
Belated Birthday Party Ideas You'll Love
Maybe commemorating your birthday on time isn't an option, but don't be afraid to host a belated celebration instead. If you're struggling with ideas for what to do on your birthday, we've come up with ten ways for you to have the best belated bash ever!
1. Enjoy a picnic in the park.
Wherever you live, there's probably a park close by that'd be a nice spot for your family and friends to gather together. If the park doesn't have picnic tables, make sure to bring your own blankets or lawn chairs to lounge in. Treat yourself to a fancy charcuterie board, and sip on some fizzy drinks or sparkling wine while you're at it. This is a great way to enhance the party's ambience, allowing guests to graze and mingle without sitting down to a full meal.
2. Set up a backyard movie theater.
One of the greatest places to celebrate a birthday might be your own backyard! A backyard movie theater is an awesome belated birthday party idea to implement in the spring, summer, or fall. Ask around to see if anyone owns a projector you could borrow for the evening. If not, look into potential rentals or inexpensive options to purchase. Play a double feature that follows a theme (classics, comedies, musicals), or re-watch your most-loved flicks.
3. Host a progressive dinner or potluck.
A great way for guests to get involved with the party planning is to arrange a progressive dinner or group potluck. For a progressive dinner, choose homes of friends or family to host one leg of the meal (appetizer, salad or sides, main course, and dessert). With a potluck, you'll all gather together in just one home, but each person can contribute their own dish. Create a signup sheet ahead of time so you don't end up with all desserts and no dinner.
4. Go on a food truck crawl.
Does your city have a cool food truck community, but you've never paid them a visit? A belated birthday might be the perfect time for a taco crawl! Food trucks are likely most active on the weekends, but be sure to check online for their whereabouts. Choose a handful of trucks you'd like to try, and plan a route for your group to walk, bike, or carpool.
5. Throw a lawn game extravaganza.
A little friendly competition can make for a great belated birthday, so utilize your backyard or public park to set up your favorite lawn games. Consider playing classics like cornhole, ladder ball, bocce, or giant Jenga. If you're feeling adventurous, you can purchase a piñata and fill it with treats or party favors guests can take home. Lawn games are an easy and inexpensive way to celebrate while keeping the party fun!
6. Get active or explore somewhere new.
Few things feel better than enjoying the great outdoors with the ones you love, so why not incorporate some fresh air into your birthday as well. Is there a new trail you've been wanting to hike or a local arboretum you've yet to explore? What about going horseback riding or floating down a nearby river? There are limitless ways to spend some time outside with your crew, so get creative with it!
7. Create a fantastic sundae bar.
What's a birthday celebration without some ice cream? Supply a few staples like vanilla and chocolate to serve as the base, and then get as wild as you want with the topping selections — colorful sprinkles, caramel sauce, fresh fruits, the works! Form a line guests can follow to fill up their bowls, and have some light-hearted fun by offering everyone a verbal award like, 'Craziest Use of Chocolate Chips' or 'Tallest Whipped Cream Sculpture.'
8. Book a private event at Painting with a Twist.
Booking a group painting party at Painting with a Twist allows you to pull off an amazing event everyone raves about without requiring a crazy amount of your time or energy. When you host a private party at your local studio, the team will handle all the details — so you can focus on your friends, family, and your amazing artwork. And while Painting with a Twist is one of the best places to celebrate adult birthdays, it's truly something that can be enjoyed by all ages. Kids birthdays are always a hit, too!
9. Bring on the backyard water games.
If your birthday lands during the summer months, take an opportunity to beat the heat and celebrate with some water games. Activities like sprinklers, water balloons, and baby pools are a chance to let loose, cool off, and inevitably laugh a whole lot. For those who want to go a little more extreme, look into renting an inflatable water slide for the ultimate backyard experience.
10. Take a day trip to a neighboring town.
Who says you have to stay put to celebrate? Take your belated birthday festivities on the road with a day trip to a neighboring city or small town. Use this as a chance to discover any number of hidden gems, like cute cafes, antique stores, historical landmarks, or other local goodies you happen to stumble upon. Head out with whoever wants to tag along, and make sure to take plenty of photos to remember the day.
Hopefully these birthday celebration ideas have made you excited to host a belated party of your own. Belated birthdays can offer just as much joy and enjoyment as celebrating on the actual day — all you need is a solid game plan and the company of your favorite people! Whether you watch movies in the backyard, try out a few new food trucks, or book a private event at Painting with a Twist, there are ample ways to throw the fabulous belated birthday you deserve!
It's safe to say stress affects nearly everyone at some point in their lives. From traffic-filled commutes to impending deadlines to relational dynamics, we encounter stress in many different forms and from many different sources. While keeping stress under control can be challenging, it's by no means impossible. Take a second, and check out these six ways to destress when you're feeling overwhelmed or exhausted by it all.
1. Meditate
When thinking about how to destress your life, meditation may be one of the first things you consider. That's because mindfulness and meditation have been utilized for centuries to release negative thoughts and grow more aware of the present. By taking a moment to quiet your mind and practice intentional breathing, you might be surprised by just how naturally your stress will melt away. Not sure where to begin? Download a meditation app to help you get started!
2. Engage your senses
A great way to break from whatever feels stressful is to engage yourself in a sensory experience. This could include taking a long shower (touch), eating comfort food (taste), lighting a scented candle (smell), listening to soft music (hearing), or watching a funny show or movie (sight). These activities are effective at helping you forget about what's going on in the peripheral and enjoying what's happening right in front of you.
3. Get outside
Fresh air and a change of scenery are wonderful remedies for times when you're feeling a bit too overwhelmed. Take a stroll around the neighborhood, hop on your bike for a quick ride, or find a nice spot to soak up the sunshine. However you choose to spend your time, being outdoors can help calm your mind and refresh your spirit whenever life feels heavy.
4. Move your body
Exercise is one of the best ways to destress, as it releases endorphins and lifts your mood. So, why not put on some upbeat music and take a twenty-minute dance break? Or what about some gentle stretching to relieve tension, or a few jumping jacks to elevate your heart rate? How you move your body is totally up to you, but you're sure to shake off a bit of that unwanted stress in the process.
5. Explore your creativity
One of the most fun destressing tips on our list is exploring your creative side. Diving into a creative pursuit like baking, calligraphy, or even gardening can alleviate stress by giving you something more enjoyable to focus on.
Likewise, painting is a great way to loosen up and tap into your artistic potential! Painting with a Twist is now offering Zen Collection painting events. This collection incorporates soothing music, meditation exercises, and calming paintings for the ultimate stress-free experience. Whether you take up photography, design a space in your home, or seek other creative outlets to unwind, finding your own version of zen is essential to your mental health and wellbeing.
6. Express your feelings
Have you ever kept a journal to record your thoughts? Putting our emotions on paper can be incredibly therapeutic, as it's one of the things to do to destress that can help us process everything we're experiencing. Releasing our thoughts is truly liberating because it not only frees up our headspace, but it gives us permission to no longer carry around those feelings.
While there are many more things you can do to help you destress, this list can be a good place for you to get started. From exploring the great outdoors to learning a new recipe to keeping a journal, there are countless ways to say goodbye to our stress. And if you're in the mood to activate your imagination, you can always try painting at home! When you join a Twist at Home painting event, all the materials and instructions you'll need will be provided, so you can concentrate on creating your very own work of art from the comfort of your own relaxing home environment.
In a world where you're always on the go, spending quality time at home every now and then can be nice. But when you're stuck at home, all those creature comforts you cherish about your personal dwelling space don't seem as nice. Especially when you don't have a choice!
Whether you're hunkering down to save money, avoid inclement weather, or you're simply trying to establish some social distance, being stuck at home can make you feel trapped! Luckily, there are plenty of ways to stay creative and keep yourself inspired during your home isolation. Here are a few ideas for what to do when you're stuck in the house all day.
Clean your house.
With daily life always getting in the way, your humble abode can get a little messy. And while the idea of cleaning your house doesn't sound creative or inspiring, it can certainly help in your inspirational journey! For starters, you may find things you forgot you had, like painting supplies, musical equipment, or even an old pair of knitting needles from your crafty DIY phase. Second, it's a great way to get organized and give yourself some room to breath. With all that clutter out of the way, you can really focus on doing you!
Do some gardening.
Sometimes, there's nothing more rewarding than getting your hands dirty with a little gardening! Plant flowers or a vegetable patch. Get creative by adding in some pathways to traverse your garden as it grows. Once everything starts coming in full bloom, you'll thank yourself for all the flowers, fruits, and veggies you worked so hard to cultivate. Nothing says fresh like produce picked straight from your yard! And if you don't have a yard for a garden, try using some smaller raised beds on a patio or balcony!
Practice your craft.
Perhaps you used to be a wizard at Guitar Hero or you could really slay at drawing. If you feel like your busy on-the-go life has robbed you of your sweet skills, then it's time to revisit them! Choose your most mentally productive time of day and set some time aside to practice your skill. By the end of your self-quarantine phase, your friends will think you've gone pro.
Connect with long-distance loved ones.
Being stuck at home doesn't mean you have to be alone. In fact, it can be a great time to catch up with long-distance loved ones! With all kinds of online video chat options, there are plenty of ways to connect face-to-face. Check in on grandma, see how your old college roommate is doing, or say hey to your old friend from high school who lives six states away now. Take the time to ask them questions or get to know things about them that you didn't know already. It could be some good inspirational fuel for yourself later!
Start a blog.
You have thoughts and feelings, so why not start a blog! Even if you don't think of yourself as a skilled writer, starting a blog can still be a great release. Make yourself a fresh cup of tea or coffee, grab your keyboard, and fire away! Write about anything and everything you can think of, and over time, you may be impressed at your portfolio of blog pieces. Who knows, you may even unlock some hidden inspiration within yourself!
Challenge your culinary skills.
When you're stuck at home, there's almost no better pastime than eating food! So, why not take the most enjoyable activity to do while at home and amplify it! Watch a cooking tutorial on a new recipe you've never tried, use a new ingredient, or try a cuisine you've never cooked before. Just remember to have fun and be creative!
Take online classes.
The internet is a very big place, filled with many opportunities to learn. And many of those opportunities are free! No matter if you're on a break from school or if it's been a while since you've been in a classroom setting, it's never too late to learn! Find a video on a topic that interests you, preferably one you can follow along with or take notes on. For a more in-depth learning experience try a subscription-based online class, such as Skillshare, Lynda, or Masterclass.
Express yourself through art.
Now is a great time to do something creative. Since we can't be together to paint in our studio, we now have an option for you to Twist at Home! Simply purchase a Twist at Home kit online and a kit will be shipped directly to your doorstep! Our kit includes all the art supplies you need along with a step-by-step guide and video tutorial to complete your painting! We have adult and kid options so the whole family can enjoy a creative escape.
Every year, you say the same thing: "New year, new me!" It's so easy to settle back into your normal routine once the holidays are over… but why would you want to? New experiences help you meet new people, learn about yourself, and expose you to talents you never knew you had! So, where to start? With these six tips, you can learn quick and easy ways to incorporate new things into your everyday life.
Think back on the hobbies you loved as a child and run with them!
It's easy to get into a bit of a rut as an adult. We spend our time at work, caring for our families, and, typically, doing the same two or three things for fun. If you're at a loss about how to try new things, all you need to do is rewind! If you were a bookworm as a child, join a book club. If you loved sports back in the day, why not find a local team to play with? Sometimes, as we grow older, we let our passions fall by the wayside. Make a list of everything you enjoyed doing when you were younger, and brainstorm ways to incorporate those things back into your life.
Set a goal to do at least one new thing every single week.
Don't let your New Year's resolution to try new things get pushed to the backburner. Make it a goal to try something new every week, whether it's something small, like trying a new cuisine, or something big, like getting out of town to go camping for the first time. This will give you something to look forward to every week, and you'll have to start getting creative to keep your streak going! Plus, the benefits of trying new things will continue to roll in, like making unforgettable memories and discovering hidden talents.
Enlist your friends' and family's help.
One big reason why you should try new things? Because it's an excellent opportunity to bond with the people you love most! Everything is much more fun when you're doing it with friends and family, including learning or experiencing something totally new. Drag your friends to a cooking class, or sign them up to run a 5K with you. They can return the favor by introducing you to some of their interests and pastimes. Has your favorite co-worker been begging you to hit the town on a Saturday night, or join her for a morning hike? Now is the perfect time to accept!
Consider traits you'd like to improve or develop in yourself.
What is your reason for wanting to try something new? Do you want to be more spontaneous, more fit, more crafty, more social? By pinpointing your motivation, you can also start to pinpoint the activities that will be most fulfilling for you! If you want to get healthier, have fun trying things like kickboxing or Crossfit. If you're hoping to be more crafty and more social, a wine and painting night at your local Painting with a Twist has your name all over it.
Ditch any limiting beliefs you have about yourself.
Embrace being a beginner and, to put it bluntly, embrace being bad at something. Everyone starts from square one when they're trying something new. Serena Williams wasn't a star the moment she picked up a tennis racquet. Once upon a time, Jimi Hendrix didn't know how to play a single song on the guitar. Once you finally embrace the idea of leaving your comfort zone and potentially being mediocre at something, you'll be more willing to pursue new and exciting things. Just get out there, be open-minded, try things, laugh at yourself, and have a blast doing it all!
Just say, "yes."
One of the easiest ways to try new things is to stop saying "no." Stop turning down invitations that come your way, and stop saying "no" to that voice in your head says, "That sort of sounds like fun." Sure, sometimes Netflix and takeout feels easier than putting yourself out there in a new environment, but where's the satisfaction in that? Get in the habit of saying "heck yes" to the opportunities that come your way.
The ball is in your court. What new thing will you try today? Make it Painting with a Twist! Find a painting studio near you, and reserve a seat today!
Red and green are classic Christmas colors, but what about a more creative holiday color palette? If you're in the mood for something new this year, get inspired with these holiday color schemes that are guaranteed to add a fun twist to all your seasonal celebrations.
Bright Red, Turquoise, and Pink
If you've ever dreamed of living inside a gingerbread house, this holiday color palette could make your wish come true! With bright colors inspired by festive Christmas cookie frosting and candy canes, this palette can lighten up your home's feel on chilly, bleak winter days. Try a white Christmas tree to make colored ornaments stand out or hang homemade pom pom garland on a mantle or bookshelf for an extra touch of whimsy. Sugary-sweet vibes never looked so beautiful!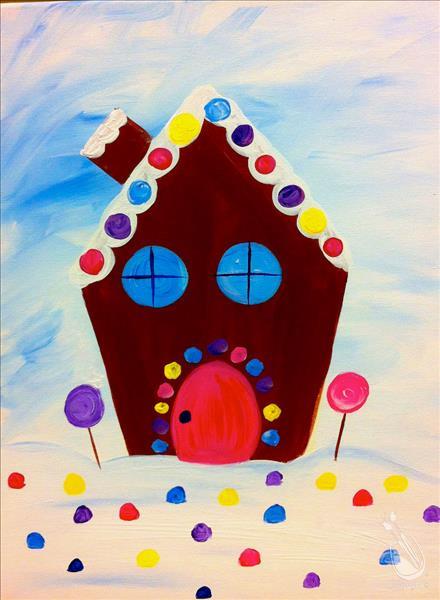 Blush, Bronze, and Rose Gold
There's no time like the holidays to coat your entire home in rose gold glitter, right? This holiday color palette is both festive and glamorous. Bring in a trendy feel with a rose gold holiday banner, or keep it traditional with blush poinsettias around a fireplace or on the kitchen table. Glam up your living room with a beautiful light-pink faux fur blanket and glittery gold throw pillows and ornaments. Gorgeous, darling!
Deep Red and Cream
You may have noticed that we like to put a "twist" on things—we can't help it! Most holiday color schemes pair red with green, but we'd opt for a creamy white color instead for some creative contrast (and a nod to Santa Claus!). Natural wood accents and farmhouse-inspired decorations like a Cozy Farmhouse Santa wood board painting can make your space feel like a sophisticated country cottage. Black and white buffalo plaid or burlap fabric can make a perfect tree skirt to complement this holiday color palette, and you can use natural evergreen branches as accents for a rustic, outdoorsy touch.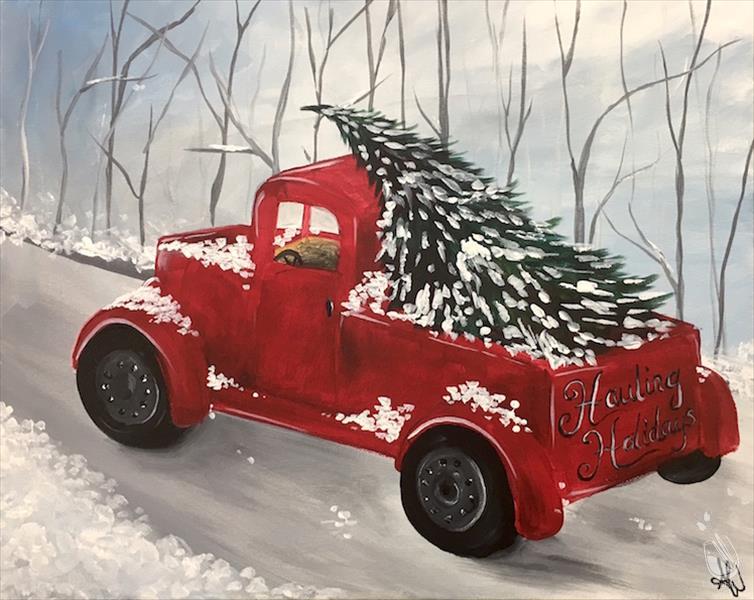 Plum, Gold, and Green
We have one word for these vibrant holiday colors: luxurious! Sure, deep emerald green is already a popular choice for Christmas, but who says you have to pair it with red?! Jewel tones like plum and green create an instant air of sophistication for your holiday festivities. Simple but still oh-so-lovely touches can balance out the richness of these bold holiday colors. To keep this holiday color scheme from being too busy or over-the-top, wrap gifts in plain white or cream paper with minimalistic gold bows.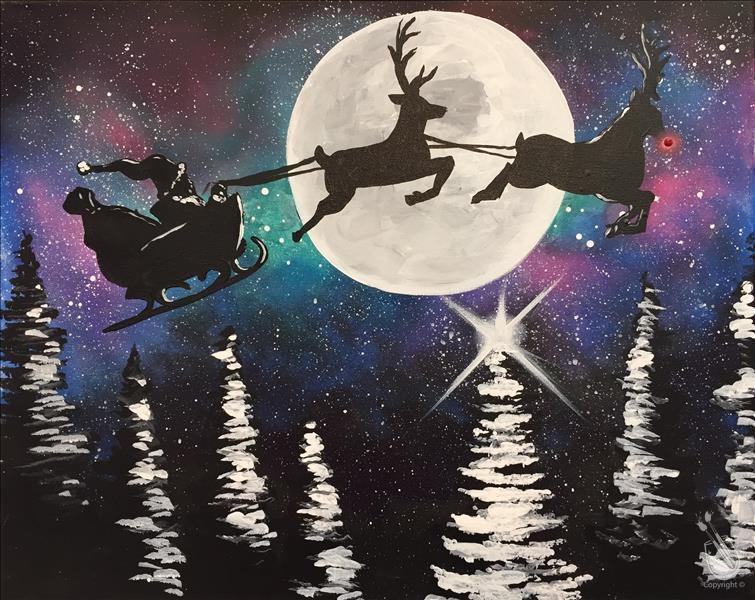 Christmas in a Paint Studio: A Holly Jolly Time
Are you dying to try out one of these holiday color palettes on your next craft project? Don't wait until next Christmas! Grab your friends and family and treat yourselves to a BYOB paint party at a Painting with a Twist near you. Our seasonal paint night ideas will have you in the holiday spirit in no time. Head to a paint studio to make a new piece of holiday artwork AND make memories you can cherish all year long. Don't forget the hot cocoa and peppermint lattes!
Just another holiday obligation. An awkward gathering with your coworkers. A conference room with deli trays and streamers.

Is that really how you want to think of your company holiday party? Of course not! Plan a company party that everyone will want to attend, from Connie in Accounting to Dale in Logistics. We'll walk you through a step-by-step plan for how to put together the best company Christmas party—one that's full of fun and overflowing with memories.

How to Plan a Company Holiday Party Everyone Will Love
1. Choose a location (that's NOT your office!).
The best company holiday party ideas start with one vital element: location! Yes, it's convenient to use a room in your office space, but you already spend all day, every day there! Celebrate the season with a company holiday party that's separate from your office or workplace. Heading to a local restaurant, event space, or even someone's home (depending on your company size) can create a more relaxed environment and encourage colleagues to enjoy themselves. If possible, keep the party close to the office so that your coworkers don't have to make a long drive after their workday.

2. Make it an after-hours company party.
When choosing a time to host your company holiday party, it's best to choose a time that's after work. Why? Well, think of it this way: if you're celebrating mid-day, are you going to have the best possible time if you're thinking about the work you have to go back to afterward? Choose an early evening time, and be sure to provide enough food so your party-goers aren't hungry (especially if your party falls during a mealtime).

3. Plan an awesome holiday party activity.
Bingo is okay, but isn't it time to up the ante on company holiday party ideas this year? Choose an activity where everyone can be actively engaged and participating… like a company paint party! At Painting with a Twist, you can bring your own beverages and festive, Pinterest-worthy snacks to enjoy while you try something new. Even those who aren't "artistic" will be able to enjoy step-by-step painting instructions and genuine conversation with their coworkers.

4. Talk it up.
If you, the host, are excited about your upcoming company holiday party, let it show! Tell people all about the new experience they'll have at your paint party, and entice them with the delicious snacks and wine you're bringing for them to enjoy. Share your enthusiasm with your colleagues and paint a picture of the memories the night will hold to get them excited.

5. Enjoy the party!
Instead of making your company holiday party just another event to cram on the calendar, make it something to remember—for you AND your colleagues! With a paint party at Painting with a Twist, everyone will have the opportunity to get to know one another on a deeper level (which can totally boost office morale). You're creating a great time for everyone, and you're making the office a friendlier environment. Essentially, you'll look like a total rock star to your colleagues and superiors alike!

Need New Company Holiday Party Ideas? Try a Paint Party
Paint, drink, and be merry! Trust us—there won't be any awkward lulls or forced merriment at your company Christmas party when it's hosted at Painting with a Twist. Find a studio near you and book a company paint party today!
Well, "Back to School" is in full swing. Some of you are sad… and some of you are jumping for joy
No matter which side of the hallway you're on, I think we can all agree that teachers are superheroes. To thank our teachers for being the inspiring leaders they are, we have some fabulous teacher gift ideas!
Classroom Sign
Teachers always go above and beyond to decorate their classrooms in a way that's inviting for the kids. Grab your friends and paint a custom sign they can put up in their classroom with their name and/or grade level! She'll feel so special that you made something just for her with your own hands! Bet you didn't know you could be so crafty!
Teacher Gift Cards
Want to give your kid's teacher an experience she'll never forget? There's no better way to unwind after a long day or week than a night out with some friends, with a little wine and art! Believe me, she'll thank you a million times for this teacher gift! These are perfect for a welcome gift, holiday gift or Teacher Appreciation gift!
Arrange a Private Event for Teachers
If no gift seems enough for your kid's teacher, talk to the principal to arrange an offsite event just for the teachers of the school!  Get some parents together to help sponsor the event or cover any offsite event fees.  Think the school could use a fundraiser? Talk to your local Painting with a Twist studio to see about hosting a Painting with a Purpose event, where 50% of the proceeds go to a special cause!
There's no denying that teachers are such a special part of our kids' lives. Give them something out of the ordinary to honor their superhuman status! They definitely deserve the recognition!
Come experience something different in our studio!
If you're reading this, you've probably had a fantastic experience in one of our studios. But have you experienced everything we have to offer? We've put together a quick bucket list of 'must do' events at Painting with a Twist. Check it out and come experience something completely different in our studio!
Trivia Nights
This event is really popular in our studios! If you're looking for a unique night out with friends or coworkers, this one is a great choice! We combine four of our favorite things: friends + wine + paintings + TRIVIA! From wizards and zombies to space nights and 90's coffeehouse trivia, you can find a theme night you and your friends will love! Dust off those leg warmers for an 80's event or dress in your old school 90's threads for a night of pure nostalgia. We promise you'll have an absolute blast! Click here for upcoming trivia nights near you!
Date Night
Looking for a unique experience for that first date or a place you and your hubby can go to escape the real world for a bit? Come see us for a Date Night event.  You'll each create a painting that, when put together, are two parts to a whole. You'll relax, laugh, sip on your favorite beverage and get creative! Besides, Baylor University conducted a study with Painting with a Twist and concluded that all couples release oxytocin when painting together and men release 2x more oxytocin than their partners! So there you have it, it's healthy for your relationship!
Coffee & Canvas Events
Not a night owl? Try our Coffee & Canvas daytime paint parties. Grab a cup of Joe, some friends and head on over to a studio! You'll love this laid back twist on our experience!
Black Light Event
Glow sticks, glow paint, black lights and an awesome painting event. Who knew, right?! But yes, many of our studios across the country host Black Light events! We use special paint that shows up under the black lights. Wear white or neon color clothes for the ultimate black light painting experience!
Private Parties
Did you know you can host your very own birthday, bachelorette, holiday or team building party in our studios? You pick the date, the artwork you'd like to paint and we'll take care of all the details so you can have a blast with your friends! Request a party here!
So, you're part of the #bridetribe and are in charge of throwing the BEST bachelorette party. No pressure
Don't worry. We have you covered. Check out some fabulous and unique bachelorette party ideas and tips below to make your bestie's party a blast!
There are a TON of bachelorette party props out there to make your bride-to-be's night unforgettable. Whether you go the traditional or the more risqué route, your bride will LOVE the attention. After all, it's her last fling before the ring! So get the cute veil, the sash, the cup, etc!
Whether it's grabbing the girls for adult camp (it's a thing!) or throwing a wine and painting party at one of our studios, do something out of the ordinary for your bestie!
Tylenol (hello!), wine or your favorite cocktail mixers, matching t-shirts or tank tops and/or tumblers (the bride will LOVE this!) Be sure it has a clever bridal-inspired saying on it! Or you could always come MAKE a pair of bridal party wine glasses in our studio!
You can use one glass for the bachelorette party and one for the big day!
Weave in some fun games throughout the party! Ask the groom some questions ahead of time and have the bride answer. If she gets it right, she gets a gift. If she gets it wrong…well, you decide the "punishment"! After a few cocktails, bring out the bachelorette version of Pin the Tail on the Donkey. Your group will be in hysterics, we promise!
You are going to have a TON of adorable and funny photos from the weekend. But before you go to town posting on social media, check with the bride! If she's ok with photos, then make it extra fun and create a hashtag for the party!
Your bestie deserves the best bachelorette party! Follow these tips and she'll have the time of her life.