All Smiles
Staying in Town This Summer? Here Are 8 Fun Activities for Kids
Time flies when the kids are in school. But as soon as summer break starts, time seems to come to a screeching halt! Don't let summer creep by with the sounds of "I'm bored!" playing on a loop. Keep the kids busy this summer with these eight fun activities for kids!
Head to the beach or pool, or set up a mini water park in your backyard.
Nothing says vacation like being by the water. If you're lucky enough to live near the beach or a pool — pack the sunscreen, some water toys, and a picnic lunch for a day's worth of fun with the kids. If you don't have access to either and you're looking for things to do with kids at home, set up an aquatic playground in your backyard! Some water balloons, a sprinkler, and a slip n' slide can keep everyone occupied for hours. And don't forget, SPF is your BFF!
Go on a camping trip.
If your family is on the adventurous side, there's no better bonding activity than a camping trip! Teach the kids to pitch a tent, build a fire, and make s'mores. Are you not wild about the idea of sleeping in the wilderness? Go camping in the backyard! Set up camp, grill out, stargaze, and tell ghost stories from the comfort of your yard.
Take an outing to a drive-in movie theater.
They might seem old-fashioned, but there are still over 300 drive-in theaters operating in the country! Find the nearest one and plan a family movie night excursion. Drive-in tickets are typically much cheaper than standard theaters, and some even let you bring your own food and drinks.
If there isn't a drive-in theater near you, you can set up a backyard theater with a movie projector and a large, white bed sheet. Bring your home-made movie theater treats like popcorn, pizza, and hot dogs, and you're good to go!
Sign them up for Kids Camp at Painting with a Twist.
Let your little ones unleash their inner Picasso at your local Painting with a Twist studio! At our Kids Camps, your children will enjoy art, snacks, friends, music, and playtime while you enjoy getting your day back! Don't let them experience the dreaded school vacation brain drain. Kid-friendly events at Painting with a Twist allow them to develop their creativity, learn new skills, gain confidence, and, most importantly, have a blast with friends. Call your local studio today to learn more about their Kids Camps offerings!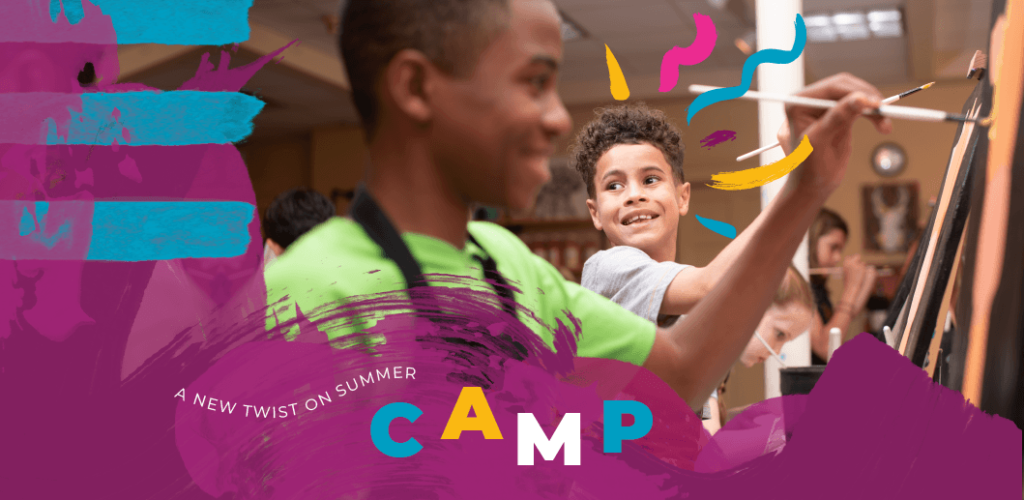 Tie-dye clothing.
Grab a tie-dye kit and some cheap beach pails from your local craft store, have your kids gather up some pieces of white clothing, and have an outdoor tie-dye party! Everyone will love turning their old t-shirts, socks, and pillowcases into groovy, colorful masterpieces.
Check out storytime at the library.
No one has a parent's back quite like the library, especially when the weather calls for indoor activities for kids. When in doubt, check out your local library's calendar of events! They usually offer a variety of great activities, from interactive storytimes to arts & crafts. Even better, they're almost always free!
Take turns picking new recipes and cooking for each other.
If your children enjoy helping in the kitchen, play restaurant! Kids can pick out fun recipes, grocery shop, and prepare meals and snacks for the family. Your child will get some great practice making a plan and following instructions, as well as a sense of pride and accomplishment when everyone digs into their culinary creation!
Pack a sunset picnic, complete with sparklers.
When the weather is beautiful, everything is more fun outdoors. Instead of having another dinner at home, pack it up, and take it to a park or scenic overlook for a sunset dinner picnic! Surprise the kids with post-dinner sparklers, and you'll automatically become the favorite parent (or cool auntie).
Running out of things to do with your kids at home? Painting with a Twist's Kids Camps and painting events for kids are a perfect way to keep them entertained while you crush your to-do list. Find an art camp for kids at a Painting with a Twist studio near you!