Doing good deeds is not only a great way to care for others, but also yourself! No matter what you're passionate about, doing good can spread love—both to you and to those around you! And with the world in a period of uncertainty, it is as good a time as ever to spread some positivity! From sharing your time and skills to spreading good to others online, you can easily turn your self-isolation period into a time of doing good deeds.
1. Doing good deeds can increase your self-confidence.
There's nothing quite like a sense of accomplishment to make you feel better about yourself and your abilities. With volunteer work, a sense of accomplishment can come standard! Your emotional health can greatly benefit from knowing that you've contributed to something larger than yourself.
In fact, research by the Mayo Clinic indicates that volunteer work can lower your risk of depression. And these days, it's easy to volunteer your time without even leaving your house! Connecting with people who aren't able to leave their homes or making time to video chat with people who could use a friend can be a huge way to give back.
2. Doing good together = making new friends!
With our busy lives, it can be hard to maintain friendships throughout adulthood. But volunteering your time to connect with someone, even over video chat, is a great way to build relationships! And this isn't just great for finding new friends that share a common interest. It can also help you build a network of people who may be able to help you find professional opportunities in the future or serve as character references for future job applications.
3. Doing good deeds can broaden your perspective.
Sometimes it's nice to see the world through other people's eyes, and doing good deeds can help you do just that. Participating in virtual volunteering opportunities like Bookshare, giving your time to others through organizations like Be My Eyes, or giving others a voice through VocaliD can change your view of the world for the better. That's one benefit of doing good that will stay with you forever!
4. You'll learn new skills while you volunteer.
You might not get paid for it, but even virtual volunteering is a great opportunity to learn something new! For instance, the Smithsonian Digital Volunteer program lets you transcribe historical documents. Not only are you learning about history, you're also preserving it for future generations. That's a win-win!
Do Good at a Paint Studio Near You!
Are you convinced of the endless benefits of doing good? Do good by reaching out and inviting your friends to Twist at Home! Gather your group and sign up online. Then, your local Painting with a Twist will reach out to you with more details and next steps.
You've cleared out the closets, decluttered the garage, banished the junk from beneath your bed and now… you're stuck with piles of stuff you no longer want or need. What do you do with all the unwanted stuff? You donate it, of course! There are a TON of great organizations to whom you can donate unwanted kitchen items, furniture, books, clothes, electronics, and more.
Keep reading for the freshest spring cleaning tips on where to donate your gently used home goods, where to recycle electronics, and how to celebrate your clean and clear living space in style.
What to Do With Unwanted Stuff
Before you load all of your spring cleaning "junk" into the dumpster, think about all the good it could do for someone in need. Most of the time, stuff we think of as old and obsolete is still perfectly acceptable (and desired!) by organizations who help out the less fortunate.
However, if you find that some of your stuff is worn out past the "gently used" donation standard, consider upcycling junk into some fun or useful DIY projects instead of adding to a landfill. Think wooden ladders turned into bookshelves, an old bicycle wheel turned into a ritzy Art Deco clock, or even something as simple as wine cork coasters to use on wine night.
Want to make sure your donation directly impacts your own community? Check with local schools and libraries to see if they're accepting books and computers that you no longer need. Otherwise, check out the list of organizations below who can help you brighten someone's life while you declutter yours.
Oh, and don't forget to grab a receipt from wherever you donate so you can write it off on next year's taxes!
Where to Donate Home Goods
If you're wondering where the best place to donate kitchen items and other assorted home goods is, you've got several options. It's worth mentioning that larger organizations like Goodwill and the Salvation Army will take just about any gently used goods you'd like to donate. Things like clothing and shoes, small appliances, pots and pans, blankets and linens, sports equipment, chairs and lamps, toys, and various electronics are all graciously accepted by these organizations.
What's more, Goodwill, Salvation Army, and many other organizations – like Habitat For Humanity, Furniture Bank, and AMVETS — will save you the hassle of dropping stuff off by picking up your items for free. Head to DonationTown.org to get a list of charities in your area that will gladly make a house visit to collect your donations.
Additionally, there are plenty of smaller, more specialized nonprofits out there who could use your support below. Why not show them some love?
Clothing, Shoes, & Accessories
Books
Toys & Games
Furniture
Where to Recycle Electronics
When it comes to your old electronics, you can either recycle them or donate them depending on what they are and the kind of condition they're in. Items that have lost their juice, such as rechargeable batteries and LED light bulbs, as well as devices that are simply too damaged to donate should all be recycled.
On the other hand, old cell phones, laptops, tablets, and their accessories that still function can be donated to help those in need. Always make sure to wipe any personal data off of phones, computers, and tablets before donating.
Recycling Electronics
Even though some of your electronics may be totally burnt out, the parts and materials used to make them are still valuable. Recycling your old devices keeps harmful chemicals out of landfills and allows organizations to recover some of the precious metals, such as gold, silver, and copper, that go into making electronics that would otherwise have to be mined to manufacture new goods.
Check out Call2Recycle.org to find electronics drop-off locations near you. Otherwise, depending on the type of devices you have, companies like Apple and Amazon offer trade-in deals for your old electronics. Best Buy offers a more robust recycling program that takes all kinds of used tech, no matter who made it.
Donating Electronics
For a full list of donation options, plus more info on how to recycle electronics, check out the EPA's breakdown here.
How to Celebrate Your Decluttered Home
You've got a lot of options to choose from when it comes to donating items from spring cleaning. Don't stress too much about finding the perfect charity. Just pick a cause that's important to you, and put your unwanted stuff to good use!
After all, life isn't about the stuff you collect — it's about the experiences and the memories you create with others. So let it all go and celebrate your clutter-free life by doing something memorable with people you care about.
We believe a freshly spring-cleaned home is like a blank canvas — you can make it as ZEN or sassy as you'd like! Celebrate this season's fresh start at a paint and sip event near you. You'll walk away with awesome memories and a fun painting to spruce up your space.
One of the most touching elements of working at Painting with a Twist is the sense of creative community that surrounds you as a part of this organization. Within our system, we certainly feel it. Our franchisees, artists, and corporate employees are an extension of our family. The feeling of a creative community just the nature of our fabric… it's truly who we are.
Many times this hits our customers – HARD.
One such customer, Jodi sent us an email at the beginning of January that sang through the bustle of planning for 2017. You see, her son, Zachary has autism. Therefore, not only does he have a service animal, but he has particular needs. Jodi was struggling to find an outlet for Zachary when she found the creative community at Painting with a Twist in Cedar Park, TX.
The studio owner, Sylvia and her staff welcomed Zachary and his service dog back in November 2014. Quickly they began to encourage Jodi to leave Zachary with them. He's been painting with their creative community now [many times a week] for over two years and practically runs the show during class.
Zachary's favorite painting is the hot air balloon. He liked it so much, instructor, Ginger painted him his own apron with that picture and his name on it. Really, it seems instructors have made the biggest impact. They have brought him into the fold of the community and met Zachary where HE needs them.
It's incredibly warming to hear the creative spirit Painting with a Twist was built on continues to spread nationwide. We adore our customers and franchisees. Zachary's story is exactly what we are trying to build – from coast to coast. 
*Thank you for sharing your story, Jodi.
**Sylvia, you and your staff continue to bless our entire system just by being part of it.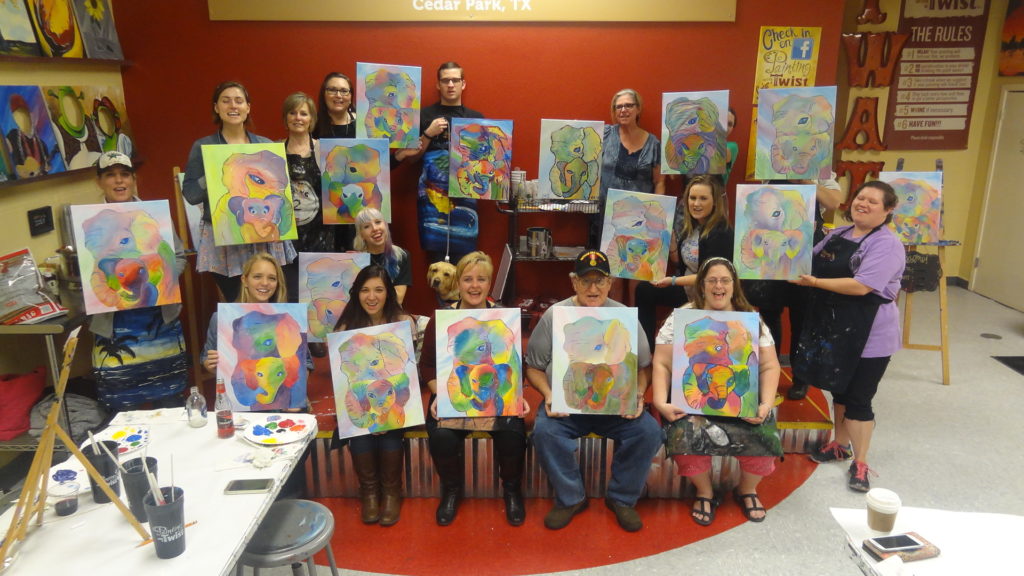 If you would like to read through Jodi's entire email, it is below.
###
Original Email – January 11, 2017
Hi,
I just wanted to take the time to tell you how wonderful one of your franchise locations is doing.  
Sylvia is the owner of the Cedar Park (Austin), Texas location.  She and her staff have been so great with my son who has autism.  Let me back up and start at the beginning.  In November of 2014, we were looking for something that my son could do during the break.  After calling places and being turned down because of the autism and having a service dog, many places flat out told us no that he couldn't come in.  They were concerned that things would be too hectic for him or that he and his dog would be too much of a distraction to others.  I happened to call the Cedar Park PWAT just because of its location.  After speaking with Sylvia she said it was no problem for him to come and his dog was definitely welcome.  
Summer of 2015, found us once again looking for something for him to do that also wouldn't break the bank and would permit him to attend with younger kids because he was 17.  Sylvia came to the rescue again! He attended summer camp for one week and a day or two each week throughout the summer.  When Zachary first started attending, we had to stay with him for a little bit.  By the time he started for the second week, he didn't even want us going to the door.  Sylvia gave us multiple discounts from giving us a free session to giving him gift certificates.  Without her doing this, there was no way that he would have been able to paint so much that summer.
When camp ended, Zachary had such a great time that he wanted to keep painting. He now paints twice a month, sometimes more.  Sylvia even let him paint in the evenings without us before he turned 18 because he and his dog weren't a problem.  
There was a painting that had a hot air balloon that he wanted to paint.  That class was canceled and rescheduled multiple times.  Finally, they put it on the schedule and said that even if Zachary was the only one they would still do it.  We had our money returned to us for the cancellations, we were given a gift certificate because of how upset Zachary kept getting and he was able to paint it for free when the class was finally held.  Zachary liked the hot air balloon painting so much that the one instructor (Ginger) painted him his own apron with that picture and his name on it.
Sylvia and her staff also understand how a routine is necessary for my son.  Each time he paints, they have his usual spot for him ready: near the tv in the large room or on the end by the instructor when in the small room.  They also know how important it is to stay on schedule and not go over the allotted time.  He will tell them when the break is over or when they have five minutes left in class.  Each instructor is so understanding of him and his needs.  They don't mind that he has to show up more than 15 minutes early and walk around all the studios. They know that this is just how Zachary is and are okay with it.
Finally, there are the instructors themselves.  Each of them had put me at ease and made me feel comfortable leaving him when he first started going there.  They are all very encouraging of Zachary's painting attempts and like the dimension, he adds to his paintings (to me, it's just paint applied too thickly).  While he likes all of the instructors that he has painted with, Ginger is by far his favorite.  There are times he might find a painting he likes but won't sign up for it because she isn't the one teaching it.  
All I can say is that as a parent of a child with autism, it's great that Sylvia and her staff so willingly invited my son into their studio without giving it a second thought when so many other places turned him away.  I have friends who also have children with autism or Down syndrome and they have also said that the experience their child has received is exceptional.  
Thank you,
Jodi