Inspired
10 Cool, Artistic Activities to Beat the Heat this Summer
As the school year comes to a close, parents everywhere are looking for activities to keep their children occupied during the summer months. If you're wondering how to make the most of summer vacation without having to brave the heat, try out these creative activities.
1. Pop In and Paint at Painting with a Twist
Looking for something to do on the fly? Why not Pop in and Paint at Painting with a Twist? You can bring the entire family for a day of creative expression and fun, all without a reservation! Pack along a few snacks and beverages to share as you and the kiddos create your one-of-a-kind paintings. And most importantly, enjoy some much-needed time out of the heat while sitting beneath the breeze of a cool AC.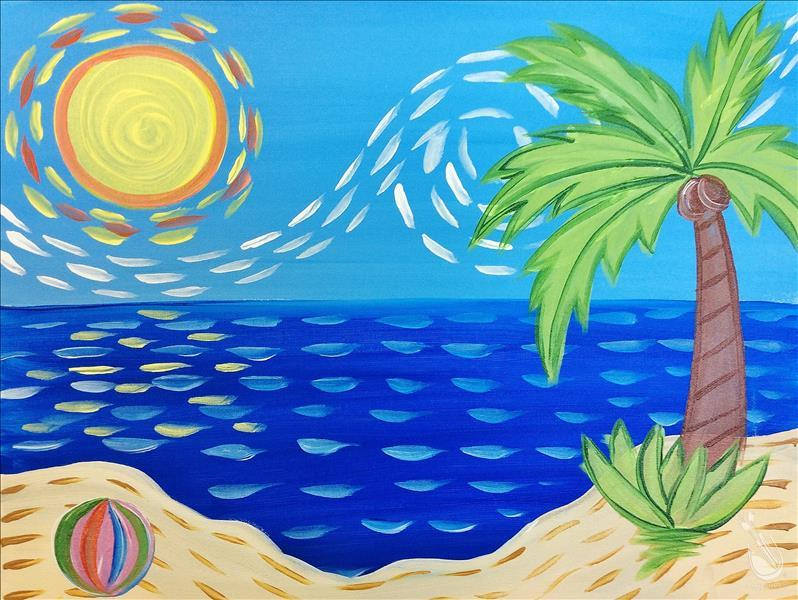 2. Have a game day at home.
Board games, card games, and other at-home games can be the perfect solution to a hot summer's day. Engage your household in an entertaining evening full of friendly competition and familial bonding time. Just don't forget to throw in a few snacks and treats, like ice cream, to help stay cool!
3. Throw a water party in your backyard.
From sprinklers and slip n' slides to kiddie pools and water balloons, the best way to beat the heat during summer is to cool off with some H2O fun. Round up your family friends and their little ones, set out a few ice-cold beverages, and watch as your kiddos make lasting summer memories with their favorite pals.
4. Sign the kids up for camp at Painting with a Twist.
Just because the kids are out of school for summer doesn't mean you're free from work. If you're looking for fun summer activities for your little ones to do on their own, sign them up for Kids Camp at your local Painting with a Twist studio.
At our kids' camps, your children will enjoy making fun art, eating yummy snacks, and so much more! Plus, you'll get the added bonus of summer child care. Visit your local studio today to learn more about their Kids' Camp offerings!
Rather entertain the kiddos at home? Ask your local studio about our Twist at Home Paint Kits that come with everything your child needs to get creative at home!
5. Go window shopping.
Summer activities don't need to be expensive, they just need to be cool. Head to your nearest shopping center, and spend the day window shopping (or actual shopping), depending on your interests and budget. Even if you don't find a perfect new dress or the latest toy, you can always enjoy a hot pretzel and free air conditioning.
6. Visit your nearest skating rink.
Another fantastic way to cool off during the summer is to engage in winter activities like ice skating. Surround yourself with the refreshing chill of an indoor ice skating rink, and let your little ones run around to their heart's content.
7. Go to the library.
The library is the perfect place to spend a relaxing day with family in an air-conditioned environment. Plus, allowing your kiddos to explore book-filled shelves can be conducive to learning, creativity, and more. You'll also want to seek out local literary events to attend throughout the summer to help make library time a new summer routine.
8. Make frozen treats at home.
Have you ever wondered how ice cream is made? Or maybe you'd like to try your hand at frozen banana pops and root beer floats. Spend time in the kitchen with your little ones this summer, and make some of your favorite frozen treats from scratch. Not only will this be a bonding experience for the entire family, but you'll also have the opportunity to enjoy some tasty treats at the end of this beat-the-heat summer activity.
9. Play with science.
Making paper mache volcanos or creating a water balloon-powered car isn't just for school science fairs. Get the entire family together to participate in a creative, science-themed activity they're sure to never forget. From building and toppling domino tracks to blowing up balloons with baking soda and vinegar, the options for this indoor activity are truly endless!
10. Attend a Family Paint Event at Painting with a Twist.
Beat the heat this summer by joining a cool, air-conditioned Painting with a Twist family event near you today. From grandparents to little ones and teenagers, Painting with a Twist is an activity everyone can enjoy. Plus, all of your attendees will leave the studio with memories of laughter and fun, as well as their very own keepsake to commemorate the experience for years to come.