All Smiles
Kid-Free Weekend? Here's How to Make It a Memorable One
By some miracle, you have 48 wondrous hours off from parent duty. Maybe your little ones are spending the weekend with a friend, or the grandparents are craving quality time with their favorite grandchildren. Whatever the reason, a kid-free weekend is a rare opportunity to enjoy some much-needed "you" time.
If you're out of practice when it comes to relaxing, not to worry! We've got some ideas for how to spend your weekend, whether you want to enjoy it with your partner, friends, or solo.
Set aside quality time with your partner.
You and your partner are alone for an entire weekend, and you're looking for things to do without the kids! Don't let the opportunity for some quality couple's bonding time pass you by.
Between diaper changes, emergency grocery store runs, and the general grind of daily living, you likely feel a little out of touch with your S.O. Take advantage of this kid-free time and rekindle the romance with these ideas.
Plan a day trip.
Break out of your routine by taking a day trip to a nearby town or city. Create a playlist from the good 'ole days and remember the journey you've taken to get to this point with your significant other. A day trip is the perfect low-stress way to feel like you're on a baecation while staying close to home.
Book a hotel.
If you want to extend your day trip or just want to enjoy the luxury of not doing the cleaning for a night, book a hotel for you and your partner. This is a wonderful way to escape your daily worries and focus on just the two of you.
Have a date night.
Enjoy ice cream at your favorite creamery without the stress of wrangling kids, or make reservations for a more formal sit-down dinner at a five-star restaurant. Maybe you both want to explore your artsy side with a Painting with a Twist couples night. Choose a date night that fits your personality as a couple and simply enjoy one another's company.
Visit your local art museum.
Chances are, your town has multiple cultural offerings that you haven't had time to explore now that you have kiddos. Rather than just sitting at home with your partner, why not explore a local nature center or museum? Getting out and doing something new can make all the difference in rekindling the flame in your relationship.
Plan an evening with friends.
It's moms' night off! And if by some outstanding miracle your kid-free weekend overlaps with your besties' free time, it's time to celebrate. Plan a girls' night out — or in — with these activities.
Get artsy.
Explore your creative side with your besties at a Painting with a Twist Girls Night. Relax and enjoy a glass (or two) of wine while creating a unique painting that will serve as an excellent memory for your kids-free weekend.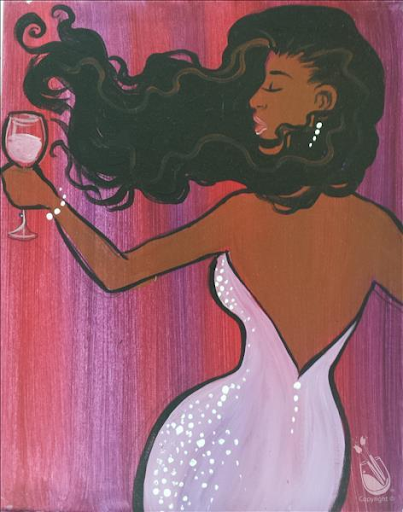 Host a sleepover.
Nothing says girls' night like an adult sleepover. Have your best female friends over to enjoy the peace and quiet of your kid-free house. Make a list of your favorite rom-coms and settle in with a few bottles of wine, your favorite takeout, and the best grown-up conversations you've probably had in years.
Throw a party.
You're free from mom duty! How often does that happen? Gather your crew and throw a mommy rager like never before. From mimosa brunches and goddess parties to black light events at Painting with a Twist, the possibilities are endless!
And if you'd rather not spend your weekend hosting and planning a party, let us help. All you need to do is call up the crew, grab your favorite beverages, and book an event — we'll handle the rest.
Enjoy some alone time.
If it's just you on your kid-free weekend, and it's time to spoil yourself. You don't have to worry about what anyone else wants, period. You can do all the things you love without worrying about pleasing kiddie palates, short attention spans, or trying to fit in a nap. Here's how to embrace your kid-free weekend, solo.
Meet up with a friend.
It's no secret that maintaining friendships as an adult is hard, but it's even harder when you start a family. When you've got kids, it's hard to spontaneously decide you want to get a coffee with a good friend or go out for a happy hour drink. Take advantage of this opportunity, and reconnect with a friend you haven't seen in a while.
Just relax.
When's the last time you had longer than a few minutes to relax without being interrupted by a kid's request for milk or hearing someone complain about being bored? It's probably been a while. This weekend, instead of looking for things to do near you without kids, just enjoy the silence. Sit in a comfy chair, crack open that book you've been meaning to read, and escape into the world between its pages.
Take a wine tasting class.
You probably haven't had time to hone your wine-tasting skills since your little wonders came into the world. And while you won't have time to become a master sommelier in one weekend, you can definitely improve your basic wine knowledge at a wine-tasting class.
Explore the wonders of pinots and sauvignons on your own, and leave the winery feeling a little more relaxed and knowledgeable once the day is through.
Enjoy a Kid-Free Weekend at Painting with a Twist
A kid-free weekend opportunity doesn't come often. Make the most of it by joining a Painting with a Twist event near you today! Whether that's with your significant other, girl squad, or solo, there are plenty of opportunities to truly enjoy some much-needed downtime. Book an event or Pop in and Paint — with no reservation — today!