It's safe to say stress affects nearly everyone at some point in their lives. From traffic-filled commutes to impending deadlines to relational dynamics, we encounter stress in many different forms and from many different sources. While keeping stress under control can be challenging, it's by no means impossible. Take a second, and check out these six ways to destress when you're feeling overwhelmed or exhausted by it all.
1. Meditate
When thinking about how to destress your life, meditation may be one of the first things you consider. That's because mindfulness and meditation have been utilized for centuries to release negative thoughts and grow more aware of the present. By taking a moment to quiet your mind and practice intentional breathing, you might be surprised by just how naturally your stress will melt away. Not sure where to begin? Download a meditation app to help you get started!
2. Engage your senses
A great way to break from whatever feels stressful is to engage yourself in a sensory experience. This could include taking a long shower (touch), eating comfort food (taste), lighting a scented candle (smell), listening to soft music (hearing), or watching a funny show or movie (sight). These activities are effective at helping you forget about what's going on in the peripheral and enjoying what's happening right in front of you.
3. Get outside
Fresh air and a change of scenery are wonderful remedies for times when you're feeling a bit too overwhelmed. Take a stroll around the neighborhood, hop on your bike for a quick ride, or find a nice spot to soak up the sunshine. However you choose to spend your time, being outdoors can help calm your mind and refresh your spirit whenever life feels heavy.
4. Move your body
Exercise is one of the best ways to destress, as it releases endorphins and lifts your mood. So, why not put on some upbeat music and take a twenty-minute dance break? Or what about some gentle stretching to relieve tension, or a few jumping jacks to elevate your heart rate? How you move your body is totally up to you, but you're sure to shake off a bit of that unwanted stress in the process.
5. Explore your creativity
One of the most fun destressing tips on our list is exploring your creative side. Diving into a creative pursuit like baking, calligraphy, or even gardening can alleviate stress by giving you something more enjoyable to focus on.
Likewise, painting is a great way to loosen up and tap into your artistic potential! Painting with a Twist is now offering Zen Collection painting events. This collection incorporates soothing music, meditation exercises, and calming paintings for the ultimate stress-free experience. Whether you take up photography, design a space in your home, or seek other creative outlets to unwind, finding your own version of zen is essential to your mental health and wellbeing.
6. Express your feelings
Have you ever kept a journal to record your thoughts? Putting our emotions on paper can be incredibly therapeutic, as it's one of the things to do to destress that can help us process everything we're experiencing. Releasing our thoughts is truly liberating because it not only frees up our headspace, but it gives us permission to no longer carry around those feelings.
While there are many more things you can do to help you destress, this list can be a good place for you to get started. From exploring the great outdoors to learning a new recipe to keeping a journal, there are countless ways to say goodbye to our stress. And if you're in the mood to activate your imagination, you can always try painting at home! When you join a Twist at Home painting event, all the materials and instructions you'll need will be provided, so you can concentrate on creating your very own work of art from the comfort of your own relaxing home environment.
In a world where you're always on the go, spending quality time at home every now and then can be nice. But when you're stuck at home, all those creature comforts you cherish about your personal dwelling space don't seem as nice. Especially when you don't have a choice!
Whether you're hunkering down to save money, avoid inclement weather, or you're simply trying to establish some social distance, being stuck at home can make you feel trapped! Luckily, there are plenty of ways to stay creative and keep yourself inspired during your home isolation. Here are a few ideas for what to do when you're stuck in the house all day.
Clean your house.
With daily life always getting in the way, your humble abode can get a little messy. And while the idea of cleaning your house doesn't sound creative or inspiring, it can certainly help in your inspirational journey! For starters, you may find things you forgot you had, like painting supplies, musical equipment, or even an old pair of knitting needles from your crafty DIY phase. Second, it's a great way to get organized and give yourself some room to breath. With all that clutter out of the way, you can really focus on doing you!
Do some gardening.
Sometimes, there's nothing more rewarding than getting your hands dirty with a little gardening! Plant flowers or a vegetable patch. Get creative by adding in some pathways to traverse your garden as it grows. Once everything starts coming in full bloom, you'll thank yourself for all the flowers, fruits, and veggies you worked so hard to cultivate. Nothing says fresh like produce picked straight from your yard! And if you don't have a yard for a garden, try using some smaller raised beds on a patio or balcony!
Practice your craft.
Perhaps you used to be a wizard at Guitar Hero or you could really slay at drawing. If you feel like your busy on-the-go life has robbed you of your sweet skills, then it's time to revisit them! Choose your most mentally productive time of day and set some time aside to practice your skill. By the end of your self-quarantine phase, your friends will think you've gone pro.
Connect with long-distance loved ones.
Being stuck at home doesn't mean you have to be alone. In fact, it can be a great time to catch up with long-distance loved ones! With all kinds of online video chat options, there are plenty of ways to connect face-to-face. Check in on grandma, see how your old college roommate is doing, or say hey to your old friend from high school who lives six states away now. Take the time to ask them questions or get to know things about them that you didn't know already. It could be some good inspirational fuel for yourself later!
Start a blog.
You have thoughts and feelings, so why not start a blog! Even if you don't think of yourself as a skilled writer, starting a blog can still be a great release. Make yourself a fresh cup of tea or coffee, grab your keyboard, and fire away! Write about anything and everything you can think of, and over time, you may be impressed at your portfolio of blog pieces. Who knows, you may even unlock some hidden inspiration within yourself!
Challenge your culinary skills.
When you're stuck at home, there's almost no better pastime than eating food! So, why not take the most enjoyable activity to do while at home and amplify it! Watch a cooking tutorial on a new recipe you've never tried, use a new ingredient, or try a cuisine you've never cooked before. Just remember to have fun and be creative!
Take online classes.
The internet is a very big place, filled with many opportunities to learn. And many of those opportunities are free! No matter if you're on a break from school or if it's been a while since you've been in a classroom setting, it's never too late to learn! Find a video on a topic that interests you, preferably one you can follow along with or take notes on. For a more in-depth learning experience try a subscription-based online class, such as Skillshare, Lynda, or Masterclass.
Express yourself through art.
Now is a great time to do something creative. Since we can't be together to paint in our studio, we now have an option for you to Twist at Home! Simply purchase a Twist at Home kit online and a kit will be shipped directly to your doorstep! Our kit includes all the art supplies you need along with a step-by-step guide and video tutorial to complete your painting! We have adult and kid options so the whole family can enjoy a creative escape.
Every year, you say the same thing: "New year, new me!" It's so easy to settle back into your normal routine once the holidays are over… but why would you want to? New experiences help you meet new people, learn about yourself, and expose you to talents you never knew you had! So, where to start? With these six tips, you can learn quick and easy ways to incorporate new things into your everyday life.
Think back on the hobbies you loved as a child and run with them!
It's easy to get into a bit of a rut as an adult. We spend our time at work, caring for our families, and, typically, doing the same two or three things for fun. If you're at a loss about how to try new things, all you need to do is rewind! If you were a bookworm as a child, join a book club. If you loved sports back in the day, why not find a local team to play with? Sometimes, as we grow older, we let our passions fall by the wayside. Make a list of everything you enjoyed doing when you were younger, and brainstorm ways to incorporate those things back into your life.
Set a goal to do at least one new thing every single week.
Don't let your New Year's resolution to try new things get pushed to the backburner. Make it a goal to try something new every week, whether it's something small, like trying a new cuisine, or something big, like getting out of town to go camping for the first time. This will give you something to look forward to every week, and you'll have to start getting creative to keep your streak going! Plus, the benefits of trying new things will continue to roll in, like making unforgettable memories and discovering hidden talents.
Enlist your friends' and family's help.
One big reason why you should try new things? Because it's an excellent opportunity to bond with the people you love most! Everything is much more fun when you're doing it with friends and family, including learning or experiencing something totally new. Drag your friends to a cooking class, or sign them up to run a 5K with you. They can return the favor by introducing you to some of their interests and pastimes. Has your favorite co-worker been begging you to hit the town on a Saturday night, or join her for a morning hike? Now is the perfect time to accept!
Consider traits you'd like to improve or develop in yourself.
What is your reason for wanting to try something new? Do you want to be more spontaneous, more fit, more crafty, more social? By pinpointing your motivation, you can also start to pinpoint the activities that will be most fulfilling for you! If you want to get healthier, have fun trying things like kickboxing or Crossfit. If you're hoping to be more crafty and more social, a wine and painting night at your local Painting with a Twist has your name all over it.
Ditch any limiting beliefs you have about yourself.
Embrace being a beginner and, to put it bluntly, embrace being bad at something. Everyone starts from square one when they're trying something new. Serena Williams wasn't a star the moment she picked up a tennis racquet. Once upon a time, Jimi Hendrix didn't know how to play a single song on the guitar. Once you finally embrace the idea of leaving your comfort zone and potentially being mediocre at something, you'll be more willing to pursue new and exciting things. Just get out there, be open-minded, try things, laugh at yourself, and have a blast doing it all!
Just say, "yes."
One of the easiest ways to try new things is to stop saying "no." Stop turning down invitations that come your way, and stop saying "no" to that voice in your head says, "That sort of sounds like fun." Sure, sometimes Netflix and takeout feels easier than putting yourself out there in a new environment, but where's the satisfaction in that? Get in the habit of saying "heck yes" to the opportunities that come your way.
The ball is in your court. What new thing will you try today? Make it Painting with a Twist! Find a painting studio near you, and reserve a seat today!
Red and green are classic Christmas colors, but what about a more creative holiday color palette? If you're in the mood for something new this year, get inspired with these holiday color schemes that are guaranteed to add a fun twist to all your seasonal celebrations.
Bright Red, Turquoise, and Pink
If you've ever dreamed of living inside a gingerbread house, this holiday color palette could make your wish come true! With bright colors inspired by festive Christmas cookie frosting and candy canes, this palette can lighten up your home's feel on chilly, bleak winter days. Try a white Christmas tree to make colored ornaments stand out or hang homemade pom pom garland on a mantle or bookshelf for an extra touch of whimsy. Sugary-sweet vibes never looked so beautiful!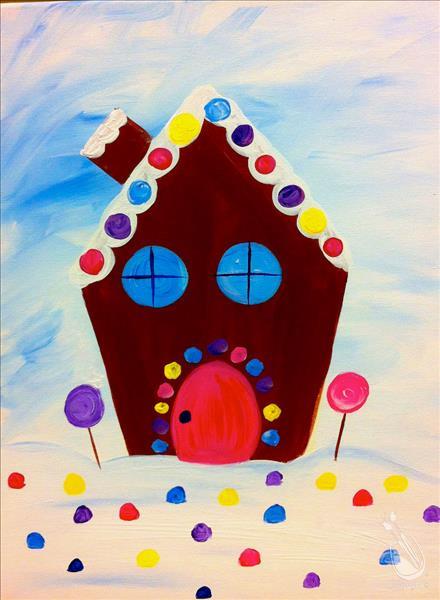 Blush, Bronze, and Rose Gold
There's no time like the holidays to coat your entire home in rose gold glitter, right? This holiday color palette is both festive and glamorous. Bring in a trendy feel with a rose gold holiday banner, or keep it traditional with blush poinsettias around a fireplace or on the kitchen table. Glam up your living room with a beautiful light-pink faux fur blanket and glittery gold throw pillows and ornaments. Gorgeous, darling!
Deep Red and Cream
You may have noticed that we like to put a "twist" on things—we can't help it! Most holiday color schemes pair red with green, but we'd opt for a creamy white color instead for some creative contrast (and a nod to Santa Claus!). Natural wood accents and farmhouse-inspired decorations like a Cozy Farmhouse Santa wood board painting can make your space feel like a sophisticated country cottage. Black and white buffalo plaid or burlap fabric can make a perfect tree skirt to complement this holiday color palette, and you can use natural evergreen branches as accents for a rustic, outdoorsy touch.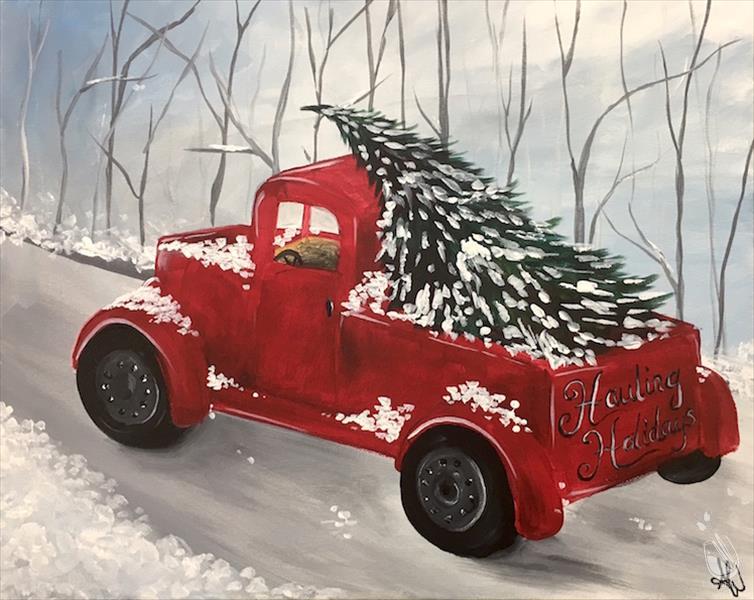 Plum, Gold, and Green
We have one word for these vibrant holiday colors: luxurious! Sure, deep emerald green is already a popular choice for Christmas, but who says you have to pair it with red?! Jewel tones like plum and green create an instant air of sophistication for your holiday festivities. Simple but still oh-so-lovely touches can balance out the richness of these bold holiday colors. To keep this holiday color scheme from being too busy or over-the-top, wrap gifts in plain white or cream paper with minimalistic gold bows.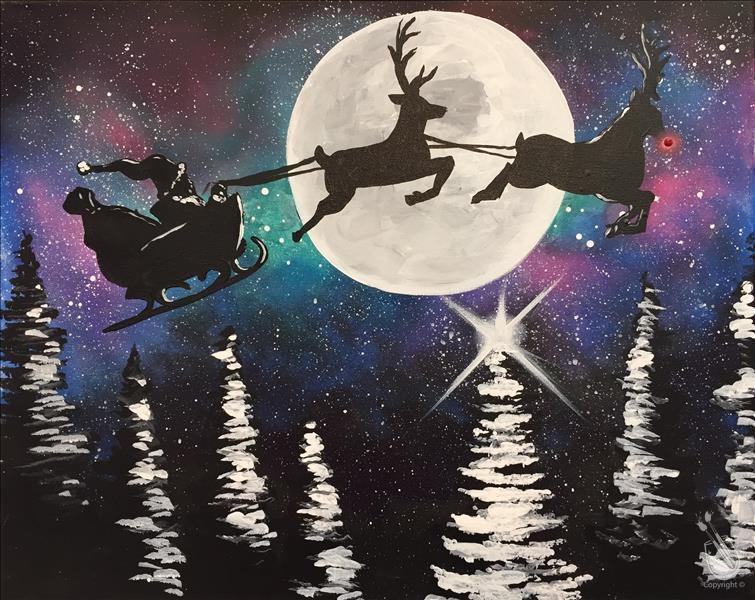 Christmas in a Paint Studio: A Holly Jolly Time
Are you dying to try out one of these holiday color palettes on your next craft project? Don't wait until next Christmas! Grab your friends and family and treat yourselves to a BYOB paint party at a Painting with a Twist near you. Our seasonal paint night ideas will have you in the holiday spirit in no time. Head to a paint studio to make a new piece of holiday artwork AND make memories you can cherish all year long. Don't forget the hot cocoa and peppermint lattes!
Just another holiday obligation. An awkward gathering with your coworkers. A conference room with deli trays and streamers.

Is that really how you want to think of your company holiday party? Of course not! Plan a company party that everyone will want to attend, from Connie in Accounting to Dale in Logistics. We'll walk you through a step-by-step plan for how to put together the best company Christmas party—one that's full of fun and overflowing with memories.

How to Plan a Company Holiday Party Everyone Will Love
1. Choose a location (that's NOT your office!).
The best company holiday party ideas start with one vital element: location! Yes, it's convenient to use a room in your office space, but you already spend all day, every day there! Celebrate the season with a company holiday party that's separate from your office or workplace. Heading to a local restaurant, event space, or even someone's home (depending on your company size) can create a more relaxed environment and encourage colleagues to enjoy themselves. If possible, keep the party close to the office so that your coworkers don't have to make a long drive after their workday.

2. Make it an after-hours company party.
When choosing a time to host your company holiday party, it's best to choose a time that's after work. Why? Well, think of it this way: if you're celebrating mid-day, are you going to have the best possible time if you're thinking about the work you have to go back to afterward? Choose an early evening time, and be sure to provide enough food so your party-goers aren't hungry (especially if your party falls during a mealtime).

3. Plan an awesome holiday party activity.
Bingo is okay, but isn't it time to up the ante on company holiday party ideas this year? Choose an activity where everyone can be actively engaged and participating… like a company paint party! At Painting with a Twist, you can bring your own beverages and festive, Pinterest-worthy snacks to enjoy while you try something new. Even those who aren't "artistic" will be able to enjoy step-by-step painting instructions and genuine conversation with their coworkers.

4. Talk it up.
If you, the host, are excited about your upcoming company holiday party, let it show! Tell people all about the new experience they'll have at your paint party, and entice them with the delicious snacks and wine you're bringing for them to enjoy. Share your enthusiasm with your colleagues and paint a picture of the memories the night will hold to get them excited.

5. Enjoy the party!
Instead of making your company holiday party just another event to cram on the calendar, make it something to remember—for you AND your colleagues! With a paint party at Painting with a Twist, everyone will have the opportunity to get to know one another on a deeper level (which can totally boost office morale). You're creating a great time for everyone, and you're making the office a friendlier environment. Essentially, you'll look like a total rock star to your colleagues and superiors alike!

Need New Company Holiday Party Ideas? Try a Paint Party
Paint, drink, and be merry! Trust us—there won't be any awkward lulls or forced merriment at your company Christmas party when it's hosted at Painting with a Twist. Find a studio near you and book a company paint party today!
Well, "Back to School" is in full swing. Some of you are sad… and some of you are jumping for joy
No matter which side of the hallway you're on, I think we can all agree that teachers are superheroes. To thank our teachers for being the inspiring leaders they are, we have some fabulous teacher gift ideas!
Classroom Sign
Teachers always go above and beyond to decorate their classrooms in a way that's inviting for the kids. Grab your friends and paint a custom sign they can put up in their classroom with their name and/or grade level! She'll feel so special that you made something just for her with your own hands! Bet you didn't know you could be so crafty!
Teacher Gift Cards
Want to give your kid's teacher an experience she'll never forget? There's no better way to unwind after a long day or week than a night out with some friends, with a little wine and art! Believe me, she'll thank you a million times for this teacher gift! These are perfect for a welcome gift, holiday gift or Teacher Appreciation gift!
Arrange a Private Event for Teachers
If no gift seems enough for your kid's teacher, talk to the principal to arrange an offsite event just for the teachers of the school!  Get some parents together to help sponsor the event or cover any offsite event fees.  Think the school could use a fundraiser? Talk to your local Painting with a Twist studio to see about hosting a Painting with a Purpose event, where 50% of the proceeds go to a special cause!
There's no denying that teachers are such a special part of our kids' lives. Give them something out of the ordinary to honor their superhuman status! They definitely deserve the recognition!
Come experience something different in our studio!
If you're reading this, you've probably had a fantastic experience in one of our studios. But have you experienced everything we have to offer? We've put together a quick bucket list of 'must do' events at Painting with a Twist. Check it out and come experience something completely different in our studio!
Trivia Nights
This event is really popular in our studios! If you're looking for a unique night out with friends or coworkers, this one is a great choice! We combine four of our favorite things: friends + wine + paintings + TRIVIA! From wizards and zombies to space nights and 90's coffeehouse trivia, you can find a theme night you and your friends will love! Dust off those leg warmers for an 80's event or dress in your old school 90's threads for a night of pure nostalgia. We promise you'll have an absolute blast! Click here for upcoming trivia nights near you!
Date Night
Looking for a unique experience for that first date or a place you and your hubby can go to escape the real world for a bit? Come see us for a Date Night event.  You'll each create a painting that, when put together, are two parts to a whole. You'll relax, laugh, sip on your favorite beverage and get creative! Besides, Baylor University conducted a study with Painting with a Twist and concluded that all couples release oxytocin when painting together and men release 2x more oxytocin than their partners! So there you have it, it's healthy for your relationship!
Coffee & Canvas Events
Not a night owl? Try our Coffee & Canvas daytime paint parties. Grab a cup of Joe, some friends and head on over to a studio! You'll love this laid back twist on our experience!
Black Light Event
Glow sticks, glow paint, black lights and an awesome painting event. Who knew, right?! But yes, many of our studios across the country host Black Light events! We use special paint that shows up under the black lights. Wear white or neon color clothes for the ultimate black light painting experience!
Private Parties
Did you know you can host your very own birthday, bachelorette, holiday or team building party in our studios? You pick the date, the artwork you'd like to paint and we'll take care of all the details so you can have a blast with your friends! Request a party here!
So, you're part of the #bridetribe and are in charge of throwing the BEST bachelorette party. No pressure
Don't worry. We have you covered. Check out some fabulous and unique bachelorette party ideas and tips below to make your bestie's party a blast!
There are a TON of bachelorette party props out there to make your bride-to-be's night unforgettable. Whether you go the traditional or the more risqué route, your bride will LOVE the attention. After all, it's her last fling before the ring! So get the cute veil, the sash, the cup, etc!
Whether it's grabbing the girls for adult camp (it's a thing!) or throwing a wine and painting party at one of our studios, do something out of the ordinary for your bestie!
Tylenol (hello!), wine or your favorite cocktail mixers, matching t-shirts or tank tops and/or tumblers (the bride will LOVE this!) Be sure it has a clever bridal-inspired saying on it! Or you could always come MAKE a pair of bridal party wine glasses in our studio!
You can use one glass for the bachelorette party and one for the big day!
Weave in some fun games throughout the party! Ask the groom some questions ahead of time and have the bride answer. If she gets it right, she gets a gift. If she gets it wrong…well, you decide the "punishment"! After a few cocktails, bring out the bachelorette version of Pin the Tail on the Donkey. Your group will be in hysterics, we promise!
You are going to have a TON of adorable and funny photos from the weekend. But before you go to town posting on social media, check with the bride! If she's ok with photos, then make it extra fun and create a hashtag for the party!
Your bestie deserves the best bachelorette party! Follow these tips and she'll have the time of her life.