Time flies when the kids are in school. But as soon as summer break starts, time seems to come to a screeching halt! Don't let summer creep by with the sounds of "I'm bored!" playing on a loop. Keep the kids busy this summer with these eight fun activities for kids!
Head to the beach or pool, or set up a mini water park in your backyard.
Nothing says vacation like being by the water. If you're lucky enough to live near the beach or a pool — pack the sunscreen, some water toys, and a picnic lunch for a day's worth of fun with the kids. If you don't have access to either and you're looking for things to do with kids at home, set up an aquatic playground in your backyard! Some water balloons, a sprinkler, and a slip n' slide can keep everyone occupied for hours. And don't forget, SPF is your BFF!
Go on a camping trip.
If your family is on the adventurous side, there's no better bonding activity than a camping trip! Teach the kids to pitch a tent, build a fire, and make s'mores. Are you not wild about the idea of sleeping in the wilderness? Go camping in the backyard! Set up camp, grill out, stargaze, and tell ghost stories from the comfort of your yard.
Take an outing to a drive-in movie theater.
They might seem old-fashioned, but there are still over 300 drive-in theaters operating in the country! Find the nearest one and plan a family movie night excursion. Drive-in tickets are typically much cheaper than standard theaters, and some even let you bring your own food and drinks.
If there isn't a drive-in theater near you, you can set up a backyard theater with a movie projector and a large, white bed sheet. Bring your home-made movie theater treats like popcorn, pizza, and hot dogs, and you're good to go!
Sign them up for Kids Camp at Painting with a Twist.
Let your little ones unleash their inner Picasso at your local Painting with a Twist studio! At our Kids Camps, your children will enjoy art, snacks, friends, music, and playtime while you enjoy getting your day back! Don't let them experience the dreaded school vacation brain drain. Kid-friendly events at Painting with a Twist allow them to develop their creativity, learn new skills, gain confidence, and, most importantly, have a blast with friends. Call your local studio today to learn more about their Kids Camps offerings!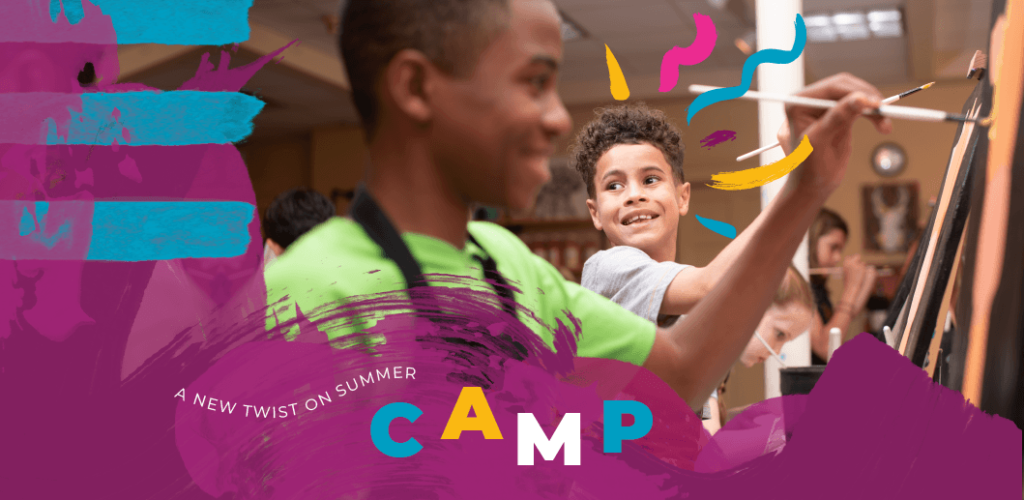 Tie-dye clothing.
Grab a tie-dye kit and some cheap beach pails from your local craft store, have your kids gather up some pieces of white clothing, and have an outdoor tie-dye party! Everyone will love turning their old t-shirts, socks, and pillowcases into groovy, colorful masterpieces.
Check out storytime at the library.
No one has a parent's back quite like the library, especially when the weather calls for indoor activities for kids. When in doubt, check out your local library's calendar of events! They usually offer a variety of great activities, from interactive storytimes to arts & crafts. Even better, they're almost always free!
Take turns picking new recipes and cooking for each other.
If your children enjoy helping in the kitchen, play restaurant! Kids can pick out fun recipes, grocery shop, and prepare meals and snacks for the family. Your child will get some great practice making a plan and following instructions, as well as a sense of pride and accomplishment when everyone digs into their culinary creation!
Pack a sunset picnic, complete with sparklers.
When the weather is beautiful, everything is more fun outdoors. Instead of having another dinner at home, pack it up, and take it to a park or scenic overlook for a sunset dinner picnic! Surprise the kids with post-dinner sparklers, and you'll automatically become the favorite parent (or cool auntie).
Running out of things to do with your kids at home? Painting with a Twist's Kids Camps and painting events for kids are a perfect way to keep them entertained while you crush your to-do list. Find an art camp for kids at a Painting with a Twist studio near you!
After 12 cups of coffee in two days, you finally had enough courage (and caffeine!) to ask out that barista behind the counter. Or maybe you and your partner have been going strong for 12,000 cups of coffee. Wherever you are in your relationship, you never have to stop dating each other! Whether it's your first date or your 100th, here are some simple dating tips to help keep the spark alive.
Dating Tips for New Relationships
Go places where you can talk.
Movies and loud concerts can be a fun way to spend time together. But it's also important to make time to converse and get to know each other. Instead of sitting silently in the theater or screaming over music, plan a date night where you can talk, ask questions, and grow your blossoming relationship.
Find activities to do together.
Getting dinner and drinks may be a classic first date routine, but why not mix it up? Instead of going to a restaurant or bar, plan a date centered around an activity. Take a couples painting class at Painting with a Twist and bond over your artistic abilities – or lack thereof! Get a little competitive with a few rounds of mini-golf. Head to a local hiking trail and break a sweat while you chat. You might get to see a whole new side of your date!
Ask questions and show interest.
One of the best date night tips to get the conversation going is to show interest! No matter where you go on your date, ask plenty of questions so you can get to know your date. Listen to their answers and engage in whatever topics come up. While it's good to offer information about yourself, focus on them as much as you can. You can always brainstorm a few questions to ask them ahead of time!
Ditch the distractions.
It might seem like a no-brainer to not be on your phone during a date, but it's easy to pick up your phone when you're having a slightly awkward, "I don't know what to do with my hands" moment. To avoid even appearing like you're not fully present, turn off your phone and tuck it away for your date. Being fully present goes a long way.
Long Term Relationship Tips
Prioritize regular date nights.
Life gets busy, and it's easy to put dates on the back burner when you've gotten into a comfortable groove. After a long day, why wouldn't you want to hang out and watch TV in your sweatpants with your partner? However, a date night can help break up the same old routine in your relationship. They offer the chance to communicate, rekindle the spark, let loose, and focus on each other. Try these date night ideas to rekindle the flame in your long-term relationship.
Try something new together at least once a month!
If you've ever complained about feeling "bored" in your long-term relationship, then spice things up by trying something new together! Sign up for a Painting with a Twist event, where you and your partner can sip on your favorite drink while creating art with guidance from a painting pro. If you're a brave pair, try an adrenaline rush like a high ropes course or rock climbing.
Little surprises go a long way.
You don't need to surprise your loved one with round-trip tickets to an exotic destination to make their day. Small surprises can mean just as much, if not more! Greet them with their favorite dessert or surprise them by planning a unique date, and you'll remind them how much you care.
Forget the old dinner and a movie routine and share an experience you will both remember! Reserve your seats at a Painting with a Twist painting event and take home fond date-night memories and an original work of art as a date night keepsake.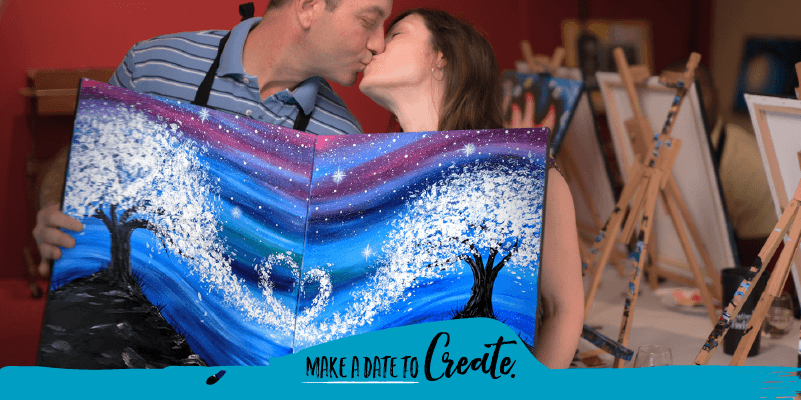 It's almost that time of year again when crowds of couples come out to celebrate Valentine's Day — or as others may call it, Singles Awareness Day. But being single on Valentine's Day doesn't have to be a downer! This step-by-step guide will give you plenty of ideas on how to enjoy being single on February 14th and every day after. It's time to make V-Day feel like your B-Day!
1. Start with Self-Care
Whether it's getting some extra sleep, sinking into a warm bubble bath, entering a deep meditation, or just rockin' out in your undies, there are a million ways to practice self-care. Just find out what works best for you, then immerse yourself in it.
Additionally, make sure to throw in some self-affirmations and gratitude practice while you're at it. Set aside time each morning to celebrate yourself and the small (and big) wins in your life. It can be a great way to lay the foundation for a fantastic day!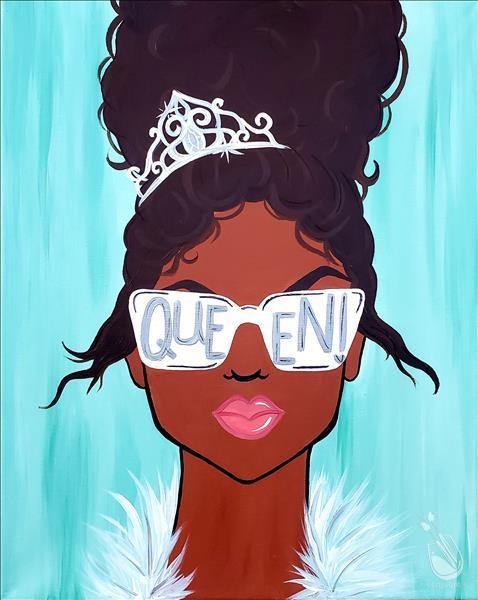 2. Make Yourself Something Delicious and Nutritious
Whether you're a master chef or a total novice, there's something special about eating a meal you poured your heart and soul into.
Prepare a yummy omelette for breakfast to start your day off right. For lunch, make yourself a healthy homemade salad with grilled chicken. For dinnertime, take things up a notch with pesto-topped salmon. Whatever meal it is, make something you love to eat (extra points for sticking to Valentine's theme). Be sure to fill your meal with healthy, energizing ingredients to fuel you throughout the day and into the night – especially if you're planning a Galentine's girls' night!
3. Work Up a Sweat
Speaking of treating your body right, it's time to work up a sweat! Not only is it good for your physical health, working out has a ton of emotional benefits too. Getting sweaty can help with things like bad mood, stress, mental fatigue, and anxiety. So, whether it's yoga, weightlifting, or even a brisk walk, make sure to get moving!
4. Nurture Your Non-Romantic Relationships
With so much focus on romance around Valentine's Day, it might be easy to overlook the other relationships in your life. Take the time to tend to your non-romantic relationships this Valentine's Day. After all, they're an essential part of your support network and deserve some appreciation!
Reach out to parents, siblings, old friends, far-away friends, mentors, or people you'd like to get to know better. It can be a phone call, facetime, or even just a text message. Something as simple as "Hey! I thought of you today and just wanted to let you know that I appreciate you" goes a long way toward keeping loved ones close.
5. Be Productive… Or Not!
You know that thing you've been putting off? It's time to roll up your sleeves and get it done! Or maybe you've got a particular hobby that could use your attention — that counts as productivity, too! Checking something off your to-do list or getting better at your favorite pastime is a great way to boost confidence on V-Day. It might even help reduce some stress in your life!
On the other hand, if you feel like you've been killin' it in the productivity department lately and need a break, then that's a great idea too. Don't judge yourself if you decide the best thing to do is pop open a pint of ice cream and do some binge-watching.
6. Give Your Time to Something You Care About
The best way to feel good about yourself is to give back to others. It's one of the purest kinds of win-wins out there! So, why not take a little time out of your day to help an important cause?
Check with local organizations like homeless shelters, humane societies, and food pantries to see if they need any help — or get creative and share the love in your unique way.
7. Treat Yourself
A little retail therapy never hurt anyone. Have a happy Singles Awareness Day by indulging in some much-needed shopping and pampering. Buy a new wardrobe, get a massage, style your hair, get a manicure, or stop by your favorite cafe for a sugary treat (or do all of the above!).
8. Get Creative with Girls' Night Out
When you've had your fill of me-time, it's time to get the squad together for a night of stress-free, creative fun! And since February 14th is on a Friday this year, it's the perfect opportunity to skip the bar and try something new on your Galentine's night out.
A Painting with a Twist Girls' Night Out is more than a wine and painting class. It's a wine and painting event! With wine in hand, you and your best girlfriends can paint your own Valentine's Day masterpiece with help from our friendly instructors. No artistic talent or art supplies are needed.
Book your Girls' Night Out in advance and start getting excited for a night of fun, friends, and freedom.
Put a Special Twist on Galentine's Day
Call up your girl gang, throw on your favorite outfit, and get ready to crush being single on Valentine's Day. Reserve a BYOB painting event for your next Galentine's Day outing at a Painting with a Twist studio near you and toast to your drama-free single life!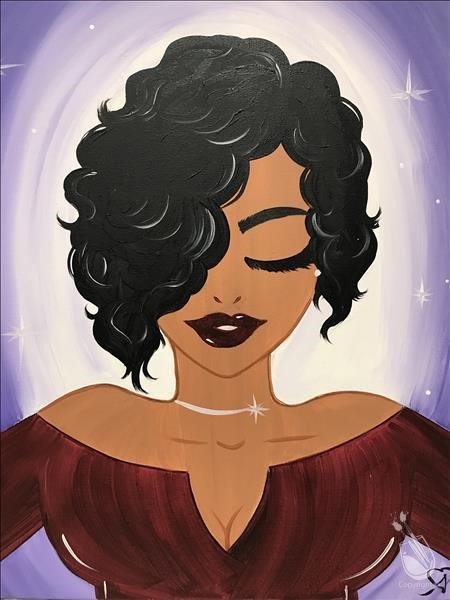 Valentine's day has snuck up once again, and here you are empty-handed! But before you rush to the store to grab some sweets and a sentimental card, you might want to consider changing up the routine a bit. If you're looking to keep things interesting this Valentine's Day, check out these 3 cliché Valentine's Day gifts you should definitely avoid and 3 that you shouldn't!
3 Valentine's Day Gifts To Avoid
Giving a gift with a little extra thought can make all the difference on a holiday with so much cliché tradition surrounding it. But just because something has made this list of gifting no-nos, doesn't mean it can't still be a nice gift. After all, Valentine's Day is slightly cheesy by nature – embrace it! But if you're trying to buck tradition, try staying away from these three gifts.
Chocolates
Sure, who doesn't love a box of assorted mystery chocolates? But those crudely-shaped little brown hearts probably won't win you any extra brownie points since they are most likely at the top of everyone's list of gifts they expect to get. And while you don't have to avoid chocolate completely, it's probably a good idea to not make it the centerpiece of the gift-giving experience.
Roses
Every year, stores bring in roses by the truckload, put them on sale, and practically shove them in the arms of each customer that comes through. And while the rose has plenty of sentimental symbolism — a bouquet can come across as impersonal or last-minute. Instead, try your partner's favorite flowers or a live plant that won't wilt on their dining room table!
Jewelry
You may be thinking, "Who doesn't love shiny things?" And while that might be true, buying jewelry can be an expensive risk! If you know your partner really well, you might be able to get away with picking out some expensive sparklies without their input. But if you're unsure, it's usually best to involve them in what can usually be a costly purchase.
3 Valentine's Day Gifts You Shouldn't Avoid
There's nothing wrong with giving a cliché gift to your significant other. But if you're looking to up your game on your Valentine's Day gifts for him or her, it's time to start thinking outside the jewelry box. Instead of giving gifts, try gifting experiences instead! By adding a personal touch, these three creative Valentine's Day ideas could help sweeten up your heart-filled holiday.
Dinner
Never underestimate the power of a good meal! While it is believed that certain foods can be aphrodisiacs, sitting down for a Valentine's Day dinner is much more than that. It's an opportunity for conversation in such a busy world! Try connecting over a candlelit meal at a fine-dining establishment. Choose one where the atmosphere is conducive to conversation. If you'd rather opt for a romantic night in, figure out what their favorite dish is and prepare it with the finest ingredients. Pair it with a nice wine and a dessert to complete the evening.
A Night In
If you feel like you and your partner just can't catch a break, then a quiet Valentine's night in might be the perfect way to reconnect! Take the initiative to plan out the entire night. Try building an adult-sized blanket fort, picking out a cheesy rom-com, and busting out the snacks for a cozy movie night. Or perhaps you can turn up the romance with a little champagne and a bubble bath. Whatever you decide to do, make sure to put your heart into it. It is Valentine's Day, after all!
A Night On The Town
Do you and your partner always seem to end up on the couch binging Netflix? Then try giving them the experience of a night on the town! Take them to a comedy show, play, or symphony, check out that bar you've both been saying you want to try, or explore a side of town you don't frequent as much.
Are you looking for a more casual experience for your night on the town? Try taking your significant other to a paint and sip event at Painting with a Twist! We'll provide you with everything you need to paint your own Valentine's Day masterpiece with your partner. Just bring your favorite wine or beverage, and enjoy an evening of drinking, painting, and laughs. Find a Painting with a Twist near you and book your reservation online for a date-night painting event in your city!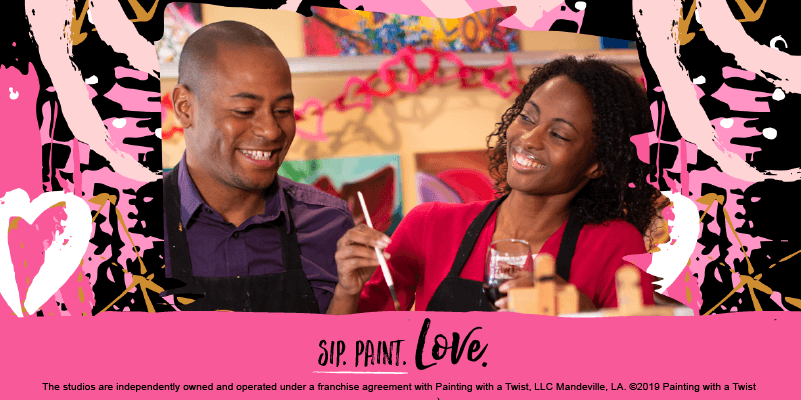 Maybe you've already set your New Year's resolutions, or perhaps you plan on taking all of January to figure out which new habits you want to start. But whether you're a "hit the ground running" type of person or you take a slow and steady approach, the start of the year is the perfect time to reset and refresh both physically and mentally.
Thankfully, you don't have to change everything at once! Small and simple changes could be the keys to increasing your overall well-being this year. If enjoying life and staying optimistic are on your list of resolutions this year, then start with these tips for becoming a happier person!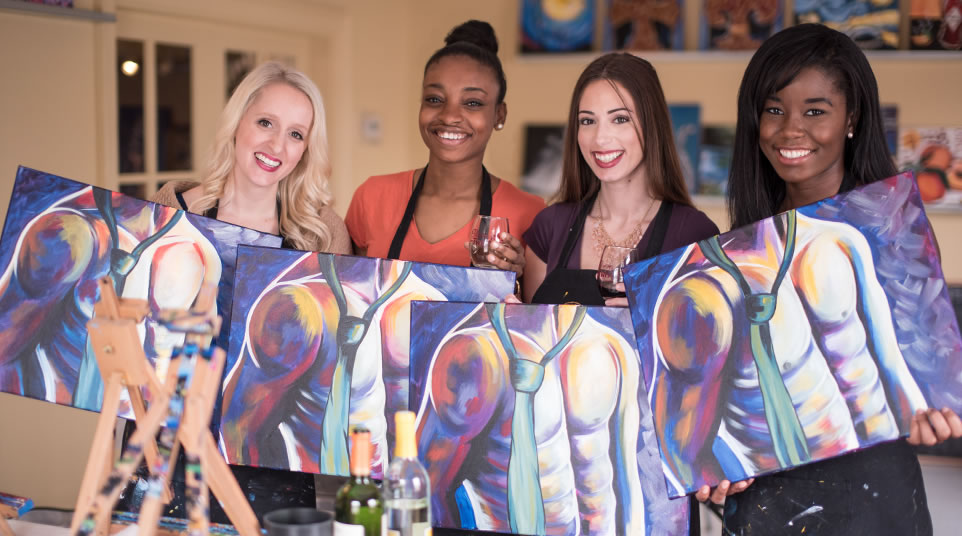 How to Be a Happier Person
Optimism is a wonderful habit, but it's not always easy to maintain. If you're struggling with how to be a happier and more optimistic person, here are a few ways to start:
Learn how to be present.
A happier life often begins with more mindful and grounded living. All too often, we find ourselves in one place physically, but don't notice that our brains have carried us far away—so much so that we've completely tuned out what's happening right in front of us. And with so much technology at our fingertips, it's almost too easy to disconnect. Activities like mindfulness meditation, yoga, or even a few minutes of deep breathing can help you recenter and stay in the moment.
Start a gratitude practice.
Your first instinct might be to find things to change about your life to increase happiness. But one way to be a happier person is to appreciate things as they already are! Cultivate more gratitude in your life by using a gratitude journal. Write down five things you're grateful for each morning or evening. Challenge yourself to try new things and never repeat something on your lists!
Spend more time with loved ones.
The holidays give us lots of time with friends, family, and loved ones. But once we're back to our post-holiday routines, it's easy to feel isolated or even depressed–especially if you live in an area with cold weather that keeps you inside. But regularly spending time with those you love can boost your spirits! Block out a few hours each week to meet with a friend. See a comedy show together, enjoy a relaxing painting event, or cozy up at your favorite coffee shop to catch up on each other's lives.
Evaluate your work-life balance.
Burnout can be one of the biggest enemies to a happier lifestyle. If you've noticed a lack of motivation at work lately (even if you love your job), it's time to make time for more play! Take up a hobby (like painting!), try a random sport (ever heard of duckpin bowling?), or travel to a place you love (like that cute coffee shop you pass every day) even if only for a few hours. Doing things purely for enjoyment can clear your mind and give you sharper focus when you head back to work—just don't take work with you on your playtime adventures!
Learn something new.
Are you stuck in a rut? Invite something new into your life! Learn a new language, discover your artistic side, sign up for kickboxing class, or finally learn how to bake! New activities and experiences like these can expand your horizons and create happy memories you'll cherish for years to come.
Sip, Smile, and Shine with a Painting Event Near You
Are you ready to jumpstart your journey toward happier living? Start it at Painting with a Twist! Whether you're relieving stress, connecting with loved ones, changing up a date night routine, or just taking some time for yourself, we have the happy vibes you need. Find painting events near you, and get ready to sip, smile, and shine your way into a new decade.
Stuck in a holly daze? The hustle and bustle of holiday celebrations can leave you craving a dose of relaxation. Don't wait till next year to practice self-care though! Use these holiday relaxation tips to crush any "ba-humbugs" that come your way!
1. Save the Date… for Yourself
During the holiday season, it feels like everyone wants you to "mark your calendar" for some social outing, from holiday work parties to family gift exchanges! Some days, you may even have double or triple events stacked back-to-back on your planner, all with different dress codes, expectations, and other things to remember. Even if you're pretty extroverted, the "go-go-go" of the season can leave you feeling exhausted, which is why setting aside a night for yourself can be so important!
This year, mark your calendar for an evening of self-care — a chunk of time to do what you love on your own terms, whether that's painting, going to the hair salon, or taking a well-deserved nap!
2. Get Your Sweat On
According to WebMD, the endorphin release that accompanies exercise can help reduce stress, improve sleep, and diminish feelings of depression and anxiety. We'll take those benefits any day, no matter the season! Make some time for your favorite type of exercise to help you beat the winter blues. You'll walk out with that just-exercised glow, whether you take your dog for a quick walk or try a boot camp class at your favorite gym!
3. Stop & Meditate
During the holidays, it's easy to get caught up on what you need to do next (or what you should've done already), but a busy brain can make it hard to enjoy the here and now! You can reel yourself back into the present with a short meditation session.
If you've never meditated before, try the following process. Find a quiet space and a comfortable seat, and queue up a short audio-guided meditation on your smartphone — a soothing voice will give you step-by-step instructions leading you back to a more mindful state. You can find guided meditation recordings with a quick Internet search or by downloading mindfulness apps like Headspace and Insight Timer.
4. Moisturize
Late-night parties and cold snaps can do a number on your skin and hair, which can do a number on your self-esteem and general sense of swagger. Re-claim your confidence with a little stay-at-home spa session! A leave-in conditioner or a post-shower sheet mask can leave you feeling hydrated, pampered, and ready to face the day. Strapped for time? An overnight face mask or peel can help refresh your skin while you sleep — so you can wake up on the bright side of the bed.
5. Give Back
Want to do something that'll help you feel good, meet new people, and combat stress? According to HelpGuide, those are just a few of the unexpected benefits of volunteering (not to mention the positive impact you can have on your community). During the holiday season, there are plenty of extra opportunities to give back, from sorting presents at gift drives to serving holiday dinners at your local soup kitchen. Reach out to non-profits in your area for opportunities to be of service this winter to have a great time for the greater good!
6. Do What You Love
Some people swear on the life-changing benefits of yoga, others find their sense of ZEN in carpentry, reading, or spending time with friends. Are you overdue for a night out with your besties? If so, book a Girls Night Out paint party at Painting with a Twist — where you and yours can paint, drink, and be merry!
Christmas, Hanukkah, Kwanzaa, New Year's Eve—there's so much to celebrate this time of year! A glass of your favorite wine can add a festive air to any occasion, especially holiday parties. Ever wondered what to serve and when, though? We're here to help with a holiday wine guide! Dive in to learn which wines go best with familiar holiday treats and get inspired with wines that complement our December paintings.
Entertain in Style: Your Holiday Wine Guide
Whenever you're choosing a wine to serve with holiday meals, your goal is to have the flavors of your wine and food enrich one another. Choosing the best holiday wine with your celebratory meals can truly elevate you and your guests' dining experience, and as the host, it can make you look like a real culinary rock star!
If you're not sure where to start when choosing a holiday wine, begin with this basic rule of wine pairings: Traditionally, white wines pair best with light meats and foods (like poultry and fish), and red wines pair well with flavor-infused, heavier meats (like beef or lamb).
Of course, there are many variants to consider if you want to go deeper into choosing wine for the holidays, but it's hard to go wrong when you use that basic rule of thumb for holiday wine pairings. In the end, the best wine for holiday dinners is always something you and your guests will enjoy drinking! Learn a few rules and read recommendations, but keep personal tastes and preferences at the forefront of your mind to keep holiday guests happy. It's a good idea to offer both a white and red wine with your holiday meal so guests can choose. Not sure what varieties might go well with your meal? Read on!
The Best White Wine for the Holidays
White wines tend to have acidic flavors that need to be balanced with food. When choosing the best white wine for holiday meals, consider what recipes you're making. A good rule is this: if you would add lemon or lime juice to a dish to give it more flavor, pair it with an unoaked white, like Albarino or Sauvignon Blanc. Making potato latkes for Hanukkah? Go for a crisp Chardonnay. Need something to go with your fancy Christmas dessert? Choose a dry white (like Pinot Grigio), so you don't overwhelm guests' taste buds with sweetness.
For upbeat, vibrant celebrations like New Year's Eve, champagne can't be topped! For a touch of color, opt for a sparkling rose or fruity sparkling cider. ANY wine is made better with the company of loved ones, so gather all your friends and make a toast to the new year!
The Best Red Wine for the Holidays
Red wines tend to have a bitter flavor, which can be balanced with foods high in fat—think cheesy dishes and red meat with ample flavoring from natural fats. Malbec, Merlot or Cabernet Sauvignon are all versatile choices if you're serving red meat as your main course. Although lighter meats are usually paired with a white, red Pinot Noir goes well with lighter proteins like chicken or turkey. If you're making a creamy, chocolaty dessert, Port is a lovely choice. It's revered for beautifully complementing cocoa flavors in sweet dishes.
Painting and Wine: Always a Perfect Pairing
A bottle of wine is best enjoyed with those you love, right? Why not join your friends and family and make memories together this holiday season? We'll raise a glass to that! Enjoy a wine and paint night with your friends for the ultimate pairing. Sip on a rich Zinfandel while you paint with vibrant reds, greens, and golden hues, or channel snowy vibes with a chilled Riesling as you create a wintry scene. For many of our paintings, you can choose whether you paint on canvas or wood board for a different look and feel. Your custom painting can add cozy holiday charm to your home (or to a loved one's home if you decide to give it as a gift), and you'll always remember the laughter and sweet times you had creating it!
Have Your Own Holiday Wine and Paint Night
Don't feel like entertaining in your home? Want to try something different for a holiday celebration this year? Pick up a bottle of wine you've been dying to try, gather up your loved ones, and head to Painting with a Twist for a holiday wine and paint party! Paint, drink, and be merry at a BYOB painting studio near you today. Happy Holidays!
The holidays are approaching quickly, which means you'll get a few blissful days (or weeks, if you're lucky) of nothing but time with loved ones. Will you have friends and family staying at your house for Christmas? You could take them to do the traditional touristy stuff around your city… OR you could give them an experience and a souvenir to remember their visit! Check out these eight ideas for entertaining out-of-town guests between all of the celebrations and feasting!
Go on a tour of Christmas lights.
Nothing gets you in the holiday spirit like taking in some beautiful Christmas décor. Bundle up, grab a thermos of hot chocolate, and take a drive (or a stroll, weather permitting!) to check out the most festive homes in your town. Not impressed? Enlist your guests to help decorate and make your house the most festive destination in the neighborhood!
Host a multi-night card or board game tournament.
Facilitate some friendly competition between your family and friends with your favorite game. Raise the stakes by turning it into a tournament lasting the span of their visit. Circle up, drink up, and deal up. You might be shocked at how competitive everyone gets as the nights go on. Just don't forget to choose a prize – even if it's something as simple as getting the last piece of pumpkin pie!
Make a bonfire in your backyard.
If you've got a backyard (or even a fire pit), cozy up around a bonfire with your out-of-town guests. Mix up some spiked hot chocolate or warm apple cider, and break out the ingredients for s' mores. Get the complete "campfire" experience with some ghost stories!
Break a sweat.
Exercise probably isn't high on your "how to entertain houseguests" brainstorming list… but nothing feels better than a good sweat sesh in the middle of eating and drinking your way through the holiday season! Pick any activity you enjoy that will raise your heart rate, whether it's going for a hike, having a dance party, or running a 5K. Then bask in those endorphins!
Sip, socialize, and create.
Spoil your guests by taking them to a group painting party! At Painting with a Twist, you and your guests can enjoy a beverage (or three) as you create a one-of-a-kind masterpiece, following along step-by-step with a talented local artist. Not only will you have a blast getting tipsy and crafty, but your guests will also have a fantastic keepsake to take home with them.
Volunteer in your community.
There is something that feels good about giving back, especially around the holidays. Contact your local animal shelter, food bank, nursing home, or any other charity that is near and dear to your heart, and figure out how you and your guests can be helpful. Whether you're serving hot lunches or walking cooped up shelter dogs, you and your friends will have a memorable day while making a difference.
Check out a local theater.
Grab tickets to take your guests to a play or a local comedy club. Local theaters usually have less expensive admission costs, and they offer the most authentic experience as portrayed by artists from your community! It might not be a Tony-worthy performance… but truthfully, sometimes it's more entertaining that way!
Craft ugly holiday sweaters.
Ugly sweater parties are a Christmas-season staple. One way to ensure you've got the ugliest sweater in the room is to make it yourself! Set up an ugly sweater "bar," complete with sequins, iron-on appliques, fabric paint, and all of the tacky goodness your heart desires. Tell guests to BYOS: Bring Their Own Sweater! You'll all have a ball creating hideously beautiful custom sweaters from scratch.
It's no doubt that your holiday guests are unique, and they deserve a trip that's as amazing as they are! Give them the gift of an itinerary full of fun and creative activities, like a paint party. With 300 studios in 29 states, there's bound to be a Painting with a Twist near you! We'll take care of the hosting and entertaining. You just have fun!
Between unwrapping presents and making it to seasonal social commitments, it's easy to miss precious opportunities to bond with your loved ones. This year, make the most out of your time with friends and family by initiating fun holiday activities, like trivia! Bring the Santas and the Scrooges together with these popular holiday trivia questions that'll break the ice and get the party started.
How to Play Holiday Trivia
Lay down the groundwork for your trivia game to keep things fun and fair. Split party-goers into teams, depending on the size of your celebration. We recommend groups of 2-6 people, preferably of different ages, genders, and families (that way everyone gets to interact with everyone). Make sure every team has a pen and paper (or a dry erase board and marker) to write down their answers.
Remind players of the game's super simple rules!
No cell phones or tablets.
No yelling out answers.
Once the teams are ready, and the rules are set, go ahead and start firing off these holiday questions! The answers are at the bottom (no peeking).
Holiday Trivia Questions About Classic Movies:
In which town does the Grinch steal Christmas?
What is Scrooge's first name in A Christmas Carol?
What's the first rule of The Code of Elves' in Elf?
Where does Kevin McAlister's family go on vacation when he's left Home Alone?
Holiday Trivia Questions About Traditions:
How many candles are in a Hanukkah Menorah?
What is another name for Santa Claus?
What's the name for the traditional, pointy, red, holiday flowers?
What are the colors of Kwanzaa?
Holiday Trivia Questions About Food:
What are candy canes shaped after?
Which spice is typically used in both apple cider and egg nog?
Name the root vegetable used to make Latkes.
What amino acid in turkey is (allegedly) responsible for making people sleepy?
Once the teams have had a chance to write down their answers for all your trivia questions, it's time to find out who won! Collect all the answer sheets and tally up how many questions each team got right. Make things extra memorable with a prize for the winning team members, like a sweet treat or inexpensive stocking stuffer. If there's a tie, use the tie-breaker questions in the next section to help you crown the trivia kings and queens.
Holiday Movie Trivia Answers:
Whoville!
Ebenezer
Treat every day like Christmas
Paris
Holiday Tradition Trivia Answers:
Nine
St. Nicholas, St Nick, Kris Kringle, or Priznickel
Poinsettia
Red, black, and green
Holiday Food Trivia Answers:
A shepherd's staff
Cinnamon
Potatoes
Tryptophan
Holiday Trivia Tie-Breakers
Time for the speed round! Give each team a new sheet of paper and 20 seconds to come up with the answer to the final question, "Name as many of Santa's reindeer as you can!" Collect their answer sheets and see who knows Rudolph's squad by heart! Congrats — you've found the jolliest guests at your holiday party! Don't forget to invite them next year for another round of good times and great memories.
Wrapping Up Holiday Trivia
Tis' the season to be jolly — but how cool would it be if we could be jolly year-round! From big birthdays to quick coffee outings, there are plenty of things to celebrate every day. Next time you have (or need) something to toast to, grab your loved ones and visit your local Painting with a Twist, we've got seasonally-themed paint parties and year-round fun for occasions big and small!
The Disney hit song "Let it Go" really did a number on us back in 2013 (and beyond!) Elsa, Anna, Olaf and the whole Frozen crew have been holding their spaces on retail shelves for years.
I'm here to tell you, Frozen obsession isn't going anywhere. In fact, it's about to get SO. MUCH. BIGGER. with the new Frozen 2 animated movie hitting theaters on November 22nd! To celebrate the new movie, we've teamed up with Disney to offer Frozen 2 painting events in studios October 22nd – November 24th! Now that we have the PERFECT birthday destination for your kiddos, we're giving you a ton of awesome ideas to make your Frozen birthday bash a huge hit. Brownie points for you, Mom!
Frozen Themed Birthday Must Haves:
The Outfit –Must we say more? Any Frozen themed birthday starts with the outfit. If you're a true Do-It-Yourselfer, you can bedazzle your own t-shirt for your little. Or, go the easier route and pick up something at a local retailer or have something customized on Etsy!
The Decorations – There are two types of moms out there, Pinterest moms and Amazon Prime moms. Both are fantastic, but choose the path that makes sense for you. No need to go all out making your own party favors and themed food (unless you want to, of course!)
The Food –If you DO want to make some adorable Frozen themed snacks, here are a few easy party food ideas (there are also tons of ideas on Pinterest!):

Powdered donuts could be "Elsa's snowballs"
Kids always want to build a snowman! Let them make their own Olafs with marshmallows and pretzel sticks
Mixed sandwiches —- hopefully they don't finish each other's
Cup of popcorn could be snow flurries

The Props – A Frozen themed birthday party isn't complete without props! Buy some Frozen character masks or plastic crowns (shh…from the Dollar Store!) and make a photo booth frame cut-out made of foam core for the perfect Frozen photo-op!
The Games – The kids will have a BLAST painting their favorite character from Frozen 2 but to make it even more fun, we love to play games! Tell us your favorite game idea or we'll think of something fun and interactive! Trust us, it'll be unforgettable!
Your kid's ultimate Frozen 2 themed birthday party is one click away. Request a private party and we'll take extra special care to make sure her birthday is unforgettable! Want to join an event on the calendar already? Just click here for one of our family friendly Frozen 2 events!
"The couple that paints together, releases oxytocin together!"
– Dr. Karen K. Melton Ph.D., assistant professor of child and family studies in Baylor's Robbins College of Health and Human Sciences. ?
We were ecstatic a couple of years ago when Baylor approached Painting With a Twist about a research study to determine how different family interactions caused spikes (or lulls) in the release of oxytocin. Oxytocin, AKA the "love hormone" is a hormone that plays a role in social bonding between couples. Check out a summary of some pretty interesting insights from Dr. Melton below from an interview we conducted with her!
Q: How did the idea for this study come about?
A: Working specifically with family studies, we really wanted to understand how different interactions affected the natural oxytocin levels of individuals participating in family activities. We chose two activities to test with participants: board games and a painting experience with Painting with a Twist.
Q: What did your colleagues think when you came to them with this idea?
A: They loved the idea. When we presented the idea to the National Council to receive the grant for the study, they loved the idea as well and were excited to hear the findings.
Q: Did the findings surprise you?
A: We hypothesized that all activities would release oxytocin but that board games would likely release more. What surprised us the most was that not only did painting release MORE oxytocin but men in the painting group had 2-2.5 times the oxytocin levels of other groups (even other women!) What's interesting too is that people who were in the painting group had higher levels of oxytocin at their baseline than board game participants leading us to the idea that the novelty of the concept and physical environment play a key role in the release of oxytocin as well.
Q: What was your personal experience at Painting with a Twist?
A: When we had the idea of the study, I took my team for the experience and everyone really enjoyed it. I still have my painting in my bedroom because I'm so proud of it. What I think is really great about the concept is it takes away a lot of the work when it comes to family leisure. Somebody in the relationship has to do the work of setting up the activity. With this, it's all done for you so you can enjoy a true state of leisure. And when it comes to the actual activity of painting, you are challenged but certainly not overwhelmed.
Q: Are you looking forward to returning to Painting with a Twist?
A: Absolutely! I think it's a great concept. I've seen some kid-friendly options posted so I'm looking forward to taking my daughter for mother/daughter date night.
Q: What do you hope comes about based on your study results?
A: Well, we certainly know more than we did before the study. We can make a lot of assumptions with recreational activities but it's great to be able to measure the true experience. Ultimately, we would like to study different types of interaction to find out exactly what activities and factors release oxytocin. This information can help facilitate better experiences and family interaction so individuals and couples can connect at a deeper level.
There you have it! Painting = more oxytocin = more love in the air. So if you're planning your next date night, find a Painting with a Twist studio near you and give it a whirl! You might walk away with not only amazing paintings but a new sense of connection with your significant other. Cheers!
Painting with a Twist studios* nationwide offer an outstanding and innovative way for parents to get their day back with our Summer Kids Camps and Kids Classes! Kids camps and kids classes are an invigorating option to get kids out of the house and interested in something beyond computers and video games. They can explore their wild side with creative guidance and enjoy painting in a fun studio atmosphere – all while meeting new friends!
Keep them busy and keep them INSPIRED!
Hanging their painting up at home will also help boost your child's confidence! The look of pride and satisfaction on their face after each class is absolutely priceless. Creativity opens up their perspective to future possibilities and keeps their minds active during the summer months. Give them the tools for success by enrolling them in Kids Camp or Kids Classes today!
It's About the Time, Not the Art!
We provide them with everything they need to have the best time possible: Dancing, snacks, friends, playtime, art, and more!
Find a Kids Camp near you by clicking here!
*Available at participating studios
Tis the season for holiday parties! Whether you're attending or hosting, there is usually some stress for everyone involved. Avoid the anxiety this year by hosting your holiday party at Painting with a Twist. People have so much going on in their life this time of year, it's hard to keep up with a to-do list for the holiday season.  Paint and sip parties are a blast for 3 obvious reasons: A little bit of art, a little bit of wine, and a whole lot of fun!® Today, we're going to break down four other reasons why holiday parties with a twist are the best. 
1. BYOB Appetizers and Cocktails
Julia Child hit the nail on the head when she said, "A party without a cake is just a meeting." Don't stop at cake! We invite you to bring an array of treats when you host a party at Painting with a Twist. You can ask your party guests to bring a potluck dish or plan to have the entire event catered with your favorite snacks. Most of our studios are BYOB, so don't forget to pack some shareable cocktail options, like the makings for a fruity Sunset Sangria or sippable Tinto de Verano. Some locations even have a bar inside the studio for all your cocktail needs.
2. Fun and Games
Throughout your holiday party, you'll have to take a few breaks and step away from your painting so that the paint can dry. This is a great time to fill a plate with delicious treats or refill your glass. It's also a great time to play some hilarious and fun games with your instructor! We pride ourselves on putting the "art" in "pARTy" so get ready to let loose. Our instructors have plenty of fun and games up their sleeves for you to play: anything from karaoke to dance contests to a wine cork version of hot potato. The prizes are pretty great, too- winners leave with a variety of PWAT swag and maybe even an extra painting chosen from the prize painting wall. Ready, set, mustache contest!
3. Everyone leaves with a painting and a memory.
This is the best reason of all – everyone unleashes their creative side, tries something new as a group, and leaves with a piece of artwork to call their own. A holiday party doubles as a tremendous bonding experience whether your guests are your friends, family, or co-workers. You'll never forget the sensation of accomplishment and camaraderie… AND you'll have a beautiful, new piece of artwork to hang on your walls.  
4. Leave the mess to us!
Let's face it – party cleanup can be a major hassle. So we're here to take care of that for you! Once your holiday party has wrapped up, you'll get to return home to a sparkling clean abode. Now that's a Christmas miracle.
Contact your local studio for information about hosting your own private event, or fill out our party request form.
It's date night again and you've got a standard lineup of ideas circulating in the conversation- Cocktails? Dinner? A movie? Date nights are there to help us reconnect. We want to feel that spark of excitement in our romantic relationships. We want to indulge in experiences that we can happily reflect on and tell stories about later. So why do we stay in the same redundant pattern? Albert Einstein once said, "Creativity is intelligence having fun!" Change it up every once in awhile and do date night the smart way: Painting with a Twist! According to Bustle, couples who attend paint and sip classes together are less likely to break up. With all the fun and diverse options, there's no reason to pass up the chance for bonding with your bae. Here are 5 ideas to help you spice up your date night with Painting with a Twist. 
1. Paint Your Pet Date Night:
If you and your boo are animal-obsessed, then this is the fun and interactive class for you. It's what your walls having been missing.  Send your local studio pics of your beloved pet and let an upbeat instructor lead you on a step-by-step creative journey painting a portrait fit for kings! Below is a dose of puppy love brought to you by Painting with a Twist in Mobile, AL. 
Bonus: Get ready to swap heartwarming + hilarious stories about your furbaby with everyone else in the class.
2. Zombie Date Night:
Ghouls and boys unite for this spooky class! You and your date will paint portraits where you "Zombify" yourselves in every creative and icky way imaginable.  It is so fun – we're dead serious. These two twisters from Painting with a Twist in Mason, OH did a creepily amazing job "Zombify-ing" themselves!
Bonus: Dress up as zombies when you attend the class- you can even make zombie themed refreshments! Who knows, maybe there will be a costume contest?!
3. Game Date Night:
If anyone has trouble getting their guy through the doors of a paint and sip studio, then this is bound to solve that. Ladies and Gentlemen… Introducing… Game night! Sometimes our studios partner with local teams for a truly exclusive experience celebrating your favorite team. Other times, studios host "Paint Your Own Jersey" nights where you get to paint your team's colors while going head to head in friendly smack talk amongst rival fans. Join the winner's circle like these guys n' gals at Painting with a Twist Kingwood in Houston, TX. 
Bonus: Amp up date night by sporting your favorite team's gear and bringing a cooler of tailgating goodies!
4. Couples Painting Date Night:
Many of our paintings are made to do side-by-side with someone. Combine your skills (and paintings) to make one big piece of art to hang up. Every time you see the painting, you'll remember what a wild time the two of you had. Imagine it now: Scrunched close together on your stools. Cocktails in one hand and paintbrush in the other. Then, the announcement of a mustache contest… Get ready to LOL and make some date night memories!
Bonus: Make it a friendly challenge of who's painting looks better! Winner gets a kiss and bragging rights.
5. Holiday Date Night:
Tis the season, y'all! Winter is right around the corner and that means the holiday-themed parties are here. Whether you're attending a public class or hosting a private party, bring a batch of mulled wine and sugar cookies to your holiday date night. Can you feel the holiday cheer coming at you from Painting with a Twist in Lexington, KY? 
Bonus: Spread the joy and bring a small gift to surprise your loved one in the middle of class (goofy Santa hats, reindeer antlers, etc.)